Florida Retreat
May 2nd - 5th
1:30pm & 6:20pm
Please tune in & pray with us.

Please Pray for Fr. Joe & Bob


Prayer for Grace for our Country

Dear Father united to Jesus in the Holy Sacrifice of the Mass, the Sacrifice of Calvary sacramentally made present, celebrated around the world, in the Holy Spirit. We offer up all we do united to the Mass. We unite in one mind and one heart as members of the mystical body of Christ, with Christ our head in the pure and holy Hearts of Jesus and Mary, through the powerful intercession of Mary with all the angels and saints and souls in purgatory, and we beg for the saving grace, for our country, the United States. Please help us. We further pray for unity to always do the will of God in love. We spread the Blood of Jesus on the leaders and people of the United States and cast the devil into hell. We consecrate our country to the Sacred Heart and Immaculate Heart and all our dioceses, and beg for an outpouring of the Holy Spirit. God help us. We pray for our families, the priests, the Church and the world. In the Name of Jesus please hear us, we pray. We pray for our president and leaders. We pray that we are united as one nation under God to work together in love as God wants.
May 5, 2021

R. During the 5th Prayer Service the candle turned orangeish gold and all the statues and the candle was plain.


May 5, 2021

May 5, 2021

R. We are preparing Fr. Joe's next homily book from 2004 for the priest mailing.

This is a new book, our priestly writing for Cycle C.

We pray for this.
Here is a sample homily from the new book.
This is a typical Sunday.

Please pray and support this for our priests.

Every book has the prayers in the prayer manual for the priests, the Church and the world.

19th Sunday of Ordinary Time

Wisdom 18: 6-9

That night had been known in advance to our ancestors,
so that, well knowing him in whom they had put their trust,
they would be sure of his promises.
Your people thus were waiting
both for the rescue of the upright and for the ruin of the enemy;
for by the very vengeance that you exacted on our adversaries,
you glorified us by calling us to you.
So the holy children of the good offered sacrifice in secret
and with one accord enacted this holy law:
that the holy ones should share good things and dangers alike;
and forthwith they chanted the hymns of the ancestors.

Hebrews 11: 1-2, 8-11

Only faith can guarantee the blessings that we hope for, or prove the existence of realities that are unseen. It is for their faith that our ancestors are acknowledged.

It was by faith that Abraham obeyed the call to set out for a country that was the inheritance given to him and his descendants, and that he set out without knowing where he was going. By faith he sojourned in the Promised Land as though it were not his, living in tents with Isaac and Jacob, who were heirs with him of the same promise. He looked forward to the well-founded city, designed and built by God.

It was equally by faith that Sarah, in spite of being past the age, was made able to conceive, because she believed that he who had made the promise was faithful to it.

Luke 12: 32-48

'There is no need to be afraid, little flock, for it has pleased your Father to give you the kingdom.

'Sell your possessions and give to those in need. Get yourselves purses that do not wear out, treasure that will not fail you, in heaven where no thief can reach it and no moth destroy it. For wherever your treasure is, that is where your heart will be too.

'See that you have your belts done up and your lamps lit. Be like people waiting for their master to return from the wedding feast, ready to open the door as soon as he comes and knocks. Blessed those servants whom the master finds awake when he comes. In truth I tell you, he will do up his belt, sit them down at table and wait on them. It may be in the second watch that he comes, or in the third, but blessed are those servants if he finds them ready. You may be quite sure of this, that if the householder had known at what time the burglar would come, he would not have let anyone break through the wall of his house. You too must stand ready, because the Son of man is coming at an hour you do not expect.'

Peter said, 'Lord, do you mean this parable for us, or for everyone?' The Lord replied, 'Who, then, is the wise and trustworthy steward whom the master will place over his household to give them at the proper time their allowance of food? Blessed that servant if his master's arrival finds him doing exactly that. I tell you truly, he will put him in charge of everything that he owns. But if the servant says to himself, "My master is taking his time coming," and sets about beating the menservants and the servant–girls, and eating and drinking and getting drunk, his master will come on a day he does not expect and at an hour he does not know. The master will cut him off and send him to the same fate as the unfaithful.

'The servant who knows what his master wants, but has got nothing ready and done nothing in accord with those wishes, will be given a great many strokes of the lash. The one who did not know, but has acted in such a way that he deserves a beating, will be given fewer strokes. When someone is given a great deal, a great deal will be

19th Sunday of Ordinary Time

August 8, 2004

INTRODUCTION

–

I trust we all remember from our bible history how the people of God were slaves in Egypt hundreds of years before Christ and how God set them free under the leadership of Moses. Moses told them to sacrifice a lamb and put its blood on the door posts and lintels of their homes so that when the plague of death came upon Egypt, the families of the Israelites would not be touched. Our first reading from the book of Wisdom is a meditation on the faith God's people had in doing what Moses told them and how they were set free because of their faith.

Our second reading from the Epistle to the Hebrews takes us back five or six hundred years before Moses to the time of Abraham, the father of both the Jews and the Arabs. It gives us another example of faith in the person of Abraham.

HOMILY – A priest pulled into a gas station and found every pump was in use and several cars were waiting to be next. He got in the waiting line and decided to step out of his car and stretch his legs while he waited. The man ahead of him was also standing beside his car while he waited and he commented to the priest: "it's a holiday weekend and everybody waits until the last minute to get ready for a long trip." "I know," the priest replied. "It's the same in my business too!"

Our Lord is telling us today not to wait until the last minute. He will come again and we don't know when that will be, so the only thing to do is to always be ready.

Jesus uses two simple examples. The first is about the head of a household who was out of town for a wedding celebration. In Jesus' day wedding celebrations often went on for days, so it's understandable that the servants would not know when to expect their master's return. The second is about a thief. Of course, a thief doesn't warn a person before breaking into their house. If Jesus were preaching today, he might use the example of terrorism. We're sadly familiar with the havoc it can cause and the need to be diligently on the alert. Jesus is going to come again for all of us, whether it's at the end of the world or at the end of our own personal lives. Unlike the thief or the terrorist who may strike or may be prevented from striking, Jesus' coming is not a matter of if but of when. Being ready, though, does not mean living in fear but living in his grace.

Somehow our culture has bought into this notion that we're all getting to heaven in the end anyway, not matter how bad we've been. The devil scored a real coup with that idea, because once people begin to accept that philosophy, they don't worry about things like prayer, obeying the commandments and living a morally good life. Jesus' teachings today and in so many other parts of the gospels tell a different story. Heaven is not automatic. It's something we have to work for and be prepared for. And since we don't know when the end will come for any one of us, that means we have to always be watching. But what do we have to watch for? Does being on the watch mean just sitting back, looking out the window waiting for eternity to come along. Taking our cue from today's parables, being on the watch means watching ourselves, keeping ourselves in right relation with God, using self-discipline that we do not get lazy in our service of the Lord.

Faith is the key to this process of being prepared, not simply a faith that says "I believe," but a faith like Abraham's that responds obediently when God calls. Most of us have heard the story about a hiker who slipped off of a cliff. As he started to fall he managed to grab hold of a branch of a tree growing out of the cliff. Holding on for dear life he cried out: "Help! Is there anyone up there?" A powerful voice spoke to him from out of the clouds: "I will help you my son, but first you must have faith in me." "I trust you, whoever you are," the man called back. Then the voice replied: "Let go of the branch." There was a long pause and the man shouted again, "Is there anyone else up there?"

I'm sure Abraham felt this way many times. God told him to leave his homeland for an unknown destination. God told him to keep on trusting he would have many descendants, even as he and his wife were growing very old. Then after he and his wife had a son in their old age, God told him to sacrifice his son Isaac. Even though God told him later he didn't need to make this sacrifice, Abraham's willingness to obey took a lot of letting go. And this is the truth - God cannot help us if we're not willing to let go of our own will and do what he says to do. Only that is trust. Only that is faith.

Feast of the Assumption – Vigil Mass

1 Chronicles 15: 3-4, 15-16; 16: 1-2

David then summoned all Israel to Jerusalem, to move the ark of Yahweh to the place which he had prepared for it. David also called the sons of Aaron and the Levites together:

and the Levites carried the ark of God with the shafts on their shoulders, as Moses had ordered in accordance with the word of Yahweh. David also told the heads of the Levites to appoint their kinsmen as singers with the accompaniment of musical instruments, lyres, harps, and cymbals to play joyfully.

They brought the ark of God in and put it inside the tent which David had erected for it, and brought burnt offerings and made communion sacrifices in God's presence. And when David had finished making burnt offerings and communion sacrifices, he blessed the people in the name of Yahweh.

1 Corinthians 15: 54-57

And after this perishable nature has put on imperishability and this mortal nature has put on immortality, then will the words of scripture come true:

Death is swallowed up in victory. Death, where is your victory? Death, where is your sting?

The sting of death is sin, and the power of sin comes from the Law. Thank God, then, for giving us the victory through Jesus Christ our Lord.

Luke 11: 27-28

It happened that as he was speaking, a woman in the crowd raised her voice and said, 'Blessed the womb that bore you and the breasts that fed you! 'But he replied, 'More blessed still are those who hear the word of God and keep it!'
Feast of the Assumption – Vigil Mass
August 14, 2004
INTRODUCTION AT THE VIGIL – It is a dogma of our faith that at the end of her life, Mary, like her son, was taken body and soul into heavenly glory. This is the meaning of the Assumption, whose vigil we celebrate this evening.
Our first reading is about the Ark of the Covenant, the sacred gold plated box that contained the Ten Commandments. On the top of the Ark there were two golden angels and the Israelites envisioned God's throne positioned above the angels. The Ark was the unique symbol of God's presence with Israel. It was constructed in the desert after Moses and the Israelites left Egypt. It led them into the Promised Land. Often it was taken into battle with them. When King David established his capital in Jerusalem about the year 1000 BC, he brought the Ark there. Today's reading describes this solemn and joyful occasion. After the temple was built, the Ark was placed in the Holy of Holies and there it remained for 400 years until the Babylonians destroyed the temple and walked off with the Arc. There was a very imaginative Indiana Jones movie that was built on the theme of finding the lost Arc. It's anyone's guess whether it was destroyed or lies buried with some past civilization.
In Christian symbolism, Mary is sometimes referred to as the Ark of the Covenant. Just as God was present in a special way wherever the Ark was taken, so God was present with Mary in a most special way when she carried within her womb the only Son of God, Jesus our Savior.
The early Christians also saw Jerusalem as a symbol of heaven. It's not a very fitting symbol in recent years, but that symbolism is reflected in today's first reading. The Ark being taken up to Jerusalem symbolizes Mary being taken body and soul into the heavenly kingdom.
HOMILY – A woman exclaimed how fortunate Jesus' mother was to have had such a son. On first hearing this it sounds as if Jesus is denying anything special about Mary. Would Jesus put down the loving mother who bore him and raised him? Certainly not! However, Jesus was saying there was something even more important about Mary than all that. Most important of all was her willingness to do all that God asked of her. That made her more one with her Son than anything else. God asked her if she would be the mother of our Savior and her answer was: "Let it be done to me as you say." Surely her faith was tested many times, but she never wavered in her faith or in her obedience to God's will. She was the perfect and number one disciple of Jesus in always being willing to do God's will and she followed him even to the end as he hung on a cross. Jesus' response to the woman in today's gospel identifies what it is that truly makes Mary great.
In our society those who are related to important people make a big deal of that relationship. With God it's not that way. It's our relationship with Jesus in a spiritual way that matters. And Mary was absolutely the best in this regard. Christ came as he says in St. John's gospel that we might have the fullness of life. Our faith in the resurrection tells us our bodies too will share in that fullness. But it was only fitting that Mary should be first in line to share in the fullness of salvation that Jesus came to bring us.
Today's feast is a feast to honor Mary and it is fitting that we do so, since God himself has so honored her. But it is also a feast that shows us God's plans for all those who faithfully follow God's will.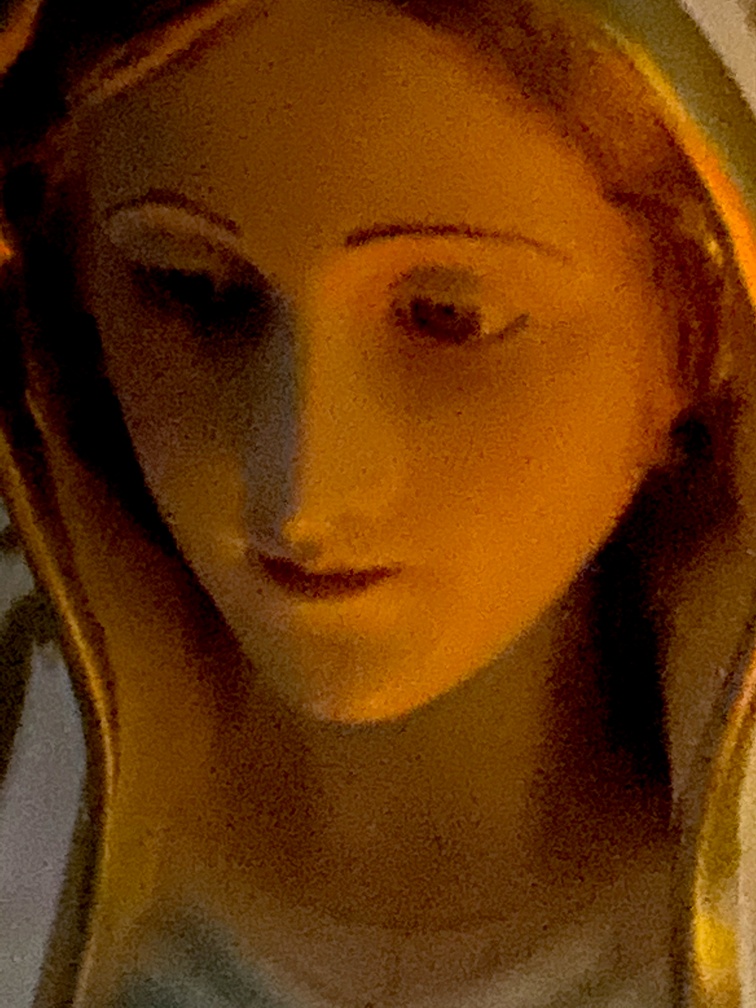 May 5, 2021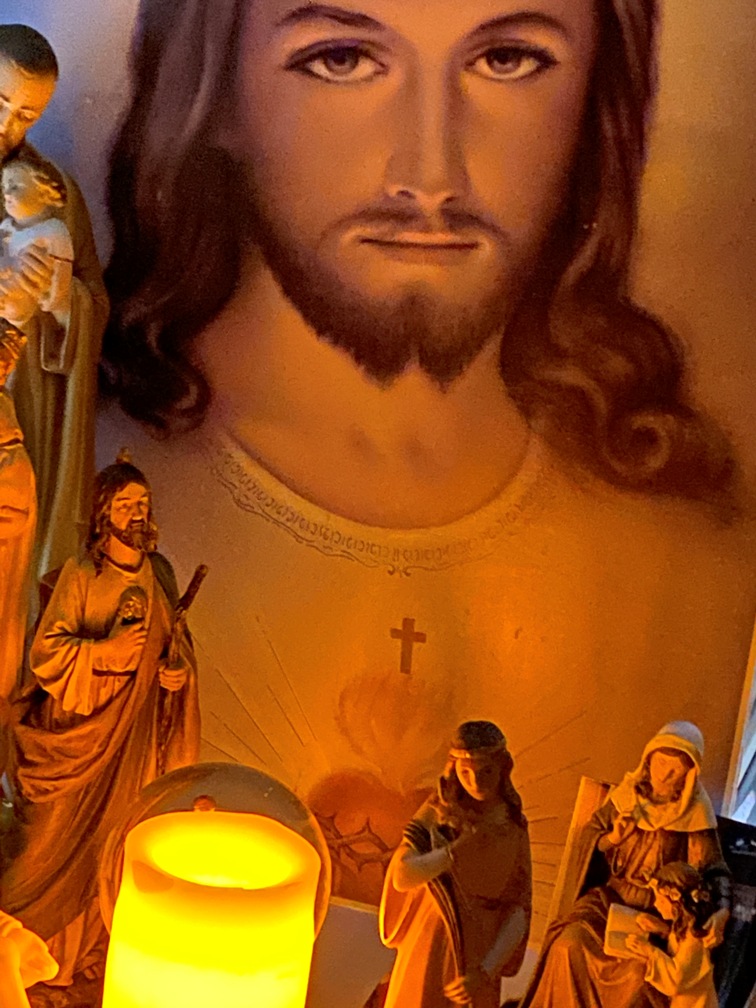 May 5, 2021
Message from May 5th, 2021 - Almost Midnight after the prayer service
R. The more Jesus dwells in us the greater our intimacy, oneness with Him.
To have Jesus this close we must want purity in our heart.
Our fondest desire is Jesus.
And so we desire all defects of character, bad habits be removed as not to separate us in any way from God.
Sin separates us from God.
Life giving into the deadly sins becomes a life of misery.
The more ingrained these bad habits are practiced, they can be common ways a person acts - giving Satan an open door to manipulate them through their sinful behavior - an open door to temptation and bad habits.
To get rid of bad, sinful habits of the deadly sins one must desire conversion to become closer to God in purity.
Satan says " oh you have plenty of time to change - give in"
Pride puts oneself before God.
Envy and jealousy can be such bad habits a person refuses to even recognize their sins and ask God for forgiveness.
To be forgiven for sin which offends God and hurts our brothers we are to love - there must be real sorrow for sin, asking God for forgiveness and mercy, a desire to quit sinning that way, repentance - a firm purpose of amendment.
God wants us with Him eternally in heaven.
We must seek conversion.
We must seek letting go of the inordinate attachments to the deadly sins.
We are here to live greater life in Him - thanks to baptism.
Jesus paid a precious price for our sins.
We are to offer up our suffering, identified with Jesus' suffering for our own salvation and to help in the work of salvation of others.
When we hurt others through our sins we must seek forgiveness and help make reparation for our sins.
Offering up suffering is an important step to closer Union with God.
Prayer for Union with Jesus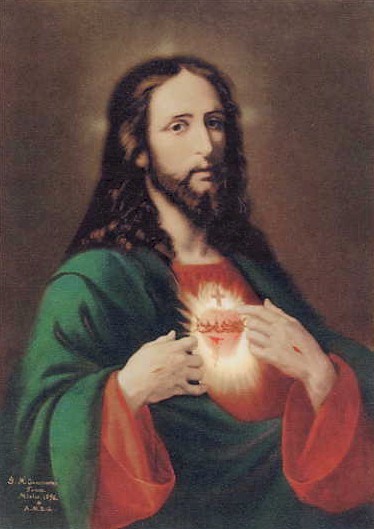 Come to me, Lord, and possess my soul. Come into my heart and permeate my soul. Help me to sit in silence with You and let You work in my heart.

I am Yours to possess. I am Yours to use. I want to be selfless and only exist in You. Help me to spoon out all that is me and be an empty vessel ready to be filled by You. Help me to die to myself and live only for You. Use me as You will. Let me never draw my attention back to myself. I only want to operate as You do, dwelling within me.

I am Yours, Lord. I want to have my life in You. I want to do the will of the Father. Give me the strength to put aside the world and let You operate my very being. Help me to act as You desire. Strengthen me against the distractions of the devil to take me from Your work.

When I worry, I have taken my focus off of You and placed it on myself. Help me not to give in to the promptings of others to change what in my heart You are making very clear to me. I worship You, I adore You and I love You. Come and dwell in me now.
-God's Blue Book, January 17, 1994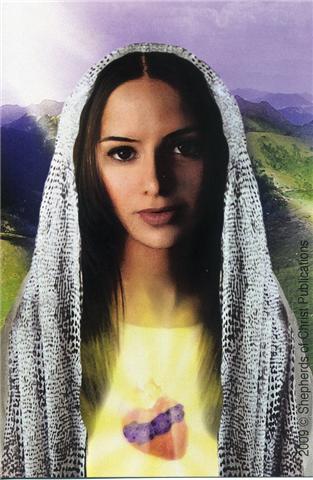 A Prayer for Intimacy with the Lamb, the Bridegroom of the Soul
Oh Lamb of God, Who take away the sins of the world, come and act on my soul most intimately. I surrender myself, as I ask for the grace to let go, to just be as I exist in You and You act most intimately on my soul. You are the Initiator. I am the soul waiting Your favors as You act in me. I love You. I adore You. I worship You. Come and possess my soul with Your Divine Grace, as I experience You most intimately.
Morning Offering

My dear Father, I offer You this day all my prayers, works, joys and sufferings, my every breath, my every heartbeat, my every thought, all my actions, in union with Jesus in the Holy Sacrifice of the Mass throughout the world, in the Holy Spirit. I pray the Holy Spirit is with me every second today, enlightening me to do the Will of the Father and filling me with the fire of God's love.

I ask Jesus and Mary to be one in me in all that I do and I unite with all the angels and saints and souls in purgatory to pray continually to the Father for these intercessions, in this prayer, for this day.

For myself, I pray for grace-abundant grace, to know and love God more and more and to follow the Will of the Father. I pray to the Holy Spirit to transform me in the heart of Mary to be more and more like Jesus. I pray that I can forever dwell in the Hearts of Jesus and Mary. I pray for conversion of all those I hold dear who need conversion. I pray for each member of my family that they will be filled with Your abundant grace to grow in their knowledge and love of God.

I pray for all my friends that they will receive abundant grace to carry out the great plan of the Father, that they will grow forever closer to Jesus' Heart through Mary's heart, that we will all be led by the Holy Spirit to do His work, that we will, together, carry out the plan of the Father as He intends us to, to spread the love of the Sacred Heart of Jesus and Mary's heart to this world.

Jesus, I pray for myself so the Holy Spirit descends upon me and opens my heart to Your love so I will grow more and more deeply in union with You. I pray that I do not worry what other people think but try always to please the Father and do His Will. I pray that I may help lead many to Your burning love.

I pray for the following people in particular that they will be filled with the Spirit and grow deeply in their union with You, that they will receive abundant graces to know, love and serve You more. (Include special friends by name...)

I pray for priests the world over, for the success of the Priestly Newsletter, the Chapters and for the finances needed for the Newsletter. I pray for the circulation of the Blue Book messages, rosary meditations and tapes. I pray for all those involved in the publication of these messages.

I pray that You will shower Your abundant graces onto the priests reading the Newsletter the people reading and hearing the Blue Book messages and rosary meditations and all of Fr. Carter's publications.

We pray for the intentions we hold deep within our hearts, for our families and friends, for those requesting our prayers. We pray for children the world over and for the souls in purgatory. We ask God to shower His abundant grace on us and the members of our Shepherds of Christ Chapter so that we may grow more and more in our knowledge and love of God.

We consecrate ourselves to the Hearts of Jesus and Mary. We pray for Father Carter, for Father Smith, for Rita Ring, and for John Weickert, for all leaders and helpers in the Shepherds of Christ Movement, for Shepherds of Christ Ministries, and Our Lady of Light Ministry. We pray for all those who are working in these ministries.

We bind ourselves and our children and our friends to the Immaculate Heart of Mary. We place the precious blood of Jesus on ourselves, and all we touch, so that we will be protected from the evil one. We pray to St. Michael to cast the devil into hell.

We love You, God, we love You, we love You. We beg that we may receive the grace to love You more and more deeply. We adore You, we praise You, our beloved Father, Son, and Holy Spirit.
Morning Offering
My dear Father, I offer you this day all my prayers, works, joys, and sufferings in union with Jesus in the Holy Sacrifice of the Mass throughout the world, in the Holy Spirit.
I unite with our Mother, Mary, all the angels and saints, and all the souls in purgatory to pray to the Father for myself, for each member of my family, for my friends, for all people throughout the world, for all the souls in purgatory, and for all other intentions of the Sacred Heart.
I love You, Jesus, and I give You my heart. I love you, Mary, and I give you my heart. Amen.
May 16, 1998 - Prayer to the Father
My Father,

With my whole heart I desire to consecrate the whole world to the Sacred Heart of Jesus and the Immaculate Heart of Mary. I wish with my whole being for the salvation of souls and that man live according to Thy Holy Will. I pray my Father that we may be one in You and Your Son Jesus and the Holy Spirit that we may intercede to You for this cause.

It is this burning desire within my soul to spread the consecration to the far ends of the earth, that the cries of Your children are cries of glory and honor and adoration, praising God as their God.

My Father, at this moment a soul hangs on the edge of death. For all eternity they will go to a place. It is not the plot of this soul as it trods this barren land to decide on the edge of death. You created us that we would grow in our oneness with God, that we would mature more and more in our image and likeness to God.

And so My Father, I pray with every cell in my body for this earth. In the name of Your Son Jesus I consecrate all the souls of this earth to the Sacred Heart and the Immaculate Heart of Mary in the Holy Spirit in union with the Holy sacrifice of the Mass with all the angels and saints and the souls in Purgatory.

I beg You Father for mercy.
I beg You Father for assistance.
I beg You Father to help us to spread this consecration to the far ends of the earth.

Please help us. We are helpless little ones coming in the heart of our Mother, bleeding from our wounds and our sins.

Your Son, Jesus Christ, shed the last drop of His Blood for the salvation of mankind. We wish to unite in this sacrifice, sacramentally made present in the Mass all over the world at every moment. Help us to make reparation to You for the sins of men.

Please my Father, help us. Held in the heart of Mary and the Heart of Jesus we come as the children of Eve to beg for the Reign of the Sacred Heart and the Triumph of Mary's heart. Look upon our love, Your shepherds in the Shepherds of Christ, our sacrifices and devotion to You Our Beloved Father. Come by the means of the Holy Spirit and sanctify us and make us whole, that we are one in Your Son Jesus, praying to You, Father, in the name of Your Son Jesus in the Holy Spirit united with all the angels and saints, in the heart of Mary. We beg for help for special intentions concerning the Movement. We beg for help to reach the Churches to give these prayers of Jesus to them, to reach the schools and the family. Help we cry as poor banished children of Eve. Help us Father to do this work the Good Shepherd has entrusted to us. Help us to be one in You that we act as intercessors to help this world to be turned to God as their God, loving, honoring and adoring Him as the Lord of Host is truly present on His throne.

We are Your children Father, we implore You to answer our prayer.
We love You, we worship You, we adore You, we thank you and we sing from the bottom of our hearts, Holy God we Praise Your Name. Alleluia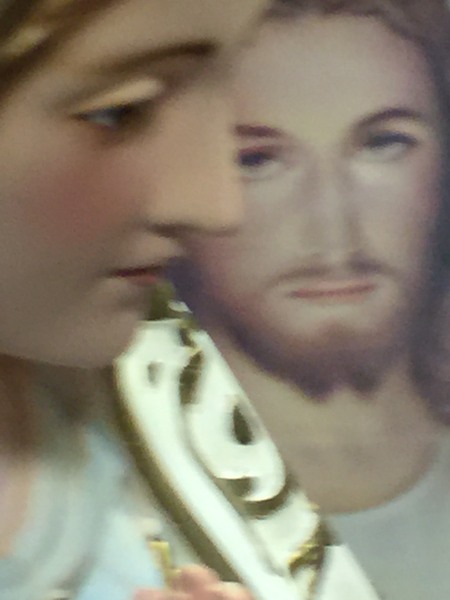 R. This picture on back of Blue Book 19 was taken in my room in Clearwater May 5, 2019.
I asked for a special picture.