Retreat in China
May 10th - 13th



1:30pm & 6:20pm
Please tune in & pray with us.
Please Pray for Fr. Joe & Bob


Prayer for Grace for our Country

Dear Father united to Jesus in the Holy Sacrifice of the Mass, the Sacrifice of Calvary sacramentally made present, celebrated around the world, in the Holy Spirit. We offer up all we do united to the Mass. We unite in one mind and one heart as members of the mystical body of Christ, with Christ our head in the pure and holy Hearts of Jesus and Mary, through the powerful intercession of Mary with all the angels and saints and souls in purgatory, and we beg for the saving grace, for our country, the United States. Please help us. We further pray for unity to always do the will of God in love. We spread the Blood of Jesus on the leaders and people of the United States and cast the devil into hell. We consecrate our country to the Sacred Heart and Immaculate Heart and all our dioceses, and beg for an outpouring of the Holy Spirit. God help us. We pray for our families, the priests, the Church and the world. In the Name of Jesus please hear us, we pray. We pray for our president and leaders. We pray that we are united as one nation under God to work together in love as God wants.
May 9, 2021

Happy Mother's Day




R. My dear God,

Please make haste to help me.

Glory Be to the Father...

Please protect me now God, I need Thee.

Glory Be to the Father...

Oh God how loving You are to us
and how You are ignored
many times or given a crumb,
when You outpour such love
to us.

Glory Be to the Father...

Thank You for Your ever abundant love,
my God, I am so grateful – so sorry
for the little love I return to You
and others.

I think of the ego and try to give
You what You ask of me –
I may feel weary in my life
and yet I say to myself –
"Do you do this for your ego?"

The cross can wear heavy with sickness
so close to us and in contrast
beauty is so much more beautiful
in suffering.

Glory Be to the Father...

God come to my aid and help me –
God, I love You so much –
I need You now. Amen.

August 9, 2000

R.

Oh, there is not one so fair as thee, my beloved Mother Mary.

Of all the maidens that God could have chosen it was you, oh shining Star of Heaven.

Oh Mary, Mother of us all. She doth appear as a wonder so fair indeed,

A permanent sign of God's love.

A Woman clothed in gold.

One that glistens with the radiance of a golden tone,

Her beauty dancing in the sunlit hours of every day.

In morning splendor, in dancing light at noon day as the sun glistens on her rainbow glow and at night she has appeared on special dates in golden splendor and light.

Would you quote the Scripture for Mary so fair.

"Now a great sign appeared in heaven: a woman, robed with the sun, standing on the moon, and on her head a crown of twelve stars. She was pregnant, and in labour, crying aloud in the pangs of childbirth." (Revelation 12: 1-2)

Would you see her as she appeared in little villages in the 20th century, tucked in hills and out of the way places.

If you missed these enormous signs from heaven, of one so fair, she appears there clothed in the golden sun of the day, reflecting her radiant beauty painted by the hand of the Father. She is His chosen maiden so fair.

She appears daily, she is there by day and beneath the black shadows of night, she does not slumber, but calls to her children of light to come through her golden doorway and let the light of Christ shine in their souls.

She appears one so fair, by day and sometimes by night clothed in radiance and golden, her garment hemmed with glistening sunlight. She once appeared to a few and her visits fleeting in remotest places, she remains a Woman Clothed with the Sun, the sun dancing on her garments of rainbow color on a busy, busy corner for all to see, in the state of the sun, sunny Florida. She is a Woman painted by the brush of God.

And do you know the wonder of one who calls the children far and wide, to hear the voice of her Son, Jesus, Chief Shepherd of the Flock.

Mary, the heavenly maiden, to call them home to His Heart.

Oh, of one so fair, do we not boast and praise our God and thank Him for such a wonder.

Oh, to Mary, Queen of Heaven and Earth, we cry, help us to do what you asked for at Fatima and help us in our mission of telling the world of your Son's desire to spread His Movement so men will be Shepherds of Christ.
August 22, 2000
Today is the Queenship of Mary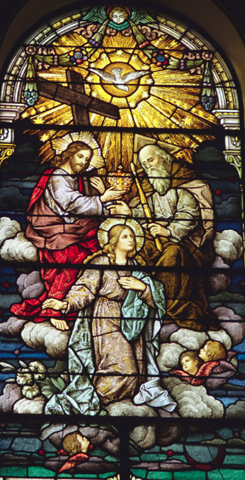 R. The Queen mounts her throne among shouts of joy The angels surround this heavenly throne Her children love her and worship their God.
The Sacred Heart of Jesus reigns in the hearts of her children.
He is the King of their hearts.
She is the Queen of their hearts.
A New Adam, a New Eve are recognized by the once enslaved children of Adam and Eve.
A trumpet blare for one so fair, a blare of music for our starved ears.
From the Magnificat, Mary speaks with the lilt of the voice of one so pure and holy. (NOTE: Read this with the lightness of the voice of the Virgin filled with the Holy Spirit and in the humility of one so fair.
Among shouts of joy our Lady speaks liltingly in a heavenly voice and we gape at the sound of her sweet voice and behold the beauty of this maiden so sweet and fair.
God the Father speaks:
Amen, amen I say to you My beloved Apostles of the Sacred Heart. You may worry and struggle now, but a King looks on you with the greatest love as you surrender more and more everyday to do My will that this day will come to your earth, the day of the Reign of the Sacred Heart.
Do not get caught up in the mysteries of the way men act and perceive things, but put your gaze ever more on the mystery of My Divine Son and how much He truly loves you.
You are caught in the wonder of the earth and the firmament. My beloved, so much more glorious is the insight into My Divine Mysteries.
My plan is given here to bring about the Reign of My Son's Sacred Heart and the triumph of your Mother's Immaculate Heart.
I am a God of justice and of right.
I am your heavenly Father.
I am the Carpenter, the One with the plan.
You are but children of Mine, creatures of the earth, and yet My love for you is so great. I gave you My only begotten Son as One offered for your sins and, men, you smite Me, your Father.
You ignore your Mother when I give you such gifts in your churches of her presence forever with you and the Holy Spirit working with her bringing forth your holiness.
I painted with My hand your Mother pleading to her young ones, and she appears everyday, and you ignore this sign and gift I give you.
What more could convince you? You want another sign and another while you sheepishly continue your sinful ways.
My children, My children, help Me to reach your brothers, oh please, they have plugged up their ears and covered their eyes.
How is it your Creator cries to the creatures and they ignore Him?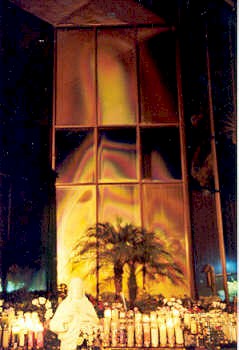 Now the beauty of one so fair July 5, 2000, I painted as a golden wonder before you and allowed such photography that all might know Our heavenly presence when Mary speaks in the

Rosaries from the Hearts of Jesus and Mary. And My Son delivers, in these rosaries, the message I give to you as your heavenly Father.

Oh children of the earth, be attentive and listen to Me, I plead as your heavenly Father that your wills be aligned to My will and you serve Me.

Oh children of Eve, your Mother Mary cries to Me, for she pleads your case, and I have given in to her requests that the children be spared if they turn from their ways and love their God.

She wanted to come to you as the Woman adorned in sunlight by day and fashioned in a special way by nightfall in golden mystical light in the dark night, as her favored children sing so fervently songs of praise and love to God, and they sing to her, a Mother who has never forgot them.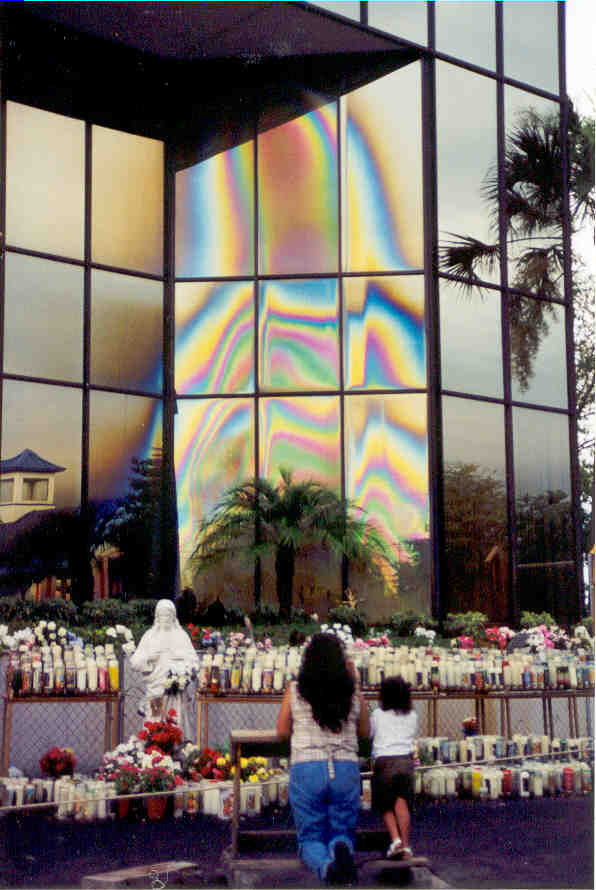 Oh children, listen to Me and help Me reach your willful brothers through your fervent prayers. My Son gave Himself as a Sacrifice for your sins, meriting the graces available to you the sinful children of Eve, and you will not even pray after I have granted this special gift of Mary on the building.
Your eyes do not see her, or you would have changed your ways by now.
What sign would you respond to, My silly earth?
I give you My Son with you in the Eucharist, and you do not treasure this gift as you should.
God remains with you today. Jesus, My Son, feeds you with His Body and Blood. He is truly present in His Divinity and Humanity. You need to pray as He has instructed, especially before the tabernacle.
Amen.
I am the Father, I have spoken, I am the Alpha and the Omega, the Beginning and the End.
Jesus speaks:
I am the Son of God, on this glorious feast sing songs of great praise to your God and love Him.
Unite to the Father, Son and Holy Spirit and pray to be possessed by God.
Mary is your Mother, she is the one, pure, spotless, human person. She was conceived without sin, you must listen to her, it is the Father's will. You must be brought forth from her Immaculate Heart, her spiritual womb, as a child of God, a child of the light.
Let the scales drop from your eyes as you sing praise and see, as never before, the glory and wonder of your God.
September 5, 2007
Mysteries of Light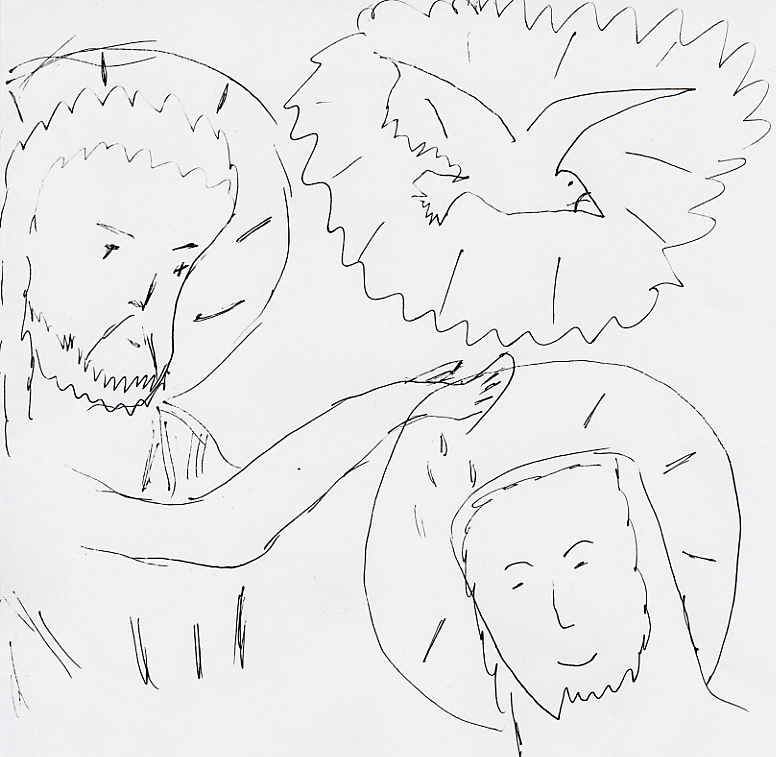 Baptism of Jesus
(1) Matthew 3: 16
And when Jesus had been baptised he at once came up from the water, and suddenly the heavens opened and he saw the Spirit of God descending like a dove and coming down on him.
(2) Matthew 3: 17
And suddenly there was a voice from heaven, 'This is my Son, the Beloved; my favour rests on him.'
(3) Mark 9: 7
And a cloud came, covering them in shadow; and from the cloud there came a voice, 'This is my Son, the Beloved. Listen to him.'
(4) Luke 3: 16
For this is how God loved the world:
he gave his only Son,
so that everyone who believes in him
may not perish
but may have eternal life.

(5) John 1: 32, 34
And John declared, 'I saw the Spirit come down on him like a dove from heaven and rest on him.

I have seen and I testify that he is the Chosen One of God.'
(6) In baptism we receive a sharing in His life.
(7) In baptism our knowing and loving capacity is elevated.
(8) Blood and water came forth from the pierced side of Jesus.
(9) Water for Baptism.
(10) Blood for the Eucharist.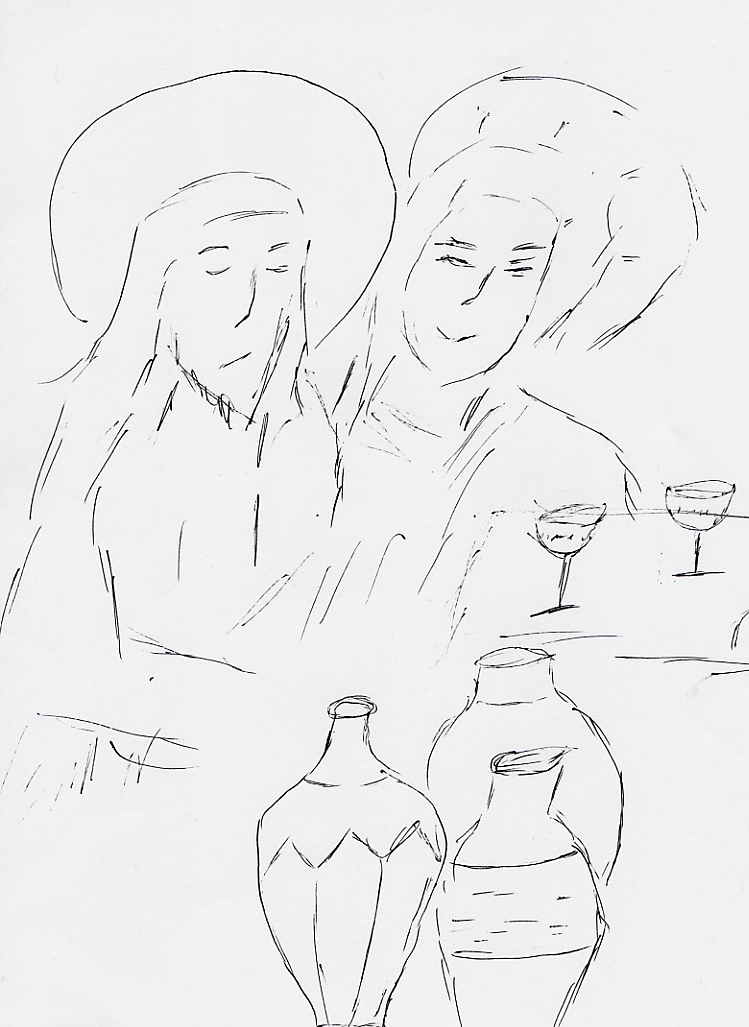 Marriage at Cana
(1) Psalm 24: 8
Who is he, this king of glory?
It is Yahweh, strong and valiant,
Yahweh valiant in battle.
(2) Luke 2: 32
a light of revelation for the gentiles
and glory for your people Israel.
(3) Jesus worked miracles.
(4) There was a wedding.
(5) Jesus performed a miracle.
(6) Jesus turned water into wine at the wedding of Cana.
(7) Mary tells us to do what Jesus tells us to do.
(8) Mary can intercede to Jesus for us.
(9) Ask Mary to ask Jesus to help us.
(10) Jesus gives us Himself in the Eucharist.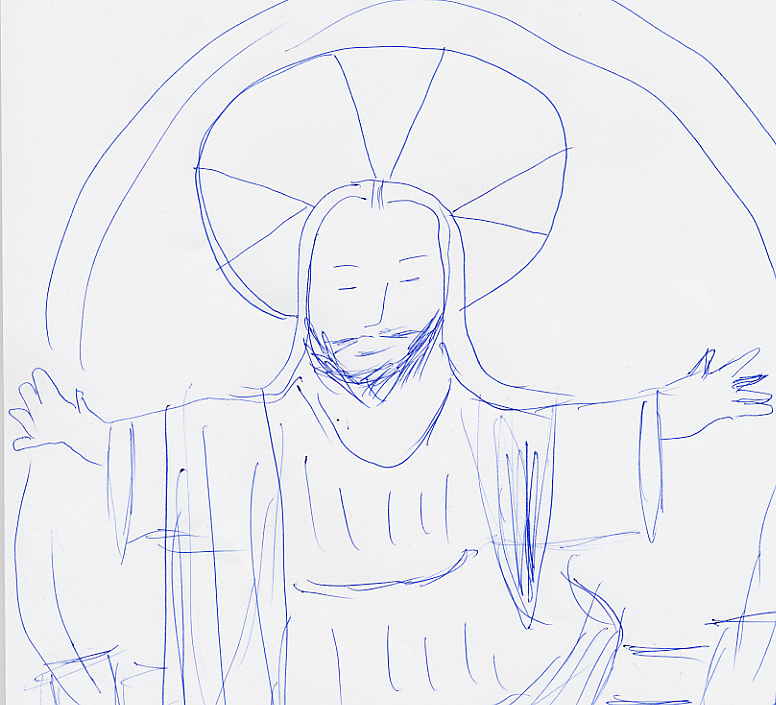 Kingdom of God
(1) Glory to Jesus our King.
(2) The Sacred Heart should be the King of our hearts.
(3) The Sacred Heart should be the King of our homes.
(4) Jesus was slain for our sins.
(5) Jesus is the King of Glory.
(6) Sing: A Song from Jesus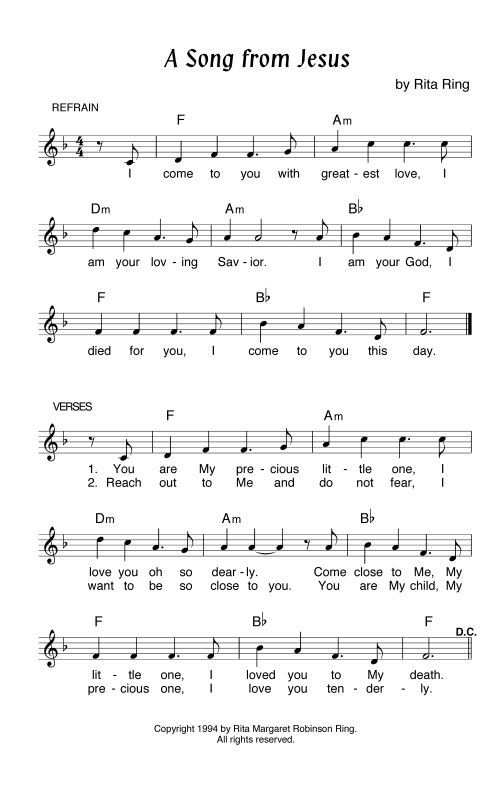 (7) Jesus is the image of the invisible God.
(8) Jesus is the head of the body, the Church.
(9) Jesus is our Savior.
(10) Jesus loves us so much.

Transfiguration
(1) Matthew 17: 5
He was still speaking when suddenly a bright cloud covered them with shadow, and suddenly from the cloud there came a voice which said, 'This is my Son, the Beloved; he enjoys my favour. Listen to him.'
(2) Psalm 97: 1a, 9a
Yahweh is king! Let earth rejoice,

For you are Yahweh,
Most High over all the earth,

(3) Matthew 17: 5c
...'This is my Son, the Beloved; he enjoys my favour. Listen to him.'
(4) John 3: 2
who came to Jesus by night and said, 'Rabbi, we know that you have come from God as a teacher; for no one could perform the signs that you do unless God were with him.'
(5) Jesus took some Apostles up the mountain.
(6) Jesus was transfigured in great light before them.
(7) Jesus gives us the Eucharist.
(8) Jesus wants us to be radiant with love.
(9) Jesus is the King of Glory.
(10) These are the Mysteries of Light.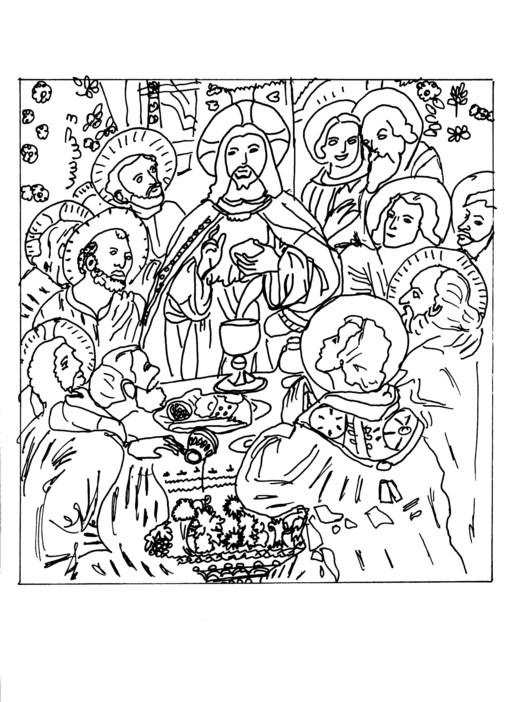 Institution of the Eucharist
(1) Jesus is the Light of the World.
(2) Psalm 8: 7
made him lord of the works of your hands,
put all things under his feet,
(3) Jesus gives us Himself in the Eucharist.
(4) Jesus is the Light of the World.
(5) "This is My Body."
(6) "This is My Blood."
(7) We receive the "Son of God" in the Eucharist.
(8) Jesus gives us a sharing in His life.
(9) Jesus outpours His grace.
(10) Jesus is the Light of the World.