Friday, June 11th
Feast of the Sacred Heart
Praying from China
from 12 to 3
Please tune in & pray with us.


|

Please Pray for Fr. Joe & Bob


Prayer for Grace for our Country

Dear Father united to Jesus in the Holy Sacrifice of the Mass, the Sacrifice of Calvary sacramentally made present, celebrated around the world, in the Holy Spirit. We offer up all we do united to the Mass. We unite in one mind and one heart as members of the mystical body of Christ, with Christ our head in the pure and holy Hearts of Jesus and Mary, through the powerful intercession of Mary with all the angels and saints and souls in purgatory, and we beg for the saving grace, for our country, the United States. Please help us. We further pray for unity to always do the will of God in love. We spread the Blood of Jesus on the leaders and people of the United States and cast the devil into hell. We consecrate our country to the Sacred Heart and Immaculate Heart and all our dioceses, and beg for an outpouring of the Holy Spirit. God help us. We pray for our families, the priests, the Church and the world. In the Name of Jesus please hear us, we pray. We pray for our president and leaders. We pray that we are united as one nation under God to work together in love as God wants.
June 9, 2021 - Forgiveness
R. I eat His Body and drink His Blood.
Jesus, thank You for the Eucharist.

Thank you for the priest.
Thank you for the Church.

Lead us to grow in the spiritual life.
Outpour Your grace to me now.

Oh God, thank You for the sacraments.
Thank You for each other.

Love. Love and forgiveness is the answer.

He washes the land and makes things clean.
He comes to us to help us have clean and holy hearts.

Jesus: Oh how I love you, My beloved.
I give you Myself in the Eucharist.

I fill you.
I refresh your soul.

Come to Me in humility and love.

Do not give into division.

R. We unite in love to God.

We spend time alone with Him.

The Holy Spirit inspires us.
We seek God's will and we seek to live in love.

We are united always in oneness to God.

June 9, 2021 - Forgiveness

R. Deciding to forgive is the first step to freedom.
These are the first steps to healing.

Not forgiving is hurting us if we do not forgive.

It is not damaging the other many times, they can be deceived.

We must have faith and trust in God. We can receive the grace we need when we turn to God.
Carrying bags of unforgiveness is like carrying around a ball and chain.

Hatred toward someone can be destroying us.

Bitterness hurts the heart and the spirit is stilted.

If they are alive, a person may refuse to accept our forgiveness, if we go to them, but it is the right thing to set a person free from bitter unforgiveness.

It is the best thing to forgive.

Forgiveness in our own heart, doesn't matter who is right or wrong, we have to move out of bitter unforgiveness.
We must seek peace and forgiveness in our heart.

We must forgive if we love ourselves, for our own benefit.

We try to make the world a better place.
God is all knowing. The very hairs of our head are numbered.

God knows all things.

God is Divinely just.

Have faith and hope.

Forgiveness is good for the soul.

Jesus teaches us how to forgive.

Jesus is love. He teaches us love.

He teaches us forgiveness.

To error is human, to forgive is Divine.

Jesus teaches us forgiveness.

We were created in His image and likeness.
We can pray for grace to forgive.

June 9, 2021 - Forgiveness

Sorrowful Mysteries

The Agony in the Garden

1. Jesus teaches us about forgiveness.

2. Matthew 22: 36-40

'Master, which is the greatest commandment of the Law?' Jesus said to him, 'You must love the Lord your God with all your heart, with all your soul, and with all your mind. This is the greatest and the first commandment. The second resembles it: You must love your neighbour as yourself. On these two commandments hang the whole Law, and the Prophets too.'
3. What we do to others we do to Jesus.
4. God calls us to love.
5. We are to forgive our enemies.
6. When we do not forgive we hurt ourselves.
7. When we forgive there is room for love in our hearts.
8. Jesus knew all the people that would sin and despite all His suffering, refuse to admit their sins and ask for forgiveness.
9. God wants what is best for us.
10. God wants us to ask for forgiveness and be sorry for our sins.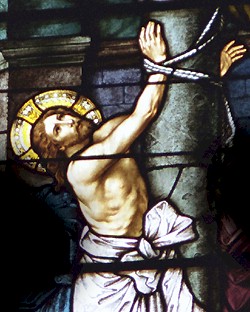 The Scourging at the Pillar
1. Jesus paid the price for our sins.
2. Jesus was whipped at the pillar.
3. Jesus' body was mutilated.
4. Jesus' blood fell to the ground.
5. Jesus forgives the sinners who are sorry for their sins and repent.
6. Jesus teaches us about love and forgiveness.
7. We are to walk humbly.
8. We are to admit our sins and seek forgiveness from God.
9. We need to forgive and we need to ask forgiveness from God and others.
10. We are sinners and we need forgiveness from God.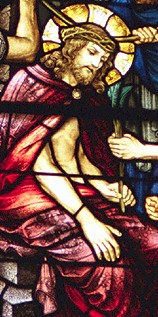 The Crowning with Thorns
1. Think of the sins committed with our minds.
2. Think of the sins committed with our eyes.
3. Think of the sins committed with our mouth.
4. Think of the sins committed with our ears.
5. Think of the sins committed with our hearts.
6. Think of how Jesus forgives us when we ask Him and how He suffered in the better Passion.
7. Dear Jesus we are sorry for our sins. We are sorry that You suffered so for us. We love You Jesus.
8. Come to me Lord and possess my soul.
9. Dear Jesus, please outpour Your grace to us.
10. Dear Jesus, we beg forgiveness for our sins, and we want to help make reparation for our sins.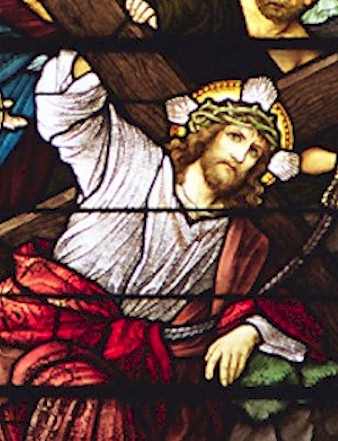 The Carrying of the Cross
1. Jesus carried the heavy cross laden with our sins.
2. Jesus gave Himself to His death on the cross.
3. Jesus is the suffering servant. Jesus is the Son of God.
4. Jesus loves us so much He mends the brokenhearted.
5. Come to me Lord and possess my soul.
6. Forgiveness is good for the soul.
7. My heart is thirsting until it is filled by You Lord.
8. Jesus fell under the cross three times for our sins.
9. Jesus paid the price for our sins.
10. Come Holy Spirit, enlighten our minds and hearts to know the will of God.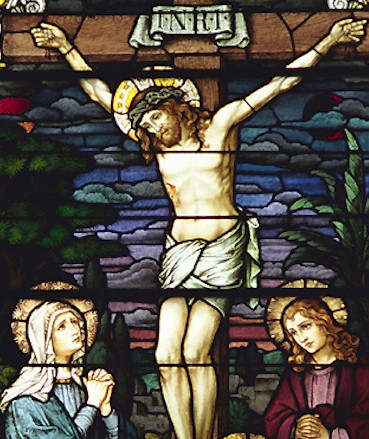 The Crucifixion
1. Jesus died on the cross for our sins.
2. Jesus died on the cross between two thieves.
3. There was a good thief and a bad thief.
4. God the Father gave His Son for the love of us.
5. Come to me Lord and possess my soul.
6. Jesus gave us His Mother while hanging on the cross, for our mother.
7. Jesus hung for three hours dying on the cross.
8. Jesus gave the last drop of His Blood and the last beat of His Heart for the love of us.
9. Come to me Lord and possess my soul.
10. Song: A Song from Jesus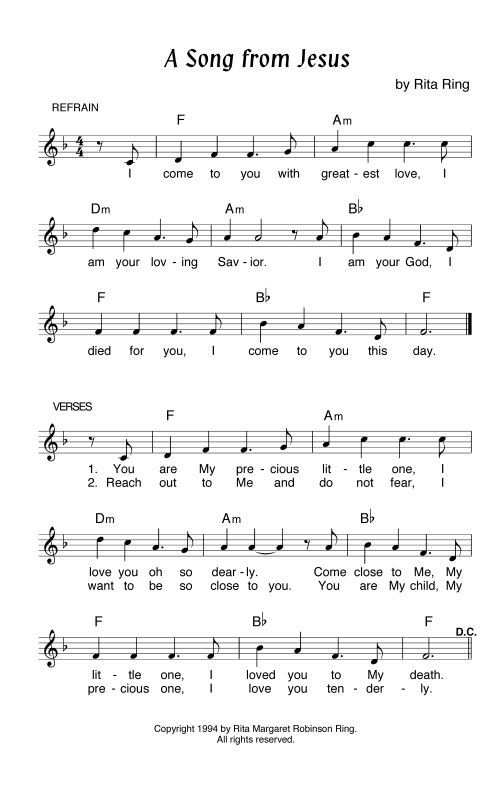 Philippians 4: 4-7
Always be joyful, then, in the Lord; I repeat, be joyful. Let your good sense be obvious to everybody. The Lord is near. Never worry about anything; but tell God all your desires of every kind in prayer and petition shot through with gratitude, and the peace of God which is beyond our understanding will guard your hearts and your thoughts in Christ Jesus.
Thessalonians 5: 16-24
Always be joyful; pray constantly; and for all things give thanks; this is the will of God for you in Christ Jesus. Do not stifle the Spirit or despise the gift of prophecy with contempt; test everything and hold on to what is good and shun every form of evil. May the God of peace make you perfect and holy; and may your spirit, life and body be kept blameless for the coming of our Lord Jesus Christ. He who has called you is trustworthy and will carry it out.
R. Pray for Father Joe's new homily book.


3rd Sunday of Advent

December 14, 2003

INTRODUCTION

– Our first reading is from the prophet Zephaniah. The kingdoms of Israel and Judah were in a terrible mess during his time. The northern kingdom of Israel had been destroyed by the Assyrians. The southern kingdom of Judah, where Jerusalem was, had suffered a lot of destruction too. Jerusalem was still standing and would be around for 130 years or so until the Babylonians would conquer it. Immorality was rampant during Zephaniah's time. The king of Jerusalem and many of the people had turned to idolatry and the king had recently sacrificed his own son to a pagan God. It was not a pretty scene and the greater part of the book of Zephaniah properly scolded the people for their sins, which were the cause of many of their problems. At the end of his book he gives hope to those who are faithful to God and tells them not to fear but to rejoice. Today's passage ends with a most interesting image. It pictures God celebrating and singing over those who trust in him.

There is something we should be aware of when we hear the second reading too. St. Paul is sitting in prison somewhere when he wrote this. And prisons in those days were really bad. Today's prisons would look like a luxury hotel by comparison. Yet Paul can be joyful and he is able to encourage the Philippians to have no anxiety and to rejoice always.

HOMILY

– In the days when we had Mass in Latin, today was known as Gaudete Sunday. That means "Be Joyful." The liturgy continues to communicate that theme of joy with rose colored vestments and readings telling us to rejoice.

So I think I could get by with a couple of funny stories. The first is about a father and son who were visiting the art museum in London. And as they looked at a painting of the Nativity by the famous artist Titian the boy asked his father why Jesus was lying in straw in such a cruddy cradle. His father said because they were so poor. The boy then asked "if they were so poor how could they afford to have their picture painted by such an expensive artist."

When the pastor asked the grade school class why Jesus was born in Bethlehem one very bright child e3eanswered "Because his mother was there!"

Well, I could entertain you with more jokes, but there's something more important than just telling jokes that needs to be talked about and that's joy. Joy goes deeper than just being funny. We heard the prophet in today's first reading telling God's people, during an especially difficult time in their history, to "sing for joy." They should sing for joy not because things were wonderful, but because God was in their midst. And we heard Paul, in prison, tell the Philippians to rejoice always. Paul wasn't feeling sorry for himself and he tells them they shouldn't either. The scriptures give us different ideas about joy than our culture does. Our society tell us joy stems from what we have. The scriptures tells us our joy comes from what we have (the Lord is in your midst, Zephaniah tells us) but it also comes from what we will have in some future time, something we can trust in because God is faithful to his promises.

I can only say a few things about joy in the few minutes I have and let me start with some of the things people do that are destructive of joy. * Feeling sorry for oneself is one of those things. * Constantly putting other people down to make ourselves look smarter or better doesn't work either. * Even putting ourselves down all the time. If we feel bad about something, or guilty or full of regrets perhaps we need to make a good confession and receive the Lord's forgiveness; or if we have received the Lord's forgiveness, perhaps we need to forgive ourselves. * Holding on to anger and resentment does not bring joy. We have to forgive others. * Thinking that having more things is going to make us happy works only for a little while. * And then there's fear and worry. That's a sermon in itself. Paul says have no anxiety at all. That's something of an exaggeration, but there are so many things we become anxious about that we can do nothing about and we have to leave in God's hands.

Joy is a choice. I think it was Abraham Lincoln who said most people are about as happy as they make up their minds to be. Most psychologists would agree. Hans Selye, the doctor who developed the notion of stress, said generally it is not the things outside of us that create stress for us, but it's the way we respond to these things. So Paul tells the Philippians "rejoice" as if it is something for them to choose to do rather than it being something that just happens to them. Doing good also brings joy. Our religions is more than just saying "I believe in God, or I believe in Jesus!" The people in today's gospel ask the Baptist "what should we do?" John gave them a few specific ideas. All we have to do is read the gospels or the 10 Commandments and we'll get the idea that there's more to our relationship with God than just to say "I believe!" Today's gospel ends with the line that the Baptist "preached good news to the people." God's word to us, even when it's telling us what to do, is good news because it's trying to lead us to the happiness that our good God wants for us. Lastly, I think gratitude is the key to joy. St. Paul said: "in everything, by prayer and petition, with thanksgiving, make your requests known to God." An ungrateful heart is not a happy heart. This is not all that could be said about joy, but it's probably enough to work on if we want to have greater joy in our lives.

My closing words for today are don't make yourselves so anxious this season that you lose the joy that can be found only in knowing Jesus' love. "The Lord, your God, is in your midst."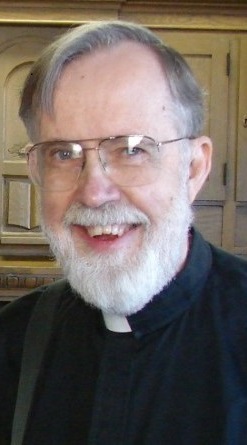 Forgive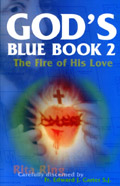 March 26, 1994

Jesus: I want you to love when they persecute you. I want you to surrender and turn your heart into a heart fixed only in love. Let go and let Me In. I will fill you with forgiveness and love!

You must dismiss all fear and realize you live for love of Me and Me alone. I am catching you in My loving arms when you let go.

It is hard to love when someone has hurt you. I tell you to forgive 70 times 7 times. Forgive, My little one. Let go and I will embrace you in My loving arms. You have no room in your heart for any hatred or anger.

You are tender from My love. Now that you know a little how My heart hurts so badly, your heart becomes more tender!

My heart is full of love, love of you. You need no person's approval. You love Me with all your heart! I love you with a heart on fire for love of you. You can love the unloving because I loved you first. I am Jesus Christ. Mine is the tenderest of all hearts. I come to you with the deepest love.

Suffer My Passion with Me. My heart was full of love and they whipped Me and beat Me, the tenderest of all hearts, full of love for them who beat Me!

I love you, sweet one, with My Godly love. I am all you need. I never change. I love you unconditionally. I love you the same each day. You learn such lessons in your trials. I am Jesus. I am here and I am your Savior.

When they persecute you and yell anything against you, they did it to Me first and they do it to Me again when they mistreat you. You are never alone. My mother is with you. She walked My walk on Calvary. Even though we did not touch, our hearts were joined in such union! She walks with you the streets of this cold, self-centered world. She walks with you as you walk toward heaven. She is your loving mother. You are her beloved child. Oh, child, let go and fall into the arms of Him Who loves you. They are the only arms that will sustain you, and My mother is by My side.

From Fr. Joe's New Homily Book

Good Friday - April 9, 2004

I remember an old phrase the sisters used to use in grade school to help us understand the mysterious workings of God. They used to say "God writes straight with crooked lines." It sounds like a contradiction. Indeed it is a contradiction we celebrate today. God just doesn't always do what we expect he should do. As St. Paul tells us (I Cor. 1,25) "The foolishness of God is wiser than human wisdom and the weakness of God is stronger than human strength."

God's strange way of doing things began somewhere in the past when human beings turned their back on him. He decided to keep on loving us and caring for us and trying to save us just the same. And something even more strange was the way God decided to go about it: becoming human like us, being born in a barn or a cave on the outskirts of a socially insignificant town, as a member of a politically conquered people. And when the powerful people there felt his teachings threatened their position, he could have backed off or walked away, but he willingly stood up for what he taught, even though he knew it would cost him his life. The price he paid was extreme, but it was for us. It was "our infirmities that he bore, our sufferings that he endured...he was pierced for our offenses, crushed for our sins." "Upon him was the chastisement that makes us whole, by his stripes we were healed."

God's strange ways of doing things didn't stop there. He continues to call all of us to a closer union with himself, especially as he gives his body to us as our bread and he gives his blood as our drink. "Who would believe what we have heard?" Gratefully a large number of people do believe it. Sadly there are not more!

In a moment we will have our general intercessions when we will pray for all the people of the world, believers and non-believers. Then we will have before us the symbol of this divine contradiction – a cross, once a symbol of disgrace and defeat, now a symbol of redemption. We are about to venerate it with a kiss. Let us approach it with hearts filled with profound gratitude for the divine love which accepted it on our behalf.