September 14, 2015
R. The Trinity is the most perfect
community –
Excerpt from Response to God's Love by Fr. Edward Carter, S.J.
... In reference to Christianity, God himself is the ultimate mystery. Radically, God is completely other and transcendent, hidden from man in his inner life, unless he chooses to reveal himself. Let us briefly look at this inner life of God.

The Father, in a perfect act of self-expression, in a perfect act of knowing, generates his son. The Son, the Word, is, then, the immanent expression of God's fullness, the reflection of the Father. Likewise, from all eternity, the Father and the Son bring forth the Holy Spirit in a perfect act of loving.

At the destined moment in human history, God's self-expression, the Word, immersed himself into man's world. God's inner self-expression now had also become God's outer self-expression. Consequently, the mystery of God becomes the mystery of Christ. In Christ, God tells us about himself, about his inner life, about his plan of creation and redemption. He tells us how Father, Son, and Holy Spirit desire to dwell within us in the most intimate fashion, how they wish to share with us their own life through grace. All this he has accomplished and does accomplish through Christ.
R. There must be a sense of
community in the Church –
in institutions –
growth with Christ the head!
Ceremonies in the Church –
rituals are important –
Coming together with the head
of the community, parish –
as a family in love
is very important for
unity and growth –
God intends it this way!
Jesus gives Himself in the Eucharist.
Jesus is truly present in His Divinity
and humanity –
Baptism gives us a sharing in Divine Life.
The Word and the Eucharist are
the Bread of Life –
People who come to learn about
our community - must
feel a sense of community –
a welcoming of new members
a community that exists
with Christ the head –
in love and truth –
These are major components for growth –
Jesus dedicated Himself in love
and sacrifice –
Jesus opens the way for
mankind to know
God – to know the
Father's plan for
eternal salvation –
We are to gather in unity and
love and truth – with
enthusiasm to praise and
love God and others –
The Church is to bring greater
knowledge of God to the
men and God is love –
the Church must be
centered in love –
the Church must be one –
We exist in this Movement to bring
a community of love –
to be an instrument of God
to pray for the priests and to
help renew the Church
and the world –
We are to help build man's community
life in love – in sharing in
God's vision – a priestly mission.
Jesus gives us Himself –
The Mass is the Sacrifice of Calvary
sacramentally made present.
We are to worship God, with
others in the Spirit of truth!
We are bringing God the Father's
Plan to the people –
the message of Christ –
leading men to unity
in Christ, with each other.
Our religion is centered in God's love
for us. God has called us to be His children
and His friends – We have been given
a free will – we can open ourselves
to His life and His love. We were
created by God the Father, uniquely,
and with a purpose in His plan for
our salvation and the salvation of
others. We help as baptized Catholics,
in the work of redemption, as members
of the mystical body of Christ, by
uniting our lives every day to all
the Masses going on around the world.
The Mass is the sacrifice of
Calvary, sacramentally made present.
We are to live in Him, asking the Holy Spirit
to form us more and more in the image
of Jesus. We have a free will – we
can follow God's plan or close
ourselves off from God's plan and
not do what He wants – we can
close ourselves to this love and life
God wants to give us.
Whether we go to heaven or hell
depends on how we obeyed God,
lived according to His plan –
cooperated with God's call
and with His love –
Heaven is living with
God our Father as children
forever
Again!
Heaven is living with God
our Father as His children
forever –
enjoying being with Him and
with one another –
It is a love relationship
with God – being in the
beatific vision –
embraced by God –
seeing God face to face.
Our hearts are made for God –
nothing really satisfies
us here on earth!
It is impossible to describe
joys of heaven – (joy
is something we must
experience – we cannot
tell a little child what
it is to love like a
husband and wife knows love) –
Christ often compared heaven
to marriage – to a feast
of marriage and a banquet with a king.
Matthew 25 – Read
Hell is just the opposite – it is
man without God – it is
man closed to God –
God gives us a free will –
God does not force us to love –|
God loves us –
God is not out to punish us –
We choose condemnation by
how we live –
We don't know who is in
hell –
we cannot judge!
In hell selfishness
There are stories of people with stiff arms
and a banquet table and they can't
feed themselves
(every tear will be wiped away)
Heaven is everlasting life.
Second Coming – Final stage
Christ's return –
All men will recognize Him –
Now He is hidden
When?
Resurrection – we will have
new bodies –
Glorified bodies "like Christ"
The Source of life is Divine
there will be no weakness –
no sickness, no suffering
or death –
Matthew 25: 31-46
The Last Judgement

'When the Son of man comes in his glory, escorted by all the angels, then he will take his seat on his throne of glory. All nations will be assembled before him and he will separate people one from another as the shepherd separates sheep from goats. He will place the sheep on his right hand and the goats on his left. Then the King will say to those on his right hand, "Come, you whom my Father has blessed, take as your heritage the kingdom prepared for you since the foundation of the world. For I was hungry and you gave me food, I was thirsty and you gave me drink, I was a stranger and you made me welcome, lacking clothes and you clothed me, sick and you visited me, in prison and you came to see me." Then the upright will say to him in reply, "Lord, when did we see you hungry and feed you, or thirsty and give you drink? When did we see you a stranger and make you welcome, lacking clothes and clothe you? When did we find you sick or in prison and go to see you?" And the King will answer, "In truth I tell you, in so far as you did this to one of the least of these brothers of mine, you did it to me." Then he will say to those on his left hand, "Go away from me, with your curse upon you, to the eternal fire prepared for the devil and his angels. For I was hungry and you never gave me food, I was thirsty and you never gave me anything to drink, I was a stranger and you never made me welcome, lacking clothes and you never clothed me, sick and in prison and you never visited me." Then it will be their turn to ask, "Lord, when did we see you hungry or thirsty, a stranger or lacking clothes, sick or in prison, and did not come to your help?" Then he will answer, "In truth I tell you, in so far as you neglected to do this to one of the least of these, you neglected to do it to me." And they will go away to eternal punishment, and the upright to eternal life.'
Hans Urs Von Ballhasar
"Faith is, first of all, the belief
that there is absolute love
Beyond that the believer
need possess nothing else."
September 15, 2015 - Feast of the Sorrowful Mother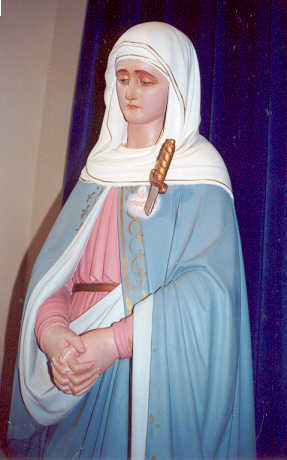 R. Dear Jesus,
Help us to be a strong body,
a community united in strength
and love – the reflection of
the Trinity.
God is love. The Holy Spirit
unites the body, the community,
the family – We depend on God –
our whole life is to be lived
to serve and love God. We are
under God.
John 6: 37-40
Everyone whom the Father gives me
will come to me;
I will certainly not reject
anyone who comes to me,
because I have come from heaven,
not to do my own will,
but to do the will of him who sent me.
Now the will of him who sent me
is that I should lose nothing
of all that he has given to me,
but that I should raise it up
on the last day.
It is my Father's will
that whoever sees the Son
and believes in him
should have eternal life,
and that I should raise that person up
on the last day.
R. Jesus is the life –
our priest –
Jesus is our Savior
God gives us a sharing in His life in baptism.
Jesus is the truth –
God is absolute truth –
Jesus is the way
Jesus is King –
He came to take us to
Himself in His Kingdom.

Apostles Creed
I believe in God, the Father Almighty, Creator of heaven and earth; and in Jesus Christ, His only Son, our Lord; who was conceived by the Holy Spirit, born of the Virgin Mary, suffered under Pontius Pilate, was crucified, died and was buried. He descended into hell; on the third day he arose again from the dead; he ascended into heaven; and is seated at the right hand of God the Father Almighty; from there he will come to judge the living and the dead. I believe in the Holy Spirit, the Holy Catholic Church, the communion of Saints, the forgiveness of sins, the resurrection of the body, and life everlasting. Amen.
R. We know Jesus is meek and
humble in Heart –
obedient to His Father –
Sing: We Have Been Told –
Christ teaches us at Mass
as we hear the
Liturgy of the Word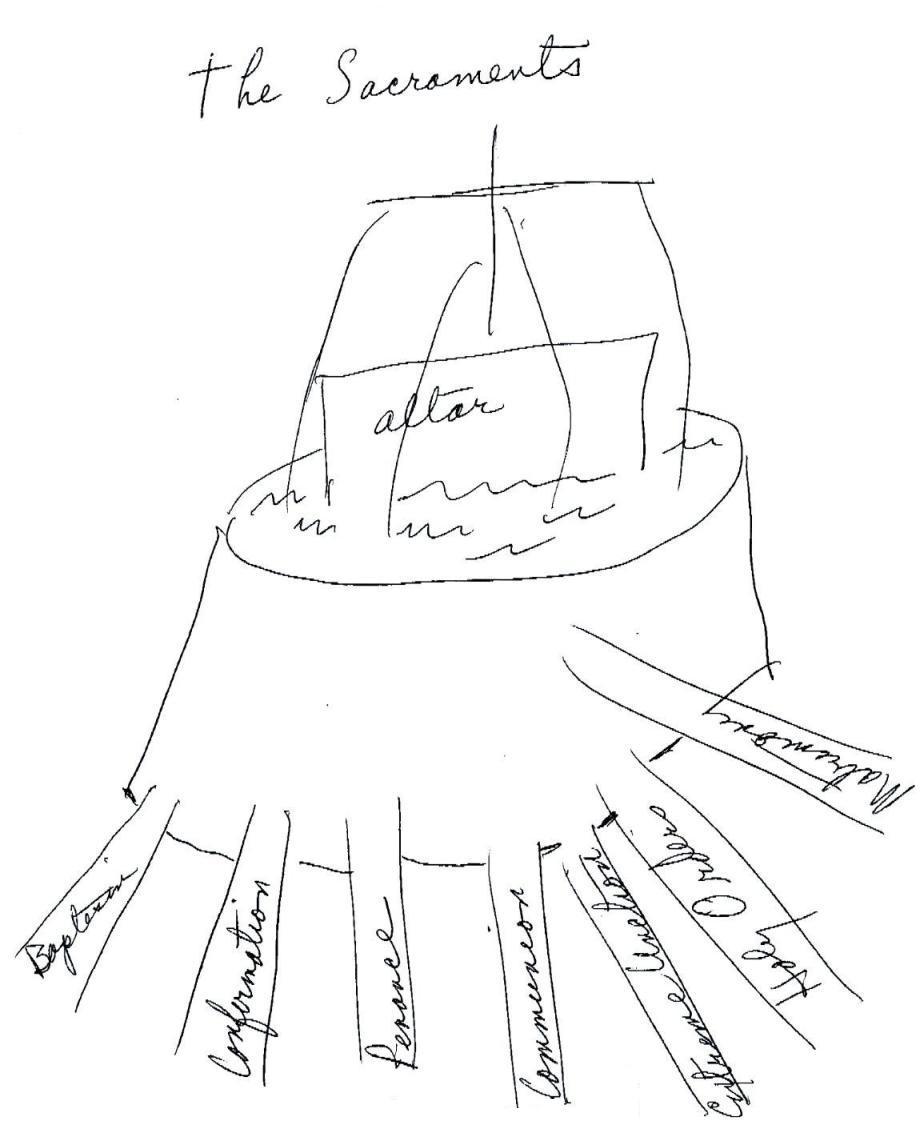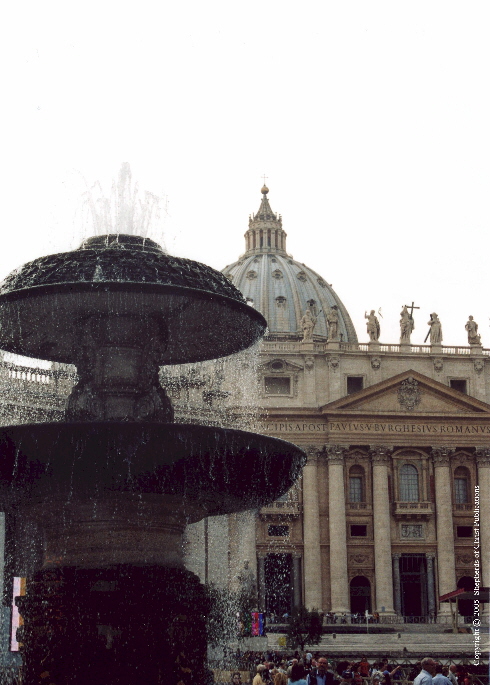 Genesis 1: 26-27
God said, 'Let us make man in our own image, in the likeness of ourselves, and let them be masters of the fish of the sea, the birds of heaven, the cattle, all the wild animals and all the creatures that creep along the ground.'

God created man in the image of himself,
in the image of God he created him,
male and female he created them.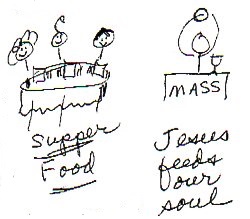 R. Do we love feeding ourselves spiritually?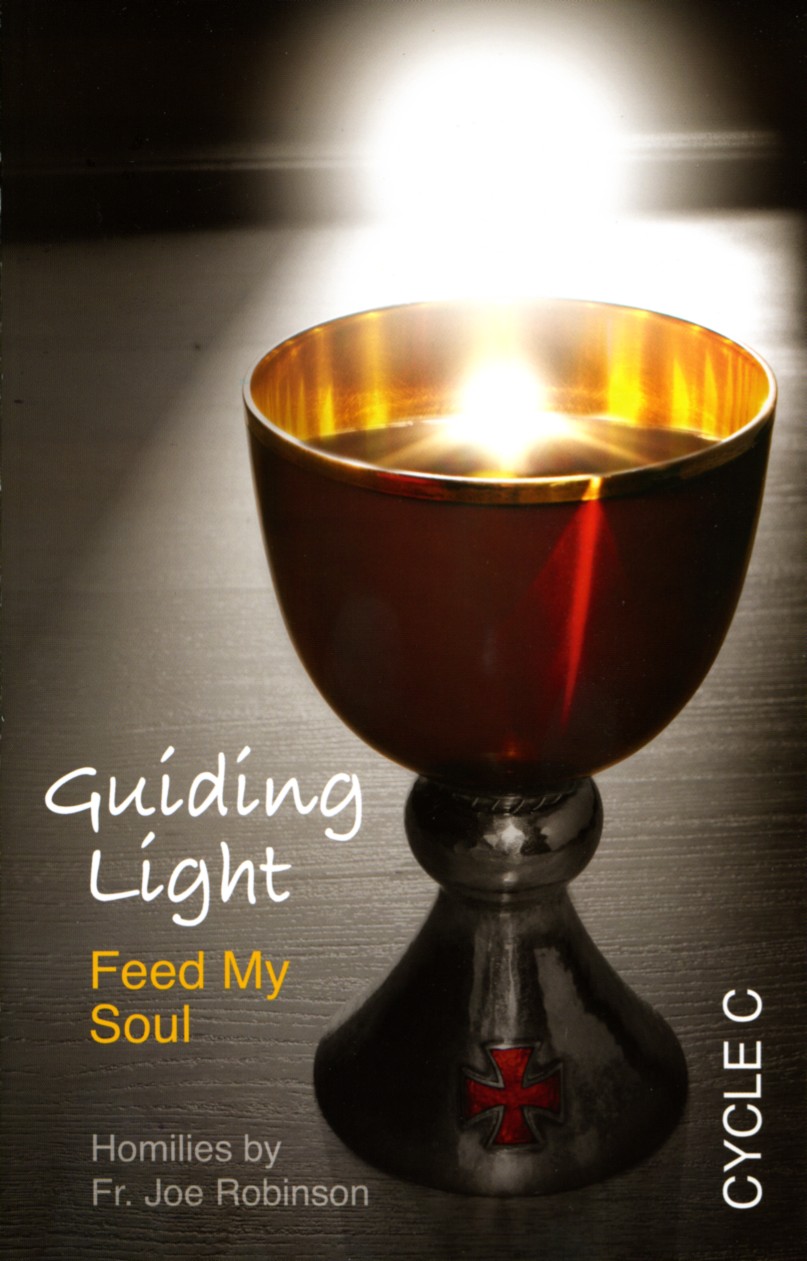 Fr. Joe says:
Excerpt from Feed My Soul
I hope you will pardon me for emphasizing the obvious, but everybody enjoys eating. Most of us sit down to eat several times a day and probably snack occasionally in-between. Jesus was away from his home territory of Galilee and was near Jerusalem when he visited Martha and Mary in Bethany. He and most likely his disciples probably hadn't had a good meal for a while and Martha was ready to put out a really fine feast for them all. But Jesus knew that in addition to feeding our bodies, there are other needs that we human beings have. After all, he is the one who responded to the temptations of the devil in the desert, after forty days of fasting, that we do not live by bread alone! Our hearts need to be fed with love and our spirits need to be fed with wisdom and truth. And Martha's sister, Mary, was needing to be fed with the wisdom and truth and love that Jesus spoke. When Jesus said "Mary has chosen the better part," was he saying that sitting and praying or reading the Bible is more important than having a good meal? I don't think so. We need both. It wouldn't be a bad idea though if sometimes we ate a little less and prayed a little more. We seldom get so busy that we forget to eat in the course of a day. How often do we forget to spend a little while with God during the course of a day or even during the course of a week. When Jesus said "Mary has chosen the better part," was he saying taking time to pray is better than feeding a hungry person? I don't think Jesus is saying that either. We need to do both. I think that's why St. Luke put this story right after the parable of the Good Samaritan. St. Luke is telling us we need balance. We need to do good things for others, but we need to take time just to sit at our Lord's feet and communicate with him. I'm sure most of us remember the passage from the Book of Qoheleth: "For everything there is a season, and a time for every matter under heaven: a time to be born, and a time to die; a time to plant, and a time to pluck up what is planted; etc." Perhaps what Jesus was saying to Martha when he said "Mary has chosen the better part," he was saying this is a golden opportunity; here is the Son of God coming to visit and you're worried about chopping up the parsley; or perhaps he was saying "you're trying to put out an eight course meal, Martha, and we would be happy with just a sandwich," or perhaps he was saying "maybe we ought to think about feeding the spirit before feeding our faces;" or perhaps he was saying "maybe we need to spend a little time enjoying each other's company before we get all uptight about dinner."