Pray for Jeff 13
Prayer Service June 21st -
from 12 to 3 and also 6:20pm
Please tune in to the radio
and pray with us.
Pray for Dan N. & Fr. Joe.
Pray for Fr. Joe, Dan, Melanie, Mary, Sanja, Rita,
Jim, Rosie, Louie's family, Carol R. & Family –
Madonna, Christopher, a special couple,
all Shepherds of Christ intentions on lists.
Pray for China and the mailing.
Also pray for Urgent intention
Prayer for Grace for our Country

Dear Father united to Jesus in the Holy Sacrifice of the Mass, the Sacrifice of Calvary sacramentally made present, celebrated around the world, in the Holy Spirit. We offer up all we do united to the Mass. We unite in one mind and one heart as members of the mystical body of Christ, with Christ our head in the pure and holy Hearts of Jesus and Mary, through the powerful intercession of Mary with all the angels and saints and souls in purgatory, and we beg for the saving grace, for our country, the United States. Please help us. We further pray for unity to always do the will of God in love. We spread the Blood of Jesus on the leaders and people of the United States and cast the devil into hell. We consecrate our country to the Sacred Heart and Immaculate Heart and all our dioceses, and beg for an outpouring of the Holy Spirit. God help us. We pray for our families, the priests, the Church and the world. In the Name of Jesus please hear us, we pray. We pray for our president and leaders. We pray that we are united as one nation under God to work together in love as God wants.
June 21, 2020
Happy Father's Day
May 16, 1998 - Prayer to the Father
My Father,

With my whole heart I desire to consecrate the whole world to the Sacred Heart of Jesus and the Immaculate Heart of Mary. I wish with my whole being for the salvation of souls and that man live according to Thy Holy Will. I pray my Father that we may be one in You and Your Son Jesus and the Holy Spirit that we may intercede to You for this cause.

It is this burning desire within my soul to spread the consecration to the far ends of the earth, that the cries of Your children are cries of glory and honor and adoration, praising God as their God.

My Father, at this moment a soul hangs on the edge of death. For all eternity they will go to a place. It is not the plot of this soul as it trods this barren land to decide on the edge of death. You created us that we would grow in our oneness with God, that we would mature more and more in our image and likeness to God.

And so My Father, I pray with every cell in my body for this earth. In the name of Your Son Jesus I consecrate all the souls of this earth to the Sacred Heart and the Immaculate Heart of Mary in the Holy Spirit in union with the Holy sacrifice of the Mass with all the angels and saints and the souls in Purgatory.

I beg You Father for mercy.
I beg You Father for assistance.
I beg You Father to help us to spread this consecration to the far ends of the earth.

Please help us. We are helpless little ones coming in the heart of our Mother, bleeding from our wounds and our sins.

Your Son, Jesus Christ, shed the last drop of His Blood for the salvation of mankind. We wish to unite in this sacrifice, sacramentally made present in the Mass all over the world at every moment. Help us to make reparation to You for the sins of men.

Please my Father, help us. Held in the heart of Mary and the Heart of Jesus we come as the children of Eve to beg for the Reign of the Sacred Heart and the Triumph of Mary's heart. Look upon our love, Your shepherds in the Shepherds of Christ, our sacrifices and devotion to You Our Beloved Father. Come by the means of the Holy Spirit and sanctify us and make us whole, that we are one in Your Son Jesus, praying to You, Father, in the name of Your Son Jesus in the Holy Spirit united with all the angels and saints, in the heart of Mary. We beg for help for special intentions concerning the Movement. We beg for help to reach the Churches to give these prayers of Jesus to them, to reach the schools and the family. Help we cry as poor banished children of Eve. Help us Father to do this work the Good Shepherd has entrusted to us. Help us to be one in You that we act as intercessors to help this world to be turned to God as their God, loving, honoring and adoring Him as the Lord of Host is truly present on His throne.

We are Your children Father, we implore You to answer our prayer.
We love You, we worship You, we adore You, we thank you and we sing from the bottom of our hearts, Holy God we Praise Your Name. Alleluia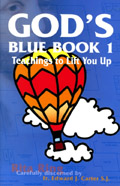 About God's Blue Book Cover:
This is God's Blue Book. I knew the color would be blue. I saw it in my mind's eye. It is God's blue book, for our living light. Blue for Mary, never dark. It is light and our Hearts are lifted in peace to Him. He lifts us up like balloons into a light blue sky. he even provides the sky, free of weight on our heels. We sail the skies as if in a hot air balloon and He watches us on our way. Our destination color is blue. We go to a light blue book for our answers. We sail His sky in our hot air balloon, light and unattached, floating free. We just go where His wind takes us, never knowing where or why. We are free and happy because he is at the helm. Alleluia.

Put a balloon, red and orange, on the front, as in the fire of His love. We are thus powered through His blue sky.

RR 11/17/93
I Am a Jealous God

August 23, 1993

Jesus: I am your God and you shall have no gods before Me, not money or power or man. You must make Me the center of your life. Whenever you are filled with anxiety you have made something else your God. You must hold fast to My presence by your side and know I am there and nothing can harm you. Though the earth be shaken and the sun not give its light, I will hold your hand and you will be My child. You needn't worry. Let go of it all, My child. The very hairs of your head are numbered. I am by your side in this cross. Sit back and enjoy this air, the freedom and silence. You need to be with Me. I am a jealous God. I do not want you to block My way to you with sorry thoughts of remorse. I am here and I am loving you at every turn. I am the God of all your Fathers. I am all power. You must only trust Me. Put all your doubt aside and know that I am present to you, My little one. I am God. Quit putting so much importance on what your friends have said to you. The devil uses them to get to you. You are very distracted and hurt. Snap out of it. I am Jesus and I am your God. They are not. They do not matter, My child. I am running the show. I could stop this whole world at this moment if I so desired. I am licking your wounds with My divine healing. You will not suffer this pain any more this day. This is a day created by Me to show you My love. Have the day and enjoy its fruits. Focus on My great love for you. I care for you as no other can. I miss your attentiveness to Me when you are distracted and bowed down.

I am a jealous God. I want your all. I want you doing My work. You are not spreading My love when you are engulfed in a sea of despair. A day lost without My love being spread through you is a day lost for all those around you. Forget them. They make you feel guilty and bad. They are being operated by Satan's snares. He is so cunning. You, My child, can't go there. You are loved dearly by Me. I am hurt by your pain. Ask for My grace to wash away all memory of this scourging, but to remember only how deeply I am affected by neglect in Communion from those who do not love Me.

You know how people hurt you, but you don't feel the pain. You know the evilness in cruel remarks, but you don't feel the pain, for My love is a balming ointment for you in the day of battle. I have felt all the pains. Meditate on My passion. I have suffered.

You need to let light flow through you. You need to cooperate with My grace to erase those feelings from your heart and trust in Me, My beautiful child. Trust that I am the God Who truly loves you. Unto death I have suffered for you. Meditate on this. I love you, little one. I love you.
12th Sunday in Ordinary Time
Jeremiah 20: 10-13
I heard so many disparaging me,
'Terror on every side!
Denounce him! Let us denounce him!'
All those who were on good terms with me
watched for my downfall,
'Perhaps he will be seduced into error.
Then we shall get the better of him
and take our revenge!'
But Yahweh is at my side
like a mighty hero;
my opponents will stumble, vanquished,
confounded by their failure;
everlasting, unforgettable disgrace
will be theirs.
Yahweh Sabaoth,
you who test the upright,
observer of motives and thoughts,
I shall see your vengeance on them,
for I have revealed my cause to you.
Sing to Yahweh,
praise Yahweh,
for he has delivered the soul of one in need
from the clutches of evil doers.
Psalm 69: 8-10, 14, 17, 33-35
Those who seek you must not be disgraced,
God of Israel, because of me!

I am estranged from my brothers,
alienated from my own mother's sons;
for I am eaten up with zeal for your house,
and insults directed against you fall on me.

I mortify myself with fasting,
and find myself insulted for it,

Rescue me from the mire before I sink in;
so I shall be saved from those who hate me,
from the watery depths.
do not turn away from your servant,
be quick to answer me, for I am in trouble.

For God listens to the poor,
he has never scorned his captive people.
Let heaven and earth and seas,
and all that stirs in them, acclaim him!
For God will save Zion,
and rebuild the cities of Judah,
and people will live there on their own and;
Romans 5: 12-15
Well then; it was through one man that sin came into the world, and through sin death, and thus death has spread through the whole human race because everyone has sinned. Sin already existed in the world before there was any law, even though sin is not reckoned when there is no law. Nonetheless death reigned over all from Adam to Moses, even over those whose sin was not the breaking of a commandment, as Adam's was. He prefigured the One who was to come . . .

There is no comparison between the free gift and the offence. If death came to many through the offence of one man, how much greater an effect the grace of God has had, coming to so many and so plentifully as a free gift through the one man Jesus Christ!
Matthew 10: 26-33

'So do not be afraid of them. Everything now covered up will be uncovered, and everything now hidden will be made clear. What I say to you in the dark, tell in the daylight; what you hear in whispers, proclaim from the housetops.

'Do not be afraid of those who kill the body but cannot kill the soul; fear him rather who can destroy both body and soul in hell. Can you not buy two sparrows for a penny? And yet not one falls to the ground without your Father knowing. Why, every hair on your head has been counted. So there is no need to be afraid; you are worth more than many sparrows.

'So if anyone declares himself for me in the presence of human beings, I will declare myself for him in the presence of my Father in heaven. But the one who disowns me in the presence of human beings, I will disown in the presence of my Father in heaven.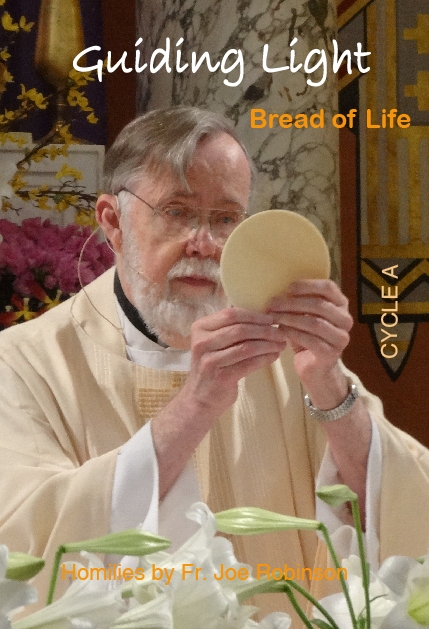 12th Sunday in Ordinary Time
June 22, 2008
INTRODUCTION – (Jeremiah 20: 10-13, Romans 5: 12-15, Matthew 10: 26-33) The prophet, Jeremiah lived in Israel about 600 years before Christ. The Babylonian destruction of Israel was immanent. The Babylonians came from modern day Iraq. Their capital, Babylon, was located just 100 miles south of Baghdad. Jeremiah was warning God's people that they could avoid the destruction that was on its way if they started living according to God's laws (most of which were being flagrantly ignored or violated. The people didn't like the message, so they decided to kill Jeremiah. His words in today's first reading reflect the pain and misery he experienced for being faithful to his mission. We should not be shocked when we hear him pray that God take vengeance on his persecutors. After all, he was human and not as perfect as Jesus who was able to pray for those who crucified him.

Our first reading leads into the gospel. As we heard last Sunday, Jesus had just chosen his twelve apostles. In today's gospel he prepares to send them out as missionaries. He is warning them their message will not always be well received, they may even suffer and die for it, but they must preach with courage and not be afraid of what might happen to them if they meet rejection.

HOMILY – Pope John Paul II had as his motto: "Be not afraid." Of course, he was quoting our Lord whom we just heard give the same mandate to his apostles in today's gospel, "Do not be afraid." Since God knows how many hairs are on our head and is aware when even a little sparrow dies, then he's aware of every

detail of our own lives. Although he is aware, and cares, he does not guarantee us that bad things will not happen to us. Ups and downs are part of our existence and they even happened to God's holy prophets and to Jesus himself. Because God is aware and he cares he tells us not to fear, for he is in control and will make everything turn out right for those who are faithful to him.

"Be not afraid." Sometimes that's easier said than done. Fear is built into us and we feel it when we feel threatened. If fear were not a part of our nature, we wouldn't even exist today, because long ago our ancestors would not have had sense to get out of the way of charging wild animals, saber tooth tigers or poisonous snakes. Nor would we be moved to get out of the way of cars and trucks coming at us 50 miles an hour. Fear enables us to survive, to know when to fight, to know when to run. But sometimes it gets out of control and takes over our life, whether that fear comes from a real threat or an imagined one. Faith is a big help to deal with fear, and sharing our fears with a trusted friend can be helpful, but sometimes fear is so controlling that counseling or medication is required.

I think when Jesus tells us not to fear, he's not talking about the spontaneous reaction we feel when we are threatened, he's telling us not to worry and to put our trust in him that things will come out alright in the end. The words of St. Paul, "We know that all things work for good for those who love God" (Rom 8,28), have been a constant help to me to stay together during very trying times. One thing Jesus does tell us to fear is God! "Do not be afraid of those who can kill the body but cannot kill the soul; rather, be afraid of the one who can destroy both soul and body in Gehenna." In Old Testament times Gehenna was a place of human sacrifice to pagan idols. At the time of Jesus it was a garbage dump, which was constantly burning. Thus Gehenna became the symbol of evil and hell. Jesus' words confuse some people! Aren't we supposed to love God, but if we fear him, how can we love him? Doesn't St. John tell us "perfect love casts out fear?" All of that is true. For those who have a "reward and punishment" view of life, a little fear might help them stay on the straight and narrow. For those who have moved beyond the "reward and punishment" stage, this fear that Jesus talks about is the fear of being unfaithful to God or having a sense of awe, respect and reverence when we approach God. Those who fear God in this way will approach him with awe, respect and reverence frequently. In either case, a little healthy fear of God will greatly reduce our fear of other things in life, including death itself. I know from many years of dealing with people that if we are at peace with God and know the Lord is with us, there will be fewer things in life that can upset us or frighten us. Amen.

May 4, 2020

Mary: Pray to the Holy Spirit.

Keep consecrating to the Sacred Heart and my
Immaculate Heart as I have told you.

Do not let up on your prayers –

China is the Eucharistic Center of the world.

I appear as Our Lady of Clearwater to
deliver these message from
God the Father –

25 years later May 5, 1995

26 years ago this was blocked May 4, 1994.

I am Mary your Mother –

Tell Sheila to read my message
from 2 days ago and this
message
and May 5, 1995
May 4, 1994
and do the rosary in today's
daily message from Blue Book 10.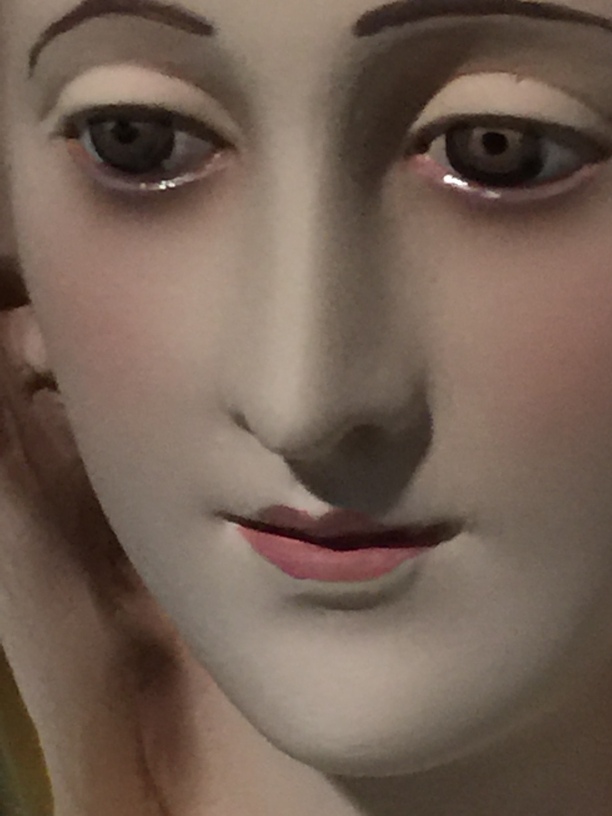 May 5, 2020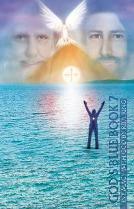 25 Years Ago
May 5, 1995
Consecrate Your Churches, Home, and Workplace to Our Hearts
Jesus: I want you to consecrate the human race to Sacred Heart of Jesus. I want to be enthroned in all homes, churches, and businesses.

June is the month of the Sacred Heart. I want to be king and center of all hearts. I will keep My promises given to St. Margaret Mary of Alacoque. I promise all this from My most Sacred Heart. Consecrate your chapter to the Sacred Heart of Jesus. Consecrate the church or room in which you hold your meeting.

Today is First Friday. I want you to circulate the message I gave to you on consecrating your homes to My Sacred Heart. Make booklets available for people to be able to consecrate their homes and businesses easily. Use the message I gave to you when you consecrated your home.

The Sacred Heart of Jesus will reign and the Immaculate Heart of Mary will triumph. Consecrate all homes and businesses to Our Two Hearts. Tell all to have displayed and honored, pictures of the Sacred Heart of Jesus and the Immaculate Heart of Mary. May and June are the months of Mary and the Sacred Heart of Jesus. Tell all to consecrate their homes to Our Two Hearts. I am the Sacred Heart of Jesus. On this day, the 5th of May, 1995, First Friday, I request that you spend the next two months encouraging all to do this consecration.

Gather your friends and say the prayers I have instructed you to say. Sing "To Jesus Heart All Burning" and "Immaculate Mary." May these Two Hearts of love give all members of the human race peace, joy and love in their hearts.

R. Jesus said He desires to be honored by men in the Blessed Sacrament.

Jesus: Circulate the Blue Book messages. They promote this devotion. How My Heart is filled with happiness by the souls who come to the tabernacle and sit with Me. I am Jesus Christ, I wait and long and thirst for My precious souls to come. The souls of men have turned cold. I want souls to come to daily communion and be with Me in front of the tabernacle.

Men's hearts have turned cold. They do not know what love really means. I want hearts that are filled with fire for love of God. Men's hearts have turned to stone.

You are to promote devotion to My most Sacred Heart. I want hearts that burn with love for My Heart. It is through Me that you will know the Father's love. I am the Way, I am the Truth, I am the Life.

Offer a holy hour for the indifference, ingratitude, and sacrileges committed against Jesus in the Blessed Sacrament, the Sacrament of His greatest love.

R. He promises great graces to those who give reparation to His Sacred Heart and who tell others about offering reparation to Him. end of May 5, 1995
Pictures from May 5, 2002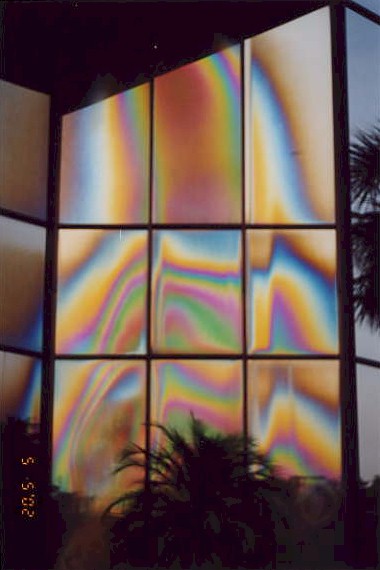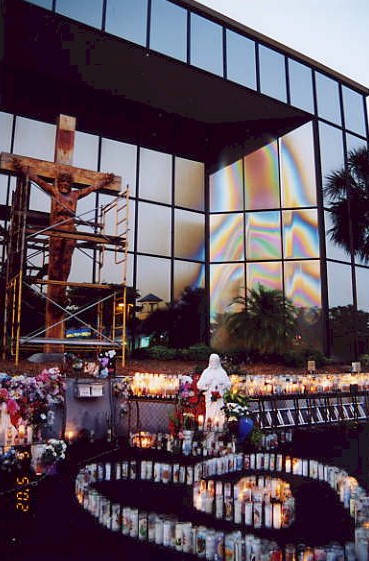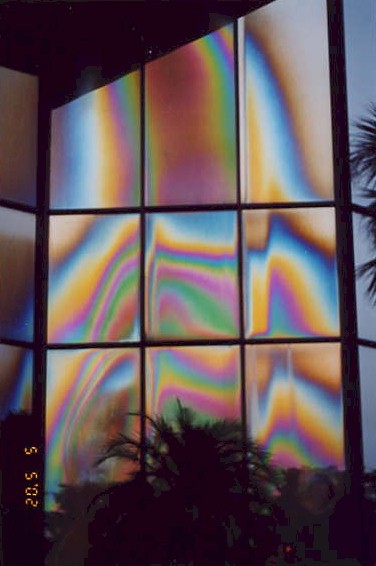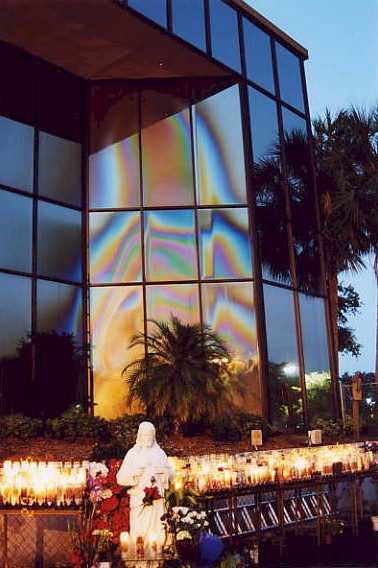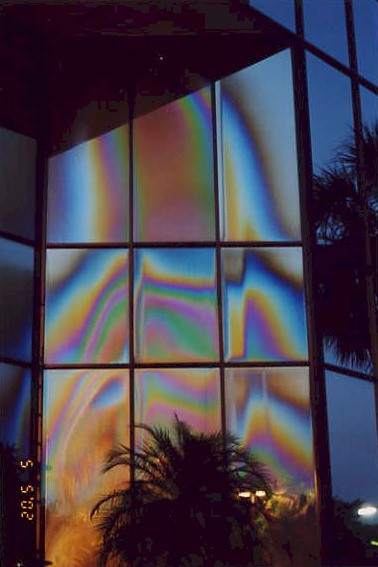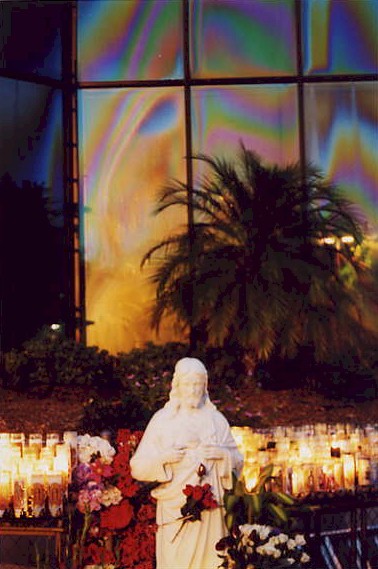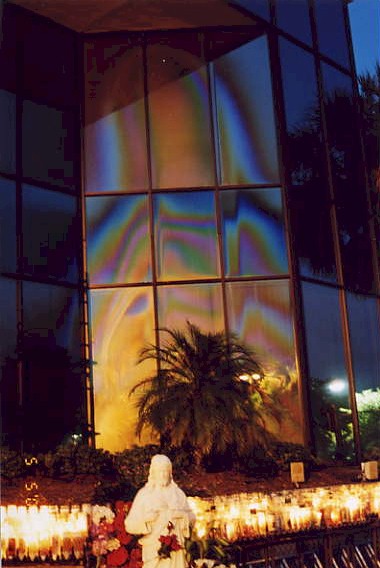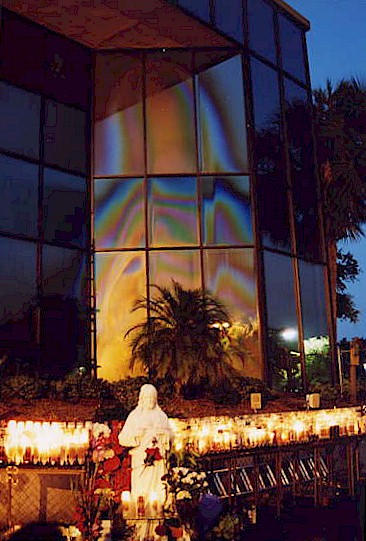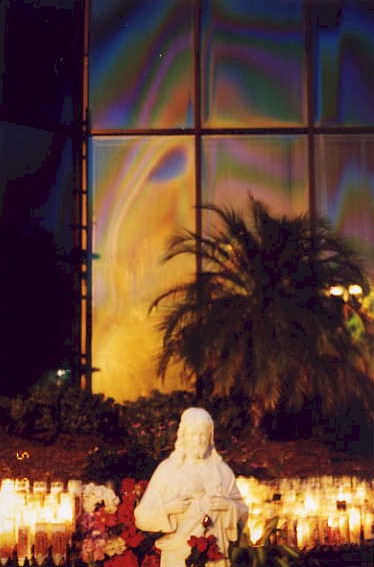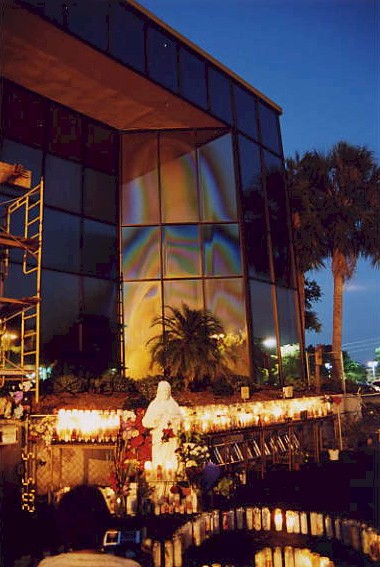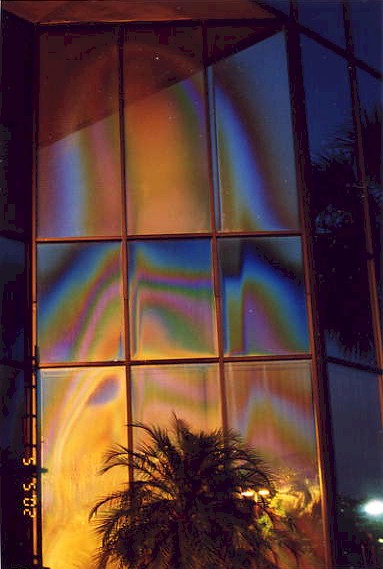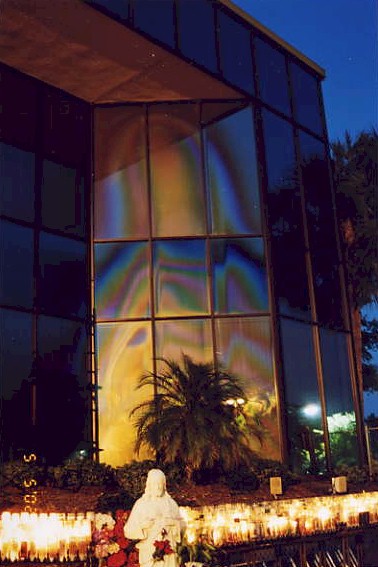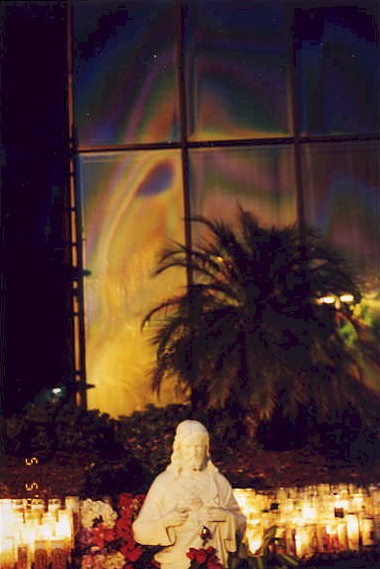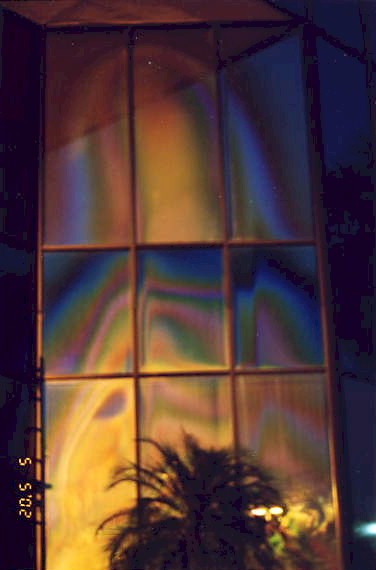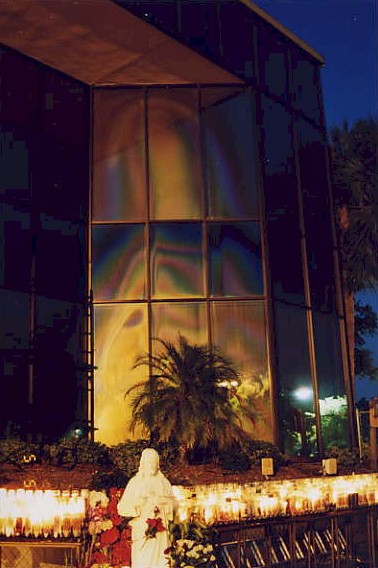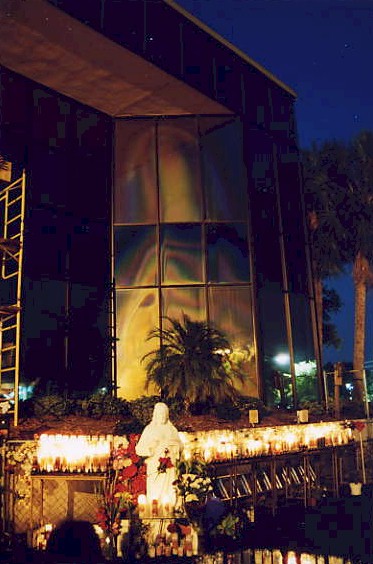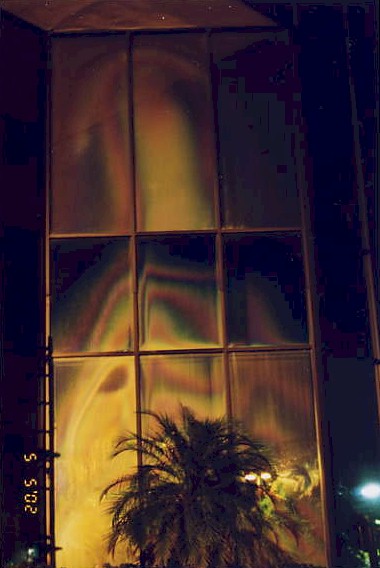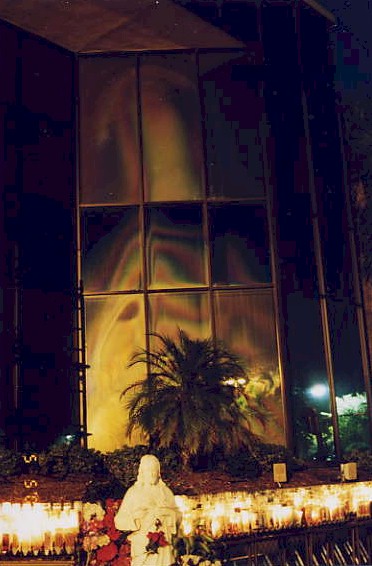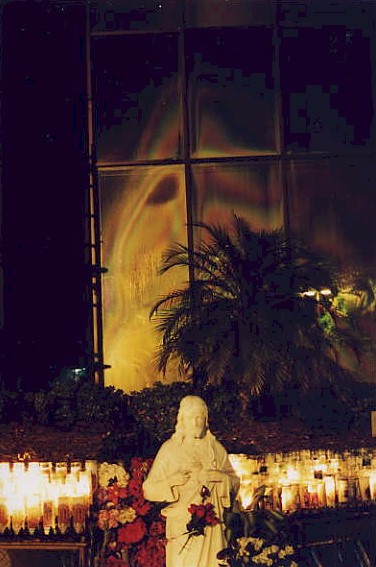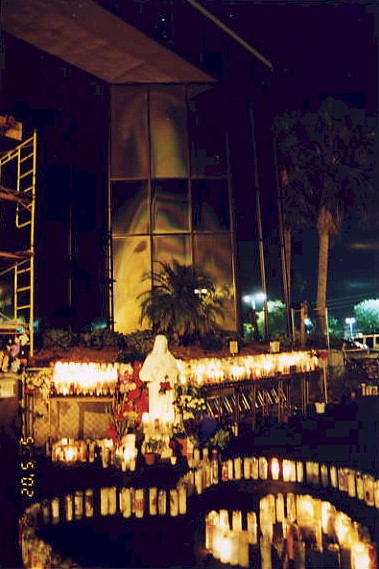 May 2, 2020
Mary:
What is important is praying to the Holy Spirit.
Come Holy Spirit Come and fill us with the fire
of Your love.
R. We love You God with all of our
hearts. Our Lady of Clearwater help us – we
pray during this retreat. We consecrate
the Church and the world to the Sacred Heart
and Immaculate Heart as far as we are able.
We consecrate ourselves to the Sacred Heart and
Immaculate Heart.
We consecrate our families to the Sacred Heart
and Immaculate Heart as far as we are able –
We consecrate our homes to the
Sacred Heart and Immaculate Heart.
We consecrate the United States to the Sacred Heart
and Immaculate Heart.
We consecrate the Shepherds of Christ Movement,
our Centers to the Sacred Heart and Immaculate Heart.
We consecrate all priests and hierarchy to the Sacred Heart
and Immaculate Heart as far as we are able.
We love You, God, thank You,
thank You.
Mary:
I want this said at all prayer
services, first, during this retreat.
Follow with Holy Spirit prayers at 6:20
The 6:20 Format.
I am Our Lady of Clearwater –
Pray fervently for the healing of this
virus and its extinction – pray through
my Immaculate Heart – pray to
the Father in the Name of Jesus –
Oh my children, satan is
strong and he wants to scare you.
Pray the rosary, consecrate your
family and homes – the family
that prays together, stays
together.
Pray, Pray, Pray, I am
Our Lady of Clearwater,
Pretty Mary, Mother of the Church,
Our Lady of Fatima in the Americas.
Pray to the Holy Spirit –
Pray as you have never prayed
before –
Do not fear – pray, my children.
I love you, I am your Mother,
Mary, I love you my precious
child.
Sing Veni Sancte Spiritus
Say Holy Spirit Sequence
From the Lectionary
Pentecost Sequence
Come, Holy Spirit, come!
And from your celestial home
Shed a ray of light divine!

Come, Father of the poor!
Come, source of all our store!
Come, within our bosoms shine!

You, of comforters the best;
You, the soul's most welcome guest;
Sweet refreshment here below;

In our Labor, rest most sweet;
Grateful coolness in the heat;
Solace in the midst of woe.

O most blessed Light divine,
Shine within these hearts of yours,
And our inmost being fill!

Where you are not, man has naught,
Nothing good in deed or thought,
Nothing free from taint of ill!

Heal our wounds, our strength renew;
On our dryness pour your dew;
Wash the stains of guilt away;

Bend the stubborn heart and will;
Melt the frozen, warm the chill;
Guide the steps that go astray.

On the faithful, who adore
And confess you, evermore
In your sev'nfold gift descend;

Give them virtue's sure reward;
Give them your salvation, Lord;
Give them joys that never end. Amen.
Alleluia.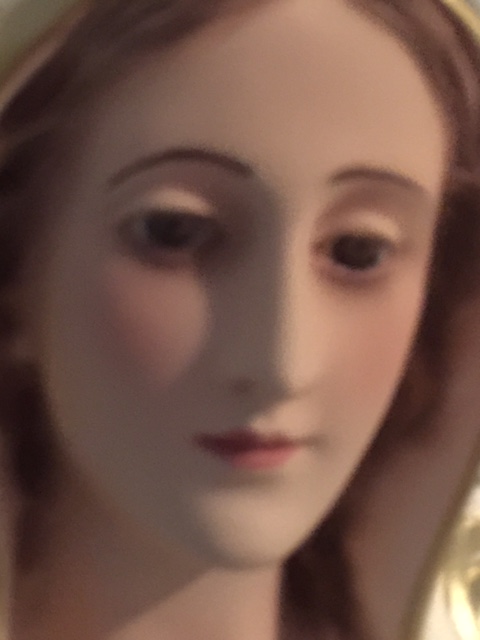 May 2, 2020 - First Saturday

R. Let the thoughts be positive.
My God help everything in my brain and body to work toward health.

God gave us a beautiful body.
The brain is the pilot. Let it be filled with light and healing energy.
God gave us this beautiful machine to operate through life.
Our eyes help us see.

Our brain helps direct the body.

Our ears give us hearing.

Our arms and legs help us live, maneuver.

Oh God thank You for all You have given us.

You gave us breath for our body.
You gave us organs to operate, so we can live.

You gave us cells to reproduce, a skeleton and nerves.

You gave us blood and a system to maintain life.
Oh God thank You for the peace we can have, the interior life, the brain to think,
the heart to love.

Oh God thank You for the world with such beauty, the sky, the rolling hills and mountains, lakes and streams, the ocean so wide and beautiful.

Oh God all the animals, fish, greenery and flowers.

So much beauty, God.

God is love.
God gives us each other to love, to know, to be with.

God gives us our family to love, to be with.

Oh my God, You are so good to me.

My God, Thank You.

I love Thee so.

God is love and in Him is no darkness.

God loved us into existence. God wants us with Him.

Pure and perfect love.

Thank You God for this day and all it brings.

I love You.