Retreat today
June 4th

1:30pm & 6:20pm
Please tune in & pray with us.


Please Pray for Fr. Joe & Bob


Prayer for Grace for our Country

Dear Father united to Jesus in the Holy Sacrifice of the Mass, the Sacrifice of Calvary sacramentally made present, celebrated around the world, in the Holy Spirit. We offer up all we do united to the Mass. We unite in one mind and one heart as members of the mystical body of Christ, with Christ our head in the pure and holy Hearts of Jesus and Mary, through the powerful intercession of Mary with all the angels and saints and souls in purgatory, and we beg for the saving grace, for our country, the United States. Please help us. We further pray for unity to always do the will of God in love. We spread the Blood of Jesus on the leaders and people of the United States and cast the devil into hell. We consecrate our country to the Sacred Heart and Immaculate Heart and all our dioceses, and beg for an outpouring of the Holy Spirit. God help us. We pray for our families, the priests, the Church and the world. In the Name of Jesus please hear us, we pray. We pray for our president and leaders. We pray that we are united as one nation under God to work together in love as God wants.
June 3, 2021
R. Jesus loves us so much. He
has given us His letters of love
Jesus gives us Himself in the Eucharist.
Jesus gives us Himself: Body,
Blood, Soul and Divinity.
Jesus gives us the Mass.
Jesus gives us the Priest.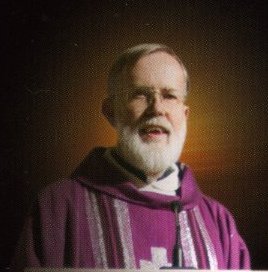 R. Oh God, thank You for the
saving Blood of Jesus
we receive.
Oh God, we love You
Oh God we love the Eucharist.
Thank You for the priests –
We are nourished by the Body and
Blood of Jesus.
Fill us with Your Holy Spirit.
Mary and Jesus always did what
God wanted of them.
We are to follow the teachings
of Jesus.
Jesus says "I am the way,
the truth and the life."
We have the precious time
God has given us. We
don't want to waste
it, but use it wisely.
Jesus is the light of the world.
We should spread the Good News
because God wants us to.
Song: A Song from Jesus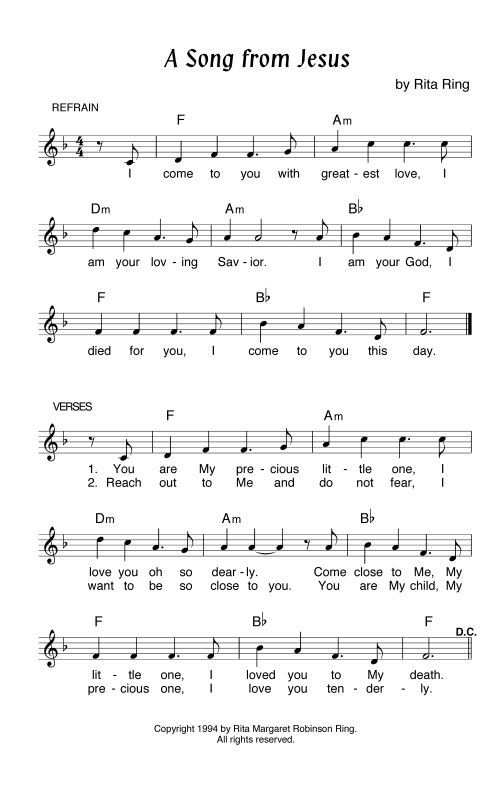 R. Life is a journey – how
are we doing?
We are here to grow in our
relationship with God to
prepare us for our eternal
love union with Him
in heaven.
God's Blue Books – letters of
His love are to help us
grow in our relationship
with God: Father, Son
and Holy Spirit.
We are to grow in relationships with
others, this helps us to grow in
our relationship with God,
growing in our relationship
with God should help us
grow in our relationships
with others and ourselves.
We need to love ourselves, God
created us in love. We need
to have a relationship with
our self in Him. We need
to be truthful about the
wounds that need healing.
We need to know ourselves
so we can die to ways not like
Jesus and grow to be more holy,
more like Jesus.
We are to open ourselves to
trust-worthy others so we
can be known and know
we are loved even in our
weaknesses, we are
loveable.
Life is a journey in
relationships. We have
to put energy into moving
out there, opening up –
not lying about our wounds
and sins.

Excerpt from Fr. Joe's new Homily Book

Feast of the Epiphany - January 4, 2004

The biggest mistake we can make is to think we've reached our goal, that we know God well enough. I see this in the attitude of people who stop praying, who stop reading the Scriptures, who stop coming to Mass. I see this in modern culture's attempt to bring God or Jesus Christ down to a level that we can understand. Recent books or movies call Jesus gay or say he was married and had children or he didn't really die or his miracles weren't really miracles or Mary really wasn't a virgin. Instead of being inspired or trying to enter into this great mystery of God becoming human in order to lift us to new life, they want to pull Christ down and take all the mystery out of it.

We continually discover new mysteries in the natural universe, yet we somehow think we should be able to understand perfectly the one who created them all. And if it's too much effort to understand, we give up our search. Sometimes we hear successful people say they became successful because they "followed their star." They went where their heart led them. But their success also took a lot of faith, a lot of effort, and probably a lot of help along the way. The greatest journey of all, though, is not just to make of ourselves a success in this life, but to find the eternal love our hearts really seek and which we were created for, and that is God's love. Epiphany shows us God wants to reveal his love to us. Epiphany shows us we have to keep moving in his direction if we hope to find it.

R. The voice of the Father was heard
"This is My beloved Son
in whom I am
well pleased."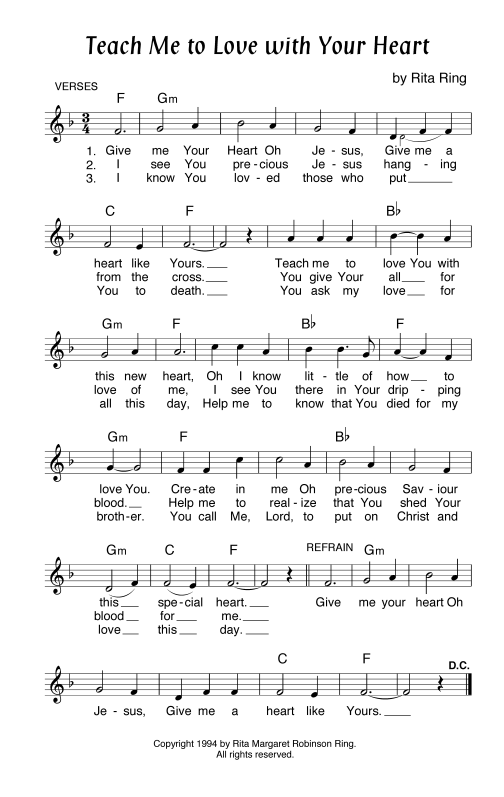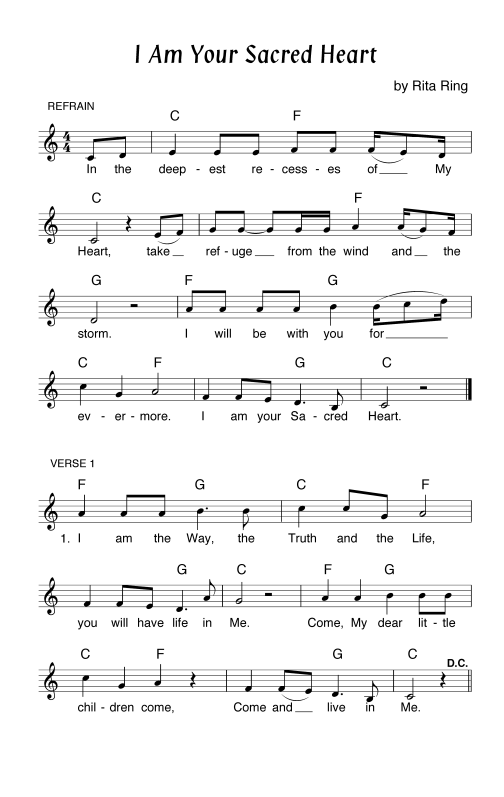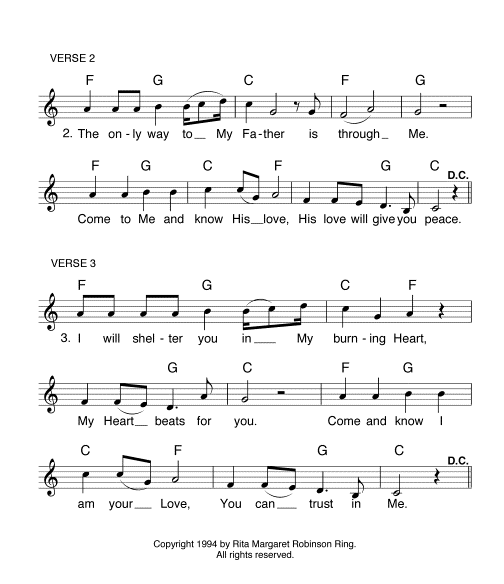 June 3, 2021
Joyful Mysteries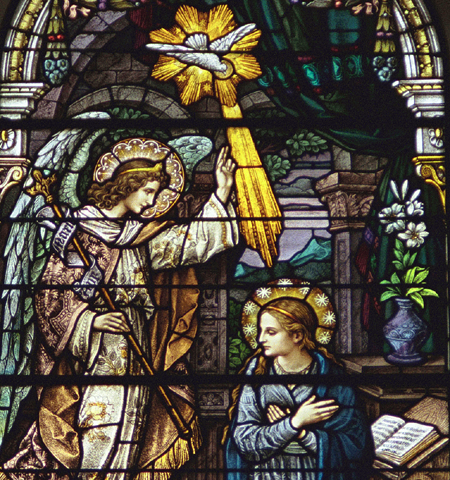 The Annunciation
1) Luke 1: 26-38
In the sixth month the angel Gabriel was sent by God to a town in Galilee called Nazareth, to a virgin betrothed to a man named Joseph, of the House of David; and the virgin's name was Mary. He went in and said to her, 'Rejoice, you who enjoy God's favour! The Lord is with you.' She was deeply disturbed by these words and asked herself what this greeting could mean, but the angel said to her, 'Mary, do not be afraid; you have won God's favour. Look! You are to conceive in your womb and bear a son, and you must name him Jesus. He will be great and will be called Son of the Most High. The Lord God will give him the throne of his ancestor David; he will rule over the House of Jacob for ever and his reign will have no end.' Mary said to the angel, 'But how can this come about, since I have no knowledge of man?' The angel answered, 'The Holy Spirit will come upon you, and the power of the Most High will cover you with its shadow. And so the child will be holy and will be called Son of God. And I tell you this too: your cousin Elizabeth also, in her old age, has conceived a son, and she whom people called barren is now in her sixth month, for nothing is impossible to God.' Mary said, 'You see before you the Lord's servant, let it happen to me as you have said.' And the angel left her.
2) Jesus calls us to say "yes"
to God's will.
3) Mary loved the Father's will.
4) God has a plan for our lives,
we have a vocation –
God calls us to answer
this vocation.
5) Call / Response
6) We have a free will – we can
answer God's call for us
or decide we would rather
plan life for ourselves.
7) Jesus showed us how He
lived the Father's will.
8) Jesus spent time in prayer
being with His Father.
9) God the Father created us in the image
and likeness of Jesus.
10) God created us uniquely.
He has a unique plan for
our life.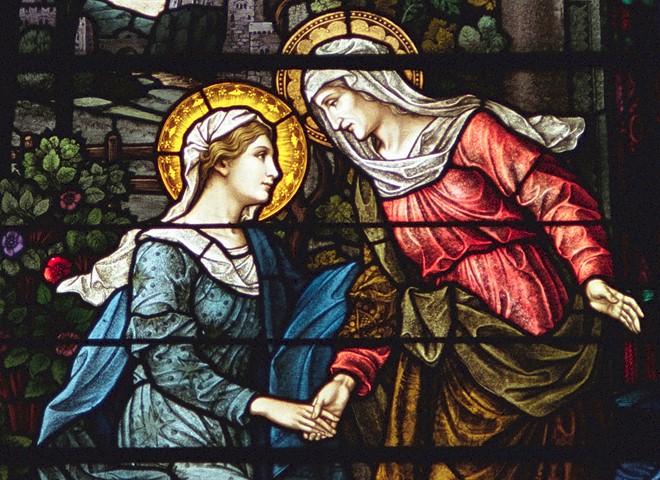 The Visitation
1) Luke 1: 39-45
Mary set out at that time and went as quickly as she could into the hill country to a town in Judah. She went into Zechariah's house and greeted Elizabeth. Now it happened that as soon as Elizabeth heard Mary's greeting, the child leapt in her womb and Elizabeth was filled with the Holy Spirit. She gave a loud cry and said, 'Of all women you are the most blessed, and blessed is the fruit of your womb. Why should I be honoured with a visit from the mother of my Lord? Look, the moment your greeting reached my ears, the child in my womb leapt for joy. Yes, blessed is she who believed that the promise made her by the Lord would be fulfilled.'
2) Matthew 22: 36-40
'Master, which is the greatest commandment of the Law?' Jesus said to him, 'You must love the Lord your God with all your heart, with all your soul, and with all your mind. This is the greatest and the first commandment. The second resembles it: You must love your neighbour as yourself. On these two commandments hang the whole Law, and the Prophets too.'

3) We see family in the Visitation.
4) In a healthy family people
love one another.
5) We need to have time for our
family, communicate
love to each other.
6) There is loyalty in the family –
unity – working as one.
7) Christ knocks on the door
of our hearts – we need
to communicate the
love we have for
God the Father, God the Son
and God the Holy Spirit.
8) We show God we love Him
when we love others
like we should.
9) God the Father says to us:
"I love you, My beloved
son, I love you."
10) To have a healthy family –
we must keep God first
and love one another.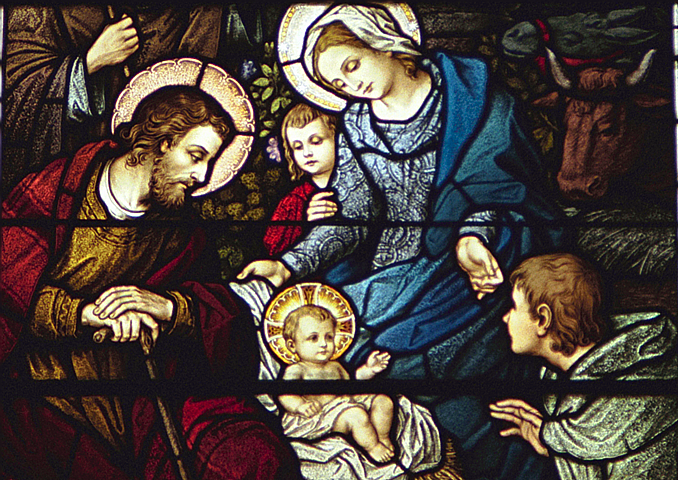 The Birth of Jesus
1) Luke 2:1-7
Now it happened that at this time Caesar Augustus issued a decree that a census should be made of the whole inhabited world. This census—the first—took place while Quirinius was governor of Syria, and everyone went to be registered, each to his own town. So Joseph set out from the town of Nazareth in Galilee for Judaea, to David's town called Bethlehem, since he was of David's House and line, in order to be registered together with Mary, his betrothed, who was with child. Now it happened that, while they were there, the time came for her to have her child, and she gave birth to a son, her first–born. She wrapped him in swaddling clothes and laid him in a manger because there was no room for them in the living–space.
2) Mary is Mother of God.
3) Mary carried the Christ-child
in her womb.
4) Romans 8: 28
We are well aware that God works with those who love him, those who have been called in accordance with his purpose, and turns everything to their good.
5) We see the great gift of God's
love.
Sing: What Child is This
6) Song: A Song from Jesus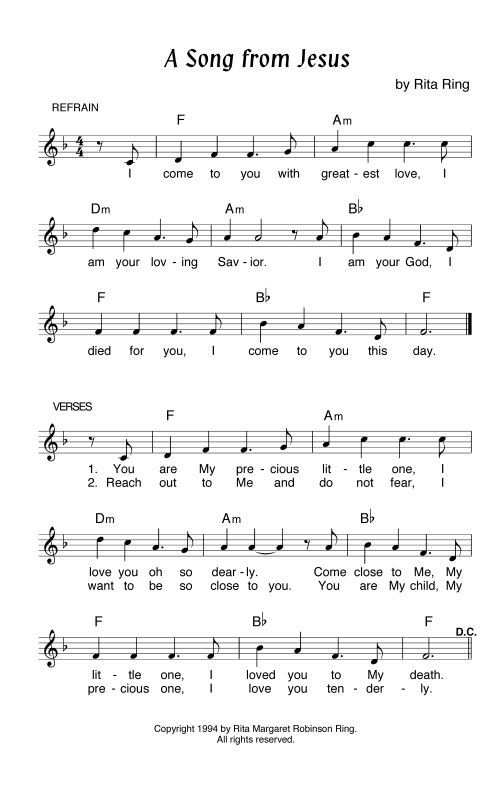 7) Life is a journey:
We see the birth of Jesus
and how much God loves
us for Jesus to take
flesh in the womb of the Virgin Mary
through the power of the Holy Spirit.
8) We must thank God for
the gift of God's love
shown to us in the
coming of Jesus into
the world.
9) We see the love of God
in Jesus coming as a
little beautiful baby.
Sing: Silent Night
10) Jesus is the Light of the World
The magi came, they followed
the beautiful star.
Sing: We Three Kings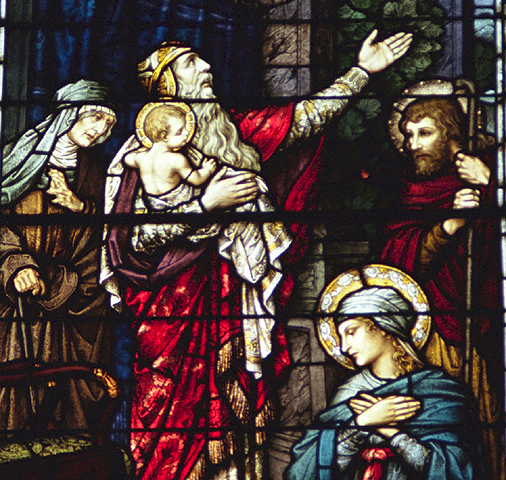 The Presentation in the Temple
1) Luke 2: 25-35
Now in Jerusalem there was a man named Simeon. He was an upright and devout man; he looked forward to the restoration of Israel and the Holy Spirit rested on him. It had been revealed to him by the Holy Spirit that he would not see death until he had set eyes on the Christ of the Lord. Prompted by the Spirit he came to the Temple; and when the parents brought in the child Jesus to do for him what the Law required, he took him into his arms and blessed God; and he said:

Now, Master, you are letting
your servant go in peace
as you promised;
for my eyes have seen the salvation
which you have made ready
in the sight of the nations;
a light of revelation for the gentiles
and glory for your people Israel.

As the child's father and mother were wondering at the things that were being said about him, Simeon blessed them and said to Mary his mother, 'Look, he is destined for the fall and for the rise of many in Israel, destined to be a sign that is opposed—and a sword will pierce your soul too — so that the secret thoughts of many may be laid bare.'

2) Mary and Joseph took Jesus
to the temple.
3) Simeon told Mary and Jesus
about the suffering to
come.
4) And a sword too, shall
pierce your heart, oh Mary.
5) Sing: Little Baby Hands and Feet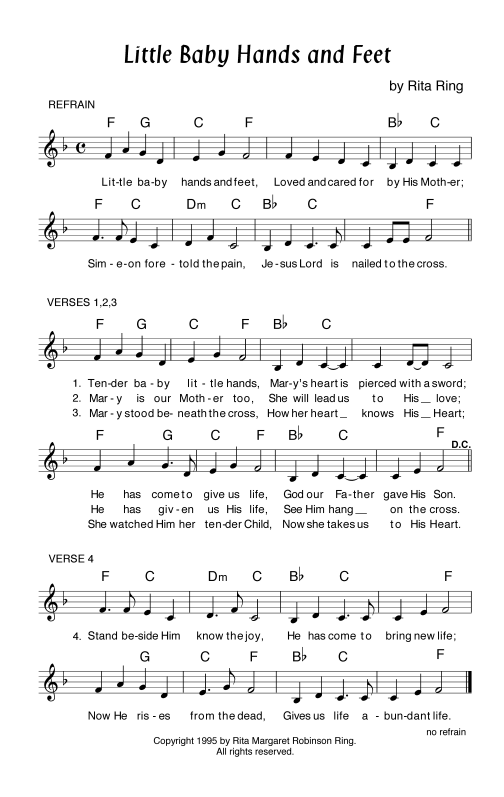 6) We see the holiness of this
little family.
Jesus, Mary, Joseph
7) Mary's heart was pierced
by what would happen
to Jesus, her Son.
8) Mary and Joseph suffered so
that Herod would kill
the infants and had
to flee to Egypt.
9) A holy family keeps God
first.
We are to love God with our
whole heart, whole soul
and whole being.
10) God gave us hearts
to be vibrant on fire
for love of Him –
NOT LUKE-WARM
Jesus took flesh -WAKE UP
full of passion in our hearts.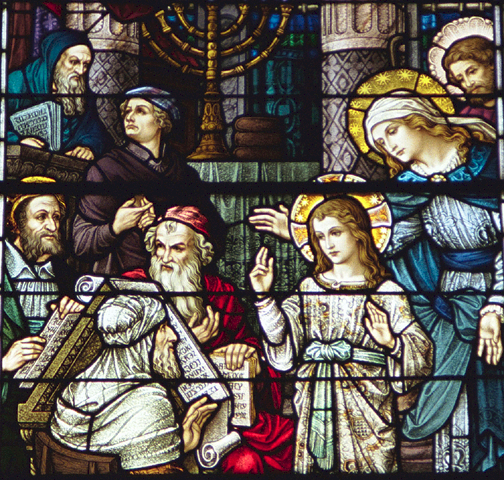 The Finding of Jesus in the Temple
1) Luke 2: 41-52
Every year his parents used to go to Jerusalem for the feast of the Passover. When he was twelve years old, they went up for the feast as usual. When the days of the feast were over and they set off home, the boy Jesus stayed behind in Jerusalem without his parents knowing it. They assumed he was somewhere in the party, and it was only after a day's journey that they went to look for him among their relations and acquaintances. When they failed to find him they went back to Jerusalem looking for him everywhere.

It happened that, three days later, they found him in the Temple, sitting among the teachers, listening to them, and asking them questions; and all those who heard him were astounded at his intelligence and his replies. They were overcome when they saw him, and his mother said to him, 'My child, why have you done this to us? See how worried your father and I have been, looking for you.' He replied, 'Why were you looking for me? Did you not know that I must be in my Father's house?' But they did not understand what he meant. He went down with them then and came to Nazareth and lived under their authority. His mother stored up all these things in her heart. And Jesus increased in wisdom, in stature, and in favour with God and with people.

2) Can you imagine when Jesus
was 12 and Mary and
Joseph couldn't find Jesus.
3) Every family has struggles.
Mary and Joseph suffered
when they couldn't find
Jesus –
4) Mary and Joseph suffered
at night finding room
for Jesus to be born
on this earth.
5) Mary and Joseph suffered in
the Presentation in the Temple.
6) Mary and Joseph suffered in
the flight into Egypt.
7) Love of God –
Love helping them to get
to heaven –
Love – Passion –
8) Don't love selfishly –
What's in it for me –
Thinking when we give
what we will get in
return.
9) Jesus is the way, the truth
and the life – Jesus showed
us His love for everyone – selfless!
10) Jesus heals the broken-hearted–
We are wounded. Pray for grace.
Jesus died for us –
Jesus loved us so much
He gave Himself.

I Died For You

February 23, 1994

Jesus: I want this emotion in the letter I told you to write. I, Jesus, Son of God, talk to you with such emotion! I am He Who died a brutal death for love of you. I died for you! I love you this much, to give My Life! Yet you couldn't even write when I asked you. You must do exactly as I say. I do not want you ever to say no to Me!

I have such emotion! I am telling you how I died a brutal death and you, My child, did not write for Me! What more can I do? What more do they want? You put others before Me or you would do as I command. I want you to do as I tell you every moment.

I am the Lord. I am the Son of God. Such emotion I let you feel for My death. I died. I am a person. I was human and I died for you. Think of yourself giving your life for someone and they do not care. What can I do to shake you? What more can I say? I am here and I am loving you and pleading with you to listen to Me with this emotion that God is telling you. I am Jesus. I died for you. I gave My life for you and do you even listen, My little sweet one? You didn't want to write it for My children. When I give you a command, you write. When I say do, you do. Selflessness! I am pushing you because I need your total surrender. Do not ever deny My writing to My loved ones. You have a responsibility. I don't care where you are when I talk. I am God and I talk to you. I am so present to you.

Listen. I need your selflessness. I need your surrender. I need your life, given for love of Me and Me alone. I need you to be the light that shines on the hill, that does not go in and out but is constant in My love. I need your commitment. I need your attention at every moment. I am feeding you My words every moment on paper and in your hand. You must obey Me exactly as I command. No questions, only action. I want action. Now! You write when I say write. I don't care where you are. You worry not for others. I am giving you the mighty medicine. Would you tell the doctor to wait? I am God and I do not ever want to wait while you play a safe game with Me. When I say do something, I want you to do it. You are My beloved and I am filling you with fire.

I am pushing you to do that which I need done. Do not ever stop to look around. Keep your focus on Me and My commands for you. I am using you every moment. I must be able to count on your constant consent to do My will immediately! I am calling you to this work and I want you to comply. I love you ardently. I am so full of love for you. Focus on this and this alone. I am Who am. I am God, child. Do not ever hesitate. Do not doubt or think. You must act as I act in you or My work will not be done.

Be selfless about My commands. You will do My work. You will spread My words of love and create emotion with My songs and I will use you to bring My flock to My love. I love every soul! You must spread My love.

Note: (Meditating on the Crucifixion) Going to Mass at the seminary at 8:00 a.m. was rushed. He said to me, "Where are you going, child. Do you not feel My presence with you?" A calm came over me. Then He started lamenting how He died for us, how He is a true person and He loves us so much. He said, "I died for you."

R. He gave His life for us. He is the little lamb led to the slaughter out of love for us. He said, "I need you to do this work now and I am pushing you." He was so upset! He died for us. He loves us so much as to give His life.

He begged me to spread His love, to tell others how He, bloodied, bruised and beaten, gave us His life.

Jesus: I am God. I am God. I died. Spread My love now! Now! Now! Now! Now! I am begging you not to hold back! Read these letters now, read and learn about My love. I beckon you to speak of My love. Shout it from the high roof. Proclaim it in the cities. Jesus Christ died for love of you and He is risen! I am He Who is God and I died for you!

Listen and preach My love and emotion here. Priests will create little cities, little cities in each church to spread the light of Christ to this sick world. Each priest can create his own little city, a powerhouse of God's love. God has all the power. His power is endless. It never runs out. It is might. You have no power except through Him. Churches filled with the intimate love of Jesus will be powerhouses.

I am God, My little ones. God can do all things. I can make your cities light up the darkness. I am the Way, the Truth, the Life. I am the light of life. I am God! I can do all things. I want to act in you. You need to be in constant union with Me. My priests, you need to be selfless. My soul and yours are one. I want to act in you.

Hold not back. Pray the Prayer for Union with Me.