Please Pray for Fr. Joe & Bob


Prayer for Grace for our Country

Dear Father united to Jesus in the Holy Sacrifice of the Mass, the Sacrifice of Calvary sacramentally made present, celebrated around the world, in the Holy Spirit. We offer up all we do united to the Mass. We unite in one mind and one heart as members of the mystical body of Christ, with Christ our head in the pure and holy Hearts of Jesus and Mary, through the powerful intercession of Mary with all the angels and saints and souls in purgatory, and we beg for the saving grace, for our country, the United States. Please help us. We further pray for unity to always do the will of God in love. We spread the Blood of Jesus on the leaders and people of the United States and cast the devil into hell. We consecrate our country to the Sacred Heart and Immaculate Heart and all our dioceses, and beg for an outpouring of the Holy Spirit. God help us. We pray for our families, the priests, the Church and the world. In the Name of Jesus please hear us, we pray. We pray for our president and leaders. We pray that we are united as one nation under God to work together in love as God wants.
June 5, 2021 - Eve of the Feast of the Body and Blood
R. We are here to heal from our
wounds –
People who are wounded and
deny it can keep trying
to act out and wound
others.
Does this help trying to
act out bitter wounds
on others?
The more we hurt others, the
more we turn our backs
on love.
It helps to heal if it is
validated, especially by the
person who hurt the person,
but we all need healing –
It helps when a person
says they're sorry so the
breach can be mended.
But many people, because
of pride, refuse to even
admit sins they commit.
We are here to seek healing –
to die to the ways not like
Jesus and grow in the
image and likeness of Jesus.
God the Father is our heavenly Father.
He created us in the image
and likeness of Jesus.
Jesus is the Son of God
He gives us Himself in
the Eucharist.
God the Father is our Father,
Mary is our Mother,
Jesus is our brother –
The Holy Spirit is the 3rd Person
of the Holy Trinity, the love
between the Father and
the Son.
In baptism we receive a sharing
in God's life.
When we are wounded,
we must admit the
problem and ask for
healing from the wound.
If a person has cancer they
can seek for healing.
Young people die of cancer
the same as older
people.
Cancer can strike anyone.
People have been working
for cures for a long
time.
My mom died of cancer
when I was five.
Fr. Carter died of cancer –
he was diagnosed on
September 22, 2000 and died
December 18, 2000
3 months later.
Michael Landon was diagnosed
in May 1991 and died
July 1991.
Even John Wayne died.
Jesus showed us –
He died, but He rose to
new life –
God put us here – we are
wounded and we need
spiritual healing.
God loves us – He wants
us to died to the ways
not like Jesus and
grow in the image and
likeness of Jesus.
We have the Church, the
sacraments, His Word
to help us –
God outpours His grace
to help us.
Fr. Carter was ordained June 10,
1962.
Fr. Joe was ordained May 30, 1964.
Fr. Mike was ordained June 15, 1981.
God gives us the priest –
The priest is such a gift.
Song: A Priest is a Gift from God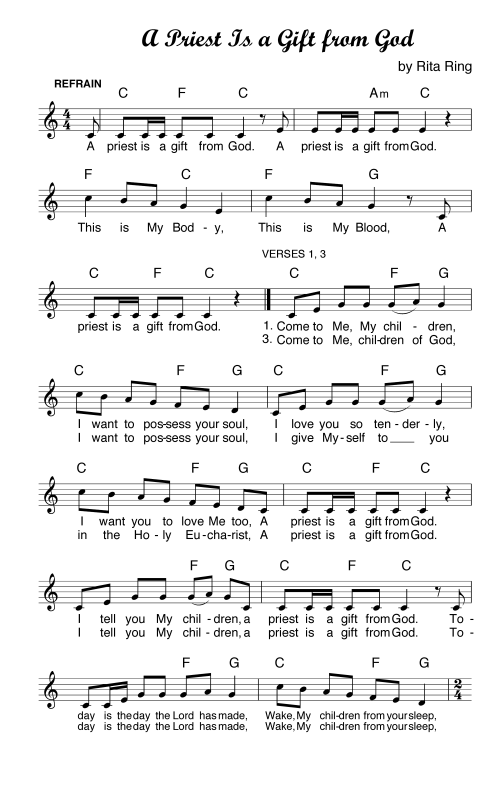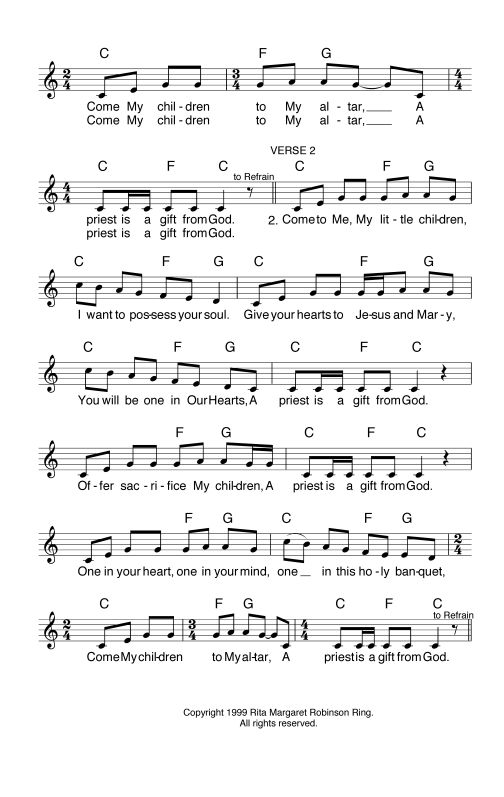 Song: Live This Day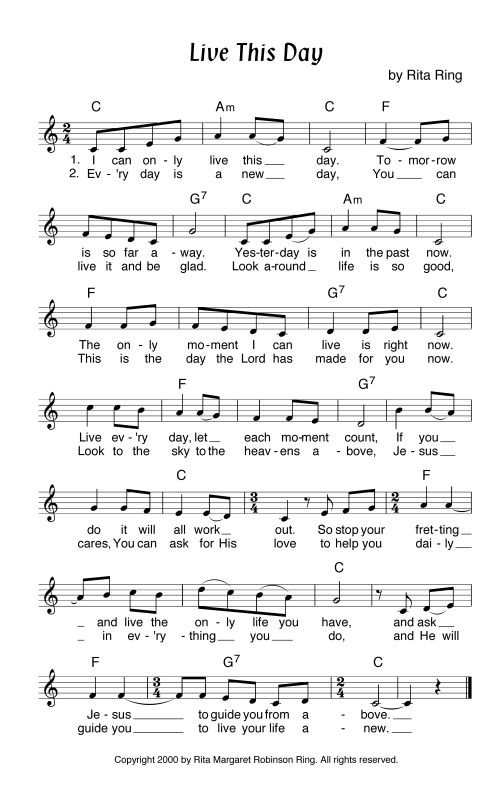 Song: Why Do We Hurt the Ones We Love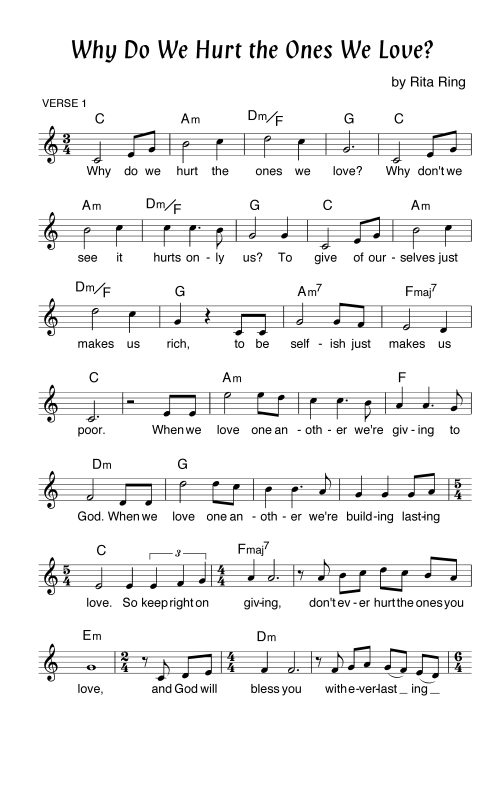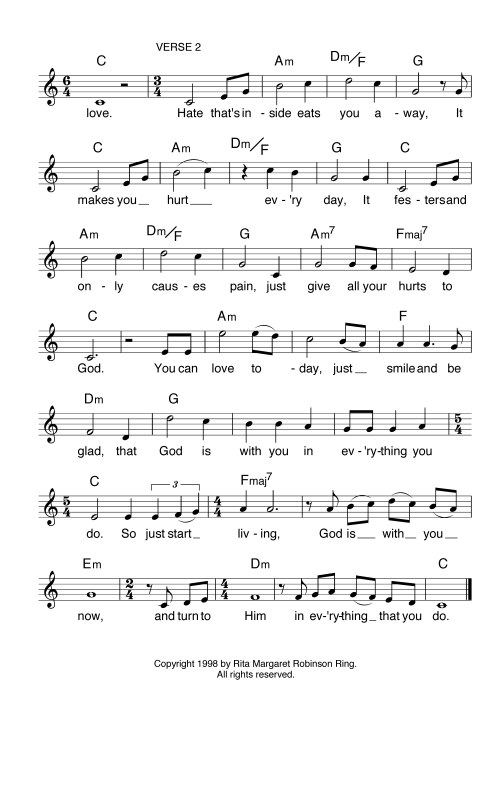 January 27, 1992
I can never live the
moments of this day again.

When I go to bed
today is gone forever.

I must choose to treasure
each moment because
it is the only moment I have and
it only lasts one moment.
R. When a person did not do
anything to grow in
love, but chooses
to stay closed in and
not give –
No matter how much somebody
wants love from them –
Any empty well doesn't
give water –
God is the source of
love – Divine love –
God heals the broken
hearted –
God gives us grace
when we love
Him and ask for
help and forgiveness.
God gives us Baptism,
Eucharist, Confirmation,
Marriage, Holy Orders,
Penance and Anointing of the Sick.
I believe in the great gift of
the Eucharist.
Jesus comes to us, Body, Blood,
Soul and Divinity.
We receive a sharing in God's
life in baptism and
Jesus feeds us with Himself.
Belief – Believing is the gift of
faith, we receive the supernatural
gift of faith in baptism.
We must ask God for the
increase of faith, hope and
love in our lives.
Faith, hope and love are theological
virtues –
We pray God gives us greater
faith.
We must believe.
We believe in the blessings
God gives us when we
surrender and believe
and trust and live in
Him.
We give ourselves in surrender
to God.
God is our Father, the Almighty,
All-Powerful God created us –
and loves us and wants us
eternally with Him in heaven.
We believe God will be with
us and help us and we
give ourselves to Him.
Jesus gave me the Prayer for Union
27 years ago.

Prayer for Union With Jesus

Come to me, Lord, and possess my soul. Come into my heart and permeate my soul. Help me to sit in silence with You and let You work in my heart.
I am Yours to possess. I am Yours to use. I want to be selfless and only exist in You. Help me to spoon out all that is me and be an empty vessel ready to be filled by You. Help me to die to myself and live only for You. Use me as You will. Let me never draw my attention back to myself. I only want to operate as You do, dwelling within me.
I am Yours, Lord. I want to have my life in You. I want to do the will of the Father. Give me the strength to put aside the world and let You operate my very being. Help me to act as You desire. Strengthen me against the distractions of the devil to take me from Your work.
When I worry, I have taken my focus off of You and placed it on myself. Help me not to give in to the promptings of others to change what in my heart You are making very clear to me. I worship You, I adore You and I love You. Come and dwell in me now.
January 17, 1994
R. Jesus gave us the Our Father.
The Our Father
Our Father, Who art in heaven, hallowed be Thy name. Thy Kingdom come, Thy will be done on earth as it is in heaven. Give us this day our daily bread and forgive us our trespasses as we forgive those who trespass against us. And lead us not into temptation, but deliver us from evil. Amen.

R. When we are wounded we
admit we need God's
healing and we go to Him
in humility. We surrender
to God, let go and believe
He will help us to be
more and more in the
image of Jesus.
To know God and unite
deeply to God is what
makes us happy.
We need healing of our
spiritual wounds.
This takes discipline outside
ourselves.
Faith, Hope and Love, but
the greatest of these
is love!!!
As it is, these remain: faith, hope and love, the three of them; and the greatest of them is love. Corinthians 13: 13
Remember this ––
God is watching –

How do we act if
we were being watched?
The very hairs of our head
are numbers.
We are accountable and
responsible for our decisions.
1 Corinthians 10: 16-17
The blessing-cup, which we bless, is it not a sharing in the blood of Christ; and the loaf of bread which we break, is it not a sharing in the body of Christ? And as there is one loaf, so we, although there are many of us, are one single body, for we all share in the one loaf.
Sequence for Corpus Christi

Sion, lift up thy voice and sing:
Praise thy Savior and thy King,
Praise with hymns thy shepherd true.
All thou canst, do thou endeavour:
Yet thy praise can equal never
Such as merits thy great King.
See today before us laid
The living and life-giving Bread,
Theme for praise and joy profound.
The same which at the sacred board
Was, by our incarnate Lord,
Giv'n to His Apostles round.
Let the praise be loud and high:
Sweet and tranquil be the joy
Felt today in every breast.
On this festival divine
Which records the origin
Of the glorious Eucharist.
On this table of the King,
Our new Paschal offering
Brings to end the olden rite.
Here, for empty shadows fled,
Is reality instead,
Here, instead of darkness, light.
His own act, at supper seated
Christ ordain'd to be repeated
In His memory divine;
Wherefore now, with adoration,
We, the host of our salvation,
Consecrate from bread and wine.
Hear, what holy Church maintaineth,
That the bread its substance changeth
Into Flesh, the wine to Blood.
Doth it pass thy comprehending?
Faith, the law of sight transcending
Leaps to things not understood.
Here beneath these signs are hidden
Priceless things, to sense forbidden,
Signs, not things, are all we see.
Flesh from bread, and Blood from wine,
Yet is Christ in either sign,
All entire, confessed to be.
They, who of Him here partake,
Sever not, nor rend, nor break:
But, entire, their Lord receive.
Whether one or thousands eat:
All receive the self-same meat:
Nor the less for others leave.
Both the wicked and the good
Eat of this celestial Food:
But with ends how opposite!
Here 't is life: and there 't is death:
The same, yet issuing to each
In a difference infinite.
Nor a single doubt retain,
When they break the Host in twain,
But that in each part remains
What was in the whole before.
Since the simple sign alone
Suffers change in state or form:
The signified remaining one
And the same for evermore.
Behold the Bread of Angels,
For us pilgrims food, and token
Of the promise by Christ spoken,
Children's meat, to dogs denied.
Shewn in Isaac's dedication,
In the manna's preparation:
In the Paschal immolation,
In old types pre-signified.
Jesu, shepherd of the sheep:
Thou thy flock in safety keep,
Living bread, thy life supply:
Strengthen us, or else we die,
Fill us with celestial grace.
Thou, who feedest us below:
Source of all we have or know:
Grant that with Thy Saints above,
Sitting at the feast of love,
We may see Thee face to face.
Amen. Alleluia

John 6: 51-58
I am the living bread
which has come down from heaven.
Anyone who eats this bread
will live for ever;
and the bread that I shall give
is my flesh, for the life of the world.'

Then the Jews started arguing among themselves, 'How can this man give us his flesh to eat?' Jesus replied to them:

In all truth I tell you,
if you do not eat
the flesh of the Son of man
and drink his blood,
you have no life in you.
Anyone who does eat my flesh
and drink my blood
has eternal life,
and I shall raise that person up
on the last day.
For my flesh is real food
and my blood is real drink.
Whoever eats my flesh
and drinks my blood
lives in me
and I live in that person.
As the living Father sent me
and I draw life from the Father,
so whoever eats me
will also draw life from me.
This is the bread
which has come down from heaven;
it is not like the bread our ancestors ate:
they are dead,
but anyone who eats this bread
will live for ever.

Hebrews 9: 11-15
But now Christ has come, as the high priest of all the blessings which were to come. He has passed through the greater, the more perfect tent, not made by human hands, that is, not of this created order; and he has entered the sanctuary once and for all, taking with him not the blood of goats and bull calves, but his own blood, having won an eternal redemption. The blood of goats and bulls and the ashes of a heifer, sprinkled on those who have incurred defilement, may restore their bodily purity. How much more will the blood of Christ, who offered himself, blameless as he was, to God through the eternal Spirit, purify our conscience from dead actions so that we can worship the living God. This makes him the mediator of a new covenant, so that, now that a death has occurred to redeem the sins committed under an earlier covenant, those who have been called to an eternal inheritance may receive the promise.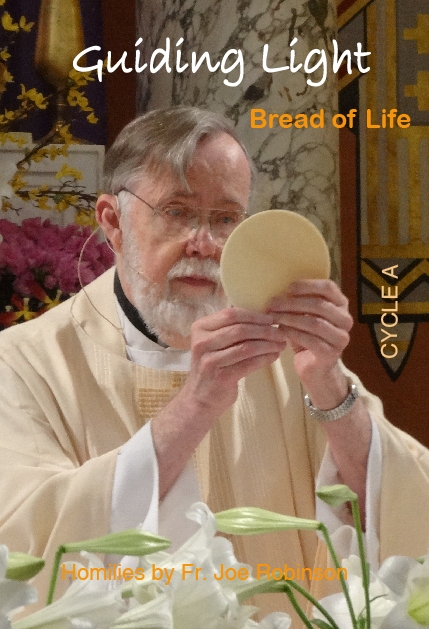 1 Corinthians 11: 23-26
For the tradition I received from the Lord and also handed on to you is that on the night he was betrayed, the Lord Jesus took some bread, and after he had given thanks, he broke it, and he said, 'This is my body, which is for you; do this in remembrance of me.' And in the same way, with the cup after supper, saying, 'This cup is the new covenant in my blood. Whenever you drink it, do this as a memorial of me.' Whenever you eat this bread, then, and drink this cup, you are proclaiming the Lord's death until he comes.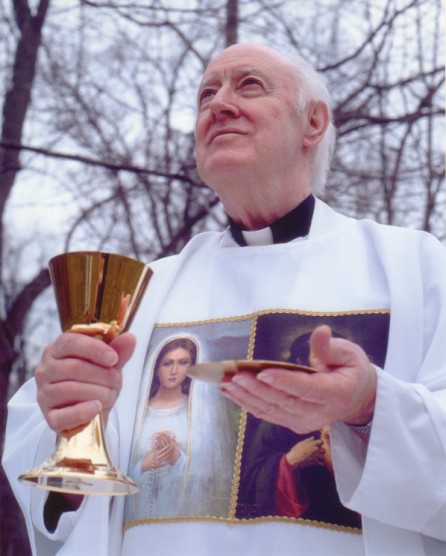 Through Him, With Him, In Him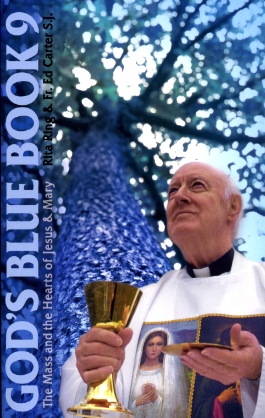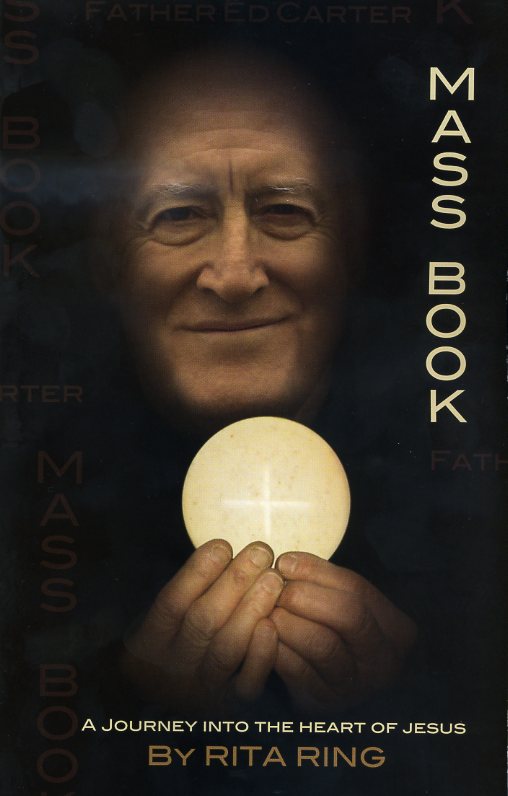 A Prayer before the Holy Sacrifice of the Mass
Let me be a holy sacrifice and unite with God in the sacrament of His greatest love.

I want to be one in Him in this act of love, where He gives Himself to me and I give myself as a sacrifice to Him. Let me be a holy sacrifice as I become one with Him in this my act of greatest love to Him.

Let me unite with Him more, that I may more deeply love Him. May I help make reparation to His adorable Heart and the heart of His Mother, Mary. With greatest love, I offer myself to You and pray that You will accept my sacrifice of greatest love. I give myself to You and unite in Your gift of Yourself to me. Come and possess my soul.

Cleanse me, strengthen me, heal me. Dear Holy Spirit act in the heart of Mary to make me more and more like Jesus.

Father, I offer this my sacrifice, myself united to Jesus in the Holy Spirit to You. Help me to love God more deeply in this act of my greatest love.

Give me the grace to grow in my knowledge, love and service of You and for this to be my greatest participation in the Mass. Give me the greatest graces to love You so deeply in this Mass, You who are so worthy of my love.

-Mass Book, December 27, 1995
L
ET US LOVE THE TWO HEARTS OF JESUS AND MARY
IN THE RECEPTION OF THE HOLY EUCHARIST.
HE GAVE HIMSELF TO US ON THE CROSS. HE GIVES HIMSELF TO US IN THE EUCHARIST.
How great was the act of love, God gave to this world, when He gave Himself and died on the cross. He gives Himself to us this day in the Holy Eucharist.
The greatest commandment is that we must love God with our whole heart, our whole soul, and our whole being. This is a commandment. If we are to enter heaven, we must follow the commandments. They are commands given by God for us to follow.
The greatest act we can do on this earth is an act of loving God. The reason for our existence is to love God. In the sacrament of His greatest love, He gives Himself to us. This is an act of love on His part. We are called to respond by giving ourselves in love to Him.
This is the purpose of the Holy Eucharist: to unite in such oneness with our Holy, Loving God. Our all consuming passion should be that of loving God. How many go to the Eucharist with the sole purpose of giving great love to God? He wants us to love Him. He wants souls to tell Him how much they truly love Him. This is the most intimate act of love when Jesus gives Himself-Body, Blood, Soul, and Divinity to man. If it is such an act of love, how are we receiving Him in Communion? We should beg God, in this most intimate union with Him, to help us to love Him with greatest love.
Jesus is a Person. He wants our love. The Holy Spirit wants such intimacy with us. Our Father wants us to love Him. In the Eucharist, we unite with God. In this intimate act of uniting with our beloved God, with Divinity, we must pour out our love to God. We must pour out our heart to the most adorable Heart of Jesus. Jesus is so unjustly treated by many of His beloved souls He loves so much. Let us help make reparation to the Almighty God by loving God with our whole heart, our whole soul, and our whole being in the sacrament of His greatest love. This is the Gift of Himself.
Think of how it is to love someone and give your all for that person, to pour out your heart to him or her and then be treated with coldness and neglect. It hurts our heart so much more when we deeply love someone to be rejected by that person. Jesus loves us with the deepest love. We cannot fully comprehend this love. Let us love Him with the deepest love. Let us love Mary and her Immaculate Heart. Let us love her as the Mother of God. Let us love her as the virgin who bore the Son of God. May we, in the reception of the Eucharist pour out our love to Him, to this adorable Heart. May we pour out our love to His Holy Mother.
Mary said at Fatima that Jesus wants His Heart venerated next to the heart of His Mother. Let us love these two Hearts as we receive the Sacrament of the Eucharist. Then we are so deeply united with God. We see Their two Hearts surrounded with thorns for the injustices against Their Hearts. Let us help make reparation daily as we receive Him in the Eucharist. This is a special time to help make reparation to Their wounded Hearts.
Let us remember how He poured His love out to us on the cross and how He pours out His love to us now when He gives us Himself in the Eucharist, the Eucharist which contains His Heart of burning love. His Heart was pierced with a lance. Her heart was invisibly pierced with a sword. As the wounds in Their Hearts are deep, so too is Their love so deep.
He does not want "surface love". He wants hearts filled with deep burning love.
June 1, 1992 (excerpt)

Jesus says:

Cling to Me – hold My hand –
Know Me –
Oh you, beloved of My Father –
Love all that I send to you as
the Father intends.
I put you into My strength
Like dipping you in My
machine – you are made strong.

Little girl, walk your path, you
are not alone, feel My hand,
know My love –
you are in My care –

Little girl, walk your path
you are not alone, feel My
sun light – warm and good –
you are not alone –

Little girl, walk with Me,
tell Me your troubles too –
I am there to listen as no
other can do –

Little girl walk your path,
you are the one I know,
sweet and kind and always
there for others.

Little girl walk your path,
skip if you feel the need,
slow down and stop –
look at the earth –
study some "dumb old weed".

Little girl walk your path,
open your heart to love –
to love one another –
That is all you need do –
Love God and love others as yourself –

Little girl walk your path,
turn your life over to Me
if I watch out for the leaves –
do you think I would not
watch out for thee –

Little girl walk your path,
looking to others, but
God knows and you know that
you are to be one with God first –

R.
I love the rain on a warm
dark day – to hear its calm
pitter, patter – There is something
about rain, that makes me
feel that nothing else matters –
It helps me let go.
When it's warm outside and
the rain comes there is
comfort in sitting out
under and when it is cold
there is pleasure in
listening to rain on the roof –

I think I may not always
feel the pleasure in the rain,
I feel today, but in quiet
moments of my life that
is when the rain has gain.

I love to listen, I love to just
be in the moment –
if I only take the time –
it is precious moments like this
God has given us the rain.

After my mom died at 5, I would
sit by the window at the Carson
house upstairs and stare at the
rain drops as they fell and changed
on the window. They were so
beautiful and it comforted my little
heart thinking of the rain drops and
the mystery of life and death and mom
who died of cancer when I was so little
and left 5 children motherless.
Serenity is mine.


R. Jesus knows suffering.
We identify our suffering to His.

He is the love we need and must seek.

Jesus: I want union with you.

Use My Blue Books - My letters of Love.

You must seek healing for yourself.

Beg to die to your wounds and be healed.

Like a person with cancer.

Pray for healing in your heart.

You must seek healing - feel the pain and offer up the suffering united to Me.