Please Pray for Fr. Joe & Bob


Prayer for Grace for our Country

Dear Father united to Jesus in the Holy Sacrifice of the Mass, the Sacrifice of Calvary sacramentally made present, celebrated around the world, in the Holy Spirit. We offer up all we do united to the Mass. We unite in one mind and one heart as members of the mystical body of Christ, with Christ our head in the pure and holy Hearts of Jesus and Mary, through the powerful intercession of Mary with all the angels and saints and souls in purgatory, and we beg for the saving grace, for our country, the United States. Please help us. We further pray for unity to always do the will of God in love. We spread the Blood of Jesus on the leaders and people of the United States and cast the devil into hell. We consecrate our country to the Sacred Heart and Immaculate Heart and all our dioceses, and beg for an outpouring of the Holy Spirit. God help us. We pray for our families, the priests, the Church and the world. In the Name of Jesus please hear us, we pray. We pray for our president and leaders. We pray that we are united as one nation under God to work together in love as God wants.
June 9, 2021
R. Mary always said yes.
Mary always did the will of the Father.
God wants us to love.
God wants us with Him, eternally in heaven.

We need to be humble and do the will of the Father.

We pray to the Holy Spirit and ask God to enlighten us to know the will of the Father.

To do this we must surrender to God. God has given us the Prayer for Union with Jesus.

Come to me the Lord and possess my soul.

Wait on the Lord and He will grant our heart's desire. This means many times, that we are willing to wait, to do His will.

Be patient. Discipline our wills, ask for grace to do this. In the world today, many times, we do not want to wait. God's timing is perfect timing. God has a plan for our lives.

Come to me Lord and possess my soul.

God is with us.
The Virgin shall be with child
and give birth to a son,
and they shall call him Emmanuel. (Ref. Isaiah 7: 14)

We pray with joy and hope.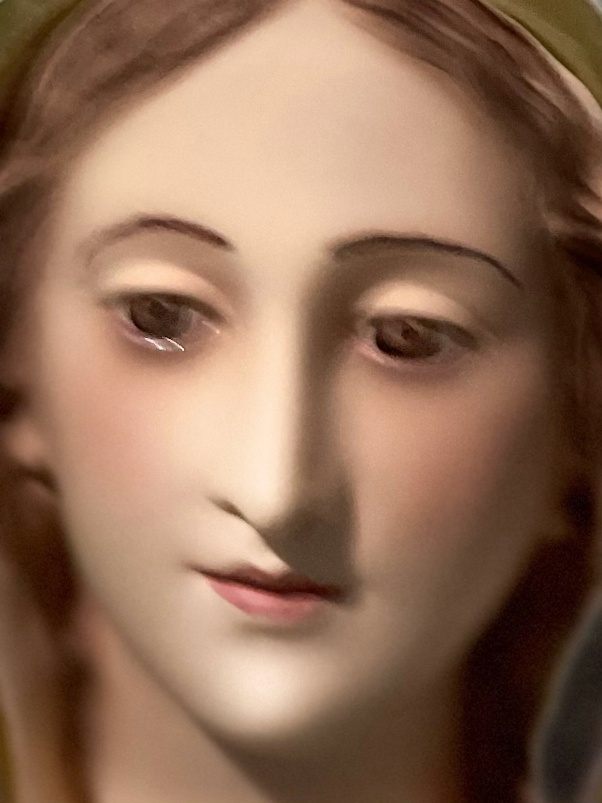 Joyful Mysteries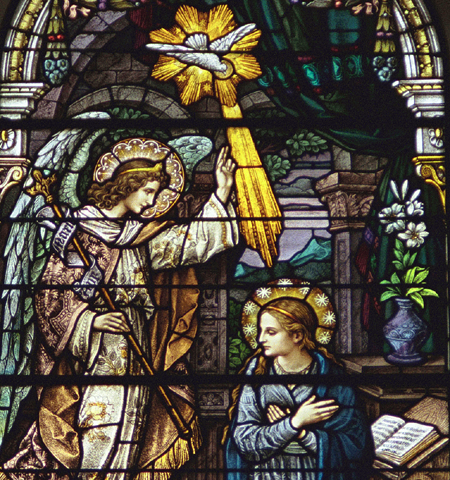 The Annunciation
1. This is the story of love.
2. John 3: 16
For this is how God loved the world:
he gave his only Son,
so that everyone who believes in him
may not perish
but may have eternal life.
3. Waiting - the world is very focused on the self - God sent Jesus at the perfect time.
4. Wait on the Lord and He will grant your heart's request.
5. God has a plan.
6. God is love.
7. God is all good.
8. He teaches us lessons we need to learn in our lives.
9. Lessons we need to learn for eternal salvation.
10. Song: A Song from Jesus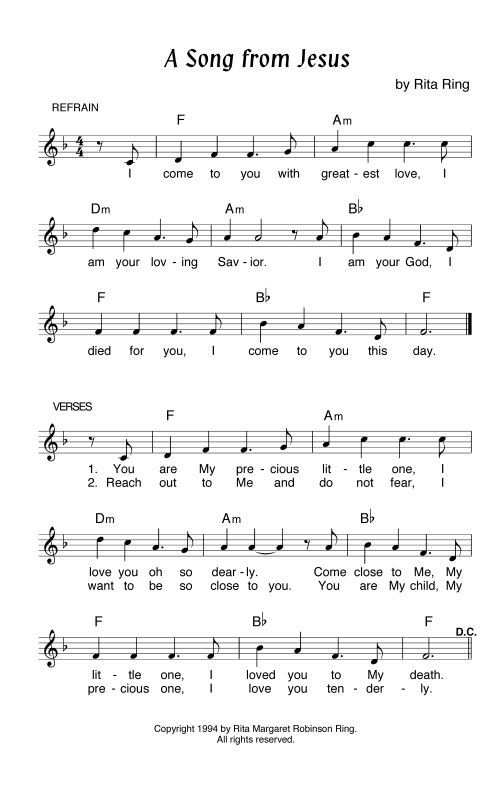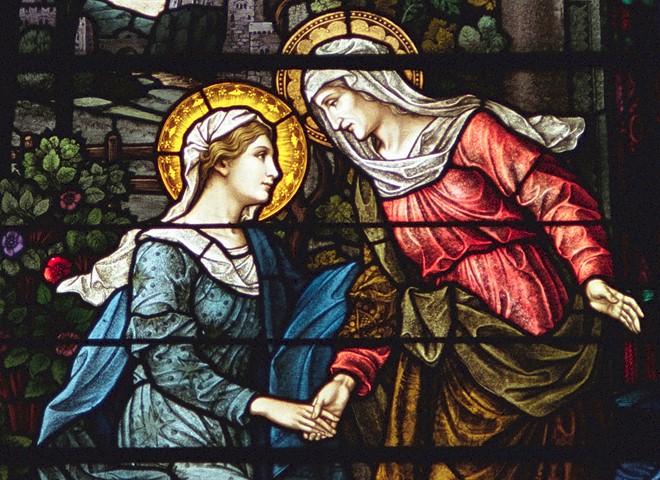 The Visitation
1. Luke 1: 46-55
And Mary said:

My soul proclaims
the greatness of the Lord
and my spirit rejoices
in God my Saviour;
because he has looked upon
the humiliation of his servant.
Yes, from now onwards
all generations will call me blessed,
for the Almighty
has done great things for me.
Holy is his name,
and his faithful love extends age after age
to those who fear him.
He has used the power of his arm,
he has routed the arrogant of heart.
He has pulled down princes
from their thrones
and raised high the lowly.
He has filled the starving with good things,
sent the rich away empty.
He has come to the help
of Israel his servant,
mindful of his faithful love
—according to the promise
he made to our ancestors—
of his mercy to Abraham
and to his descendants for ever.
2. Mary said "yes".
3. God loves us so much.
4. God wants to give us His grace.
5. We must be open - ready to receive it.
6. We wait while we are preparing for eternal life.
7. We obey God's will and live in love.
8. We must be ready for the opportunity to grow in our souls.
9. Jesus is our beloved.
10. We need God to grow in holiness.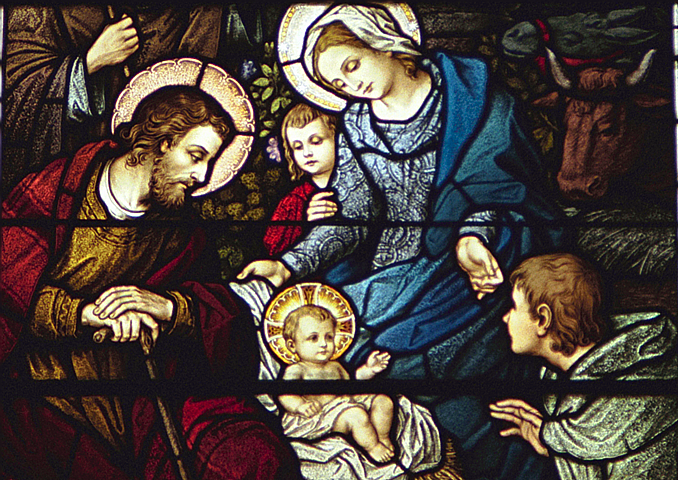 The Birth of Jesus
1. We are babies, growing more and more in the image of God.
2. Jesus came a little baby in Mary's womb.
3. We go to the Immaculate Heart of Mary.
4. Jesus was conceived in the womb of the Virgin Mary through the power of the Holy Spirit.
5. From Tell My People by Fr. Edward J. Carter, S.J.
The Holy Spirit
Jesus: "My beloved friend, tell My people to pray daily to the Holy Spirit. They are to pray for an increase in His gifts. My people must realize that the Holy Spirit comes to transform them. The Spirit desires to transform you more and more according to My image. Those who are docile to His touch become increasingly shaped in My likeness. He performs this marvel within Mary's Immaculate Heart. The more one dwells in My Mother's Heart, the more active are the workings of the Spirit. The Spirit leads Mary to place you within My own Heart. In both Our Hearts, then, your transformation continues. The more you are formed after My own Heart, the more I lead you to the bosom of My Father. Tell My people all this. Tell them to pray daily for a greater appreciation of these wondrous gifts. I am Lord and Master. All who come to My Heart will be on fire to receive the gifts of the Spirit in ever greater measure! I love and bless My people!"

Reflection: The Holy Spirit is given to us to fashion us ever more according to the likeness of Jesus. And the more we are like Jesus, the more Jesus leads us to the Father. Do we, each day, pray to the Holy Spirit to be more open to His transforming influence? Do we strive each day to grow in union with Mary? The greater our union with our Mother, the spouse of the Holy Spirit, the greater is the transforming action of the Holy Spirit within us.

6. Jesus was born a baby, He died and He rose from the dead.
7. God is teaching us in the life of Jesus.
8. Jesus the Son of God came in poverty.
9. We are to humbly live our lives like God wants.
10. We must wait on His plan, obey His will.
Song: Little Child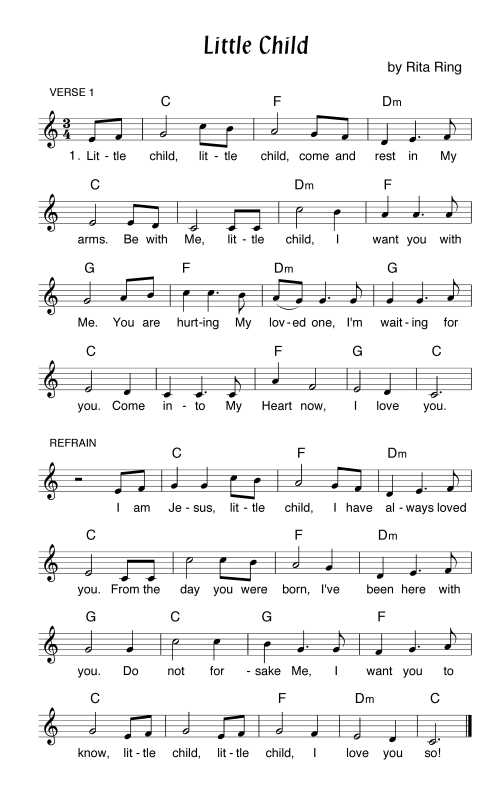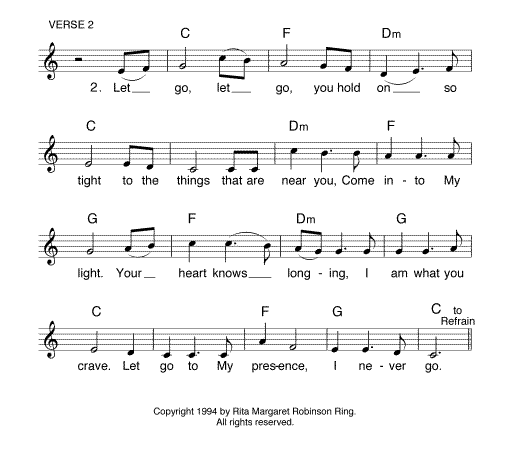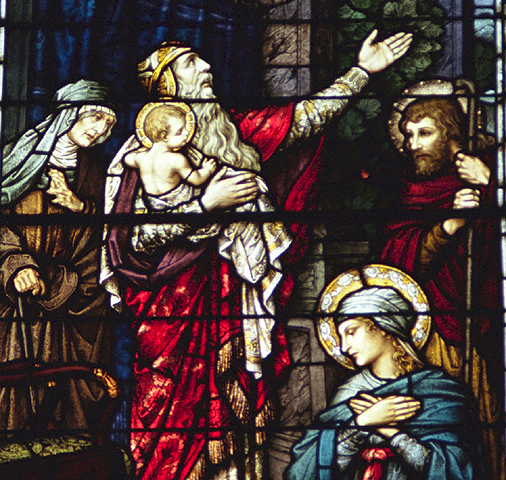 The Presentation
1. Luke 2: 25-35
Now in Jerusalem there was a man named Simeon. He was an upright and devout man; he looked forward to the restoration of Israel and the Holy Spirit rested on him. It had been revealed to him by the Holy Spirit that he would not see death until he had set eyes on the Christ of the Lord. Prompted by the Spirit he came to the Temple; and when the parents brought in the child Jesus to do for him what the Law required, he took him into his arms and blessed God; and he said:

Now, Master, you are letting
your servant go in peace
as you promised;
for my eyes have seen the salvation
which you have made ready
in the sight of the nations;
a light of revelation for the gentiles
and glory for your people Israel.

As the child's father and mother were wondering at the things that were being said about him, Simeon blessed them and said to Mary his mother, 'Look, he is destined for the fall and for the rise of many in Israel, destined to be a sign that is opposed—and a sword will pierce your soul too — so that the secret thoughts of many may be laid bare.'
2. Sing: Little Baby Hands and Feet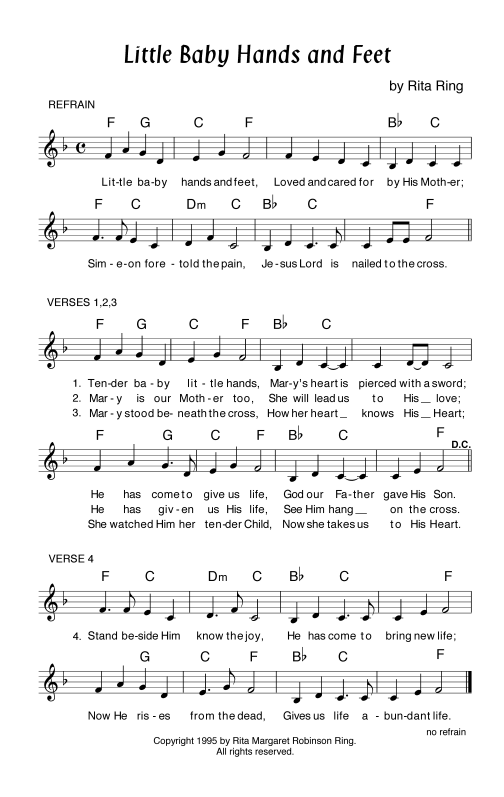 3. A sword too will pierce your heart, oh Mary.
4. What we do to others - we do to Jesus.
5. Mary suffered the 7 Sorrows.
6. Mary said yes.
7. Mary is our Spiritual Mother.
8. Mary and Joseph and Jesus show us the Holy family.
9. God gives us a sharing in His life in baptism.
10. Jesus feeds us with Himself in the Eucharist.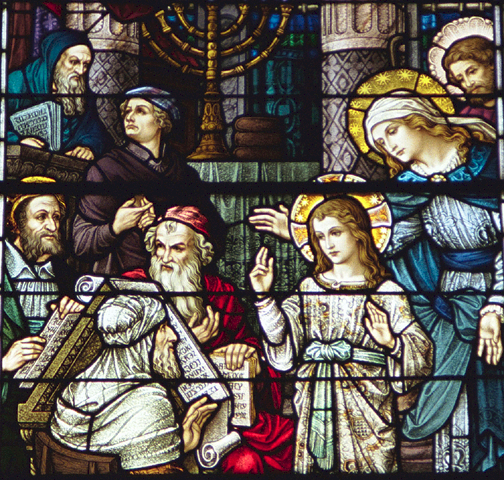 The Finding of Jesus in the temple
1. Luke 2: 41-52
Every year his parents used to go to Jerusalem for the feast of the Passover. When he was twelve years old, they went up for the feast as usual. When the days of the feast were over and they set off home, the boy Jesus stayed behind in Jerusalem without his parents knowing it. They assumed he was somewhere in the party, and it was only after a day's journey that they went to look for him among their relations and acquaintances. When they failed to find him they went back to Jerusalem looking for him everywhere.

It happened that, three days later, they found him in the Temple, sitting among the teachers, listening to them, and asking them questions; and all those who heard him were astounded at his intelligence and his replies. They were overcome when they saw him, and his mother said to him, 'My child, why have you done this to us? See how worried your father and I have been, looking for you.' He replied, 'Why were you looking for me? Did you not know that I must be in my Father's house?' But they did not understand what he meant. He went down with them then and came to Nazareth and lived under their authority. His mother stored up all these things in her heart. And Jesus increased in wisdom, in stature, and in favour with God and with people.
2. Mary's Message - from the Rosary of August 27, 1996
Mary: I stood beneath the cross of my Son, and my Heart was in such pain for I saw Him before my eyes. I saw Him covered with blood. I saw Him die. My Heart, my children, my Heart to watch my Son, but my Heart, my Heart, how I suffered for my little children of the world that give in to this world and give up the love of my Son. O my little children of light, I give you this message. Carry this light into the darkness for your Mother Mary, for I stood beneath the cross and I cried. I cried for the little ones. I cried for the young ones, the ones that do not care and will lose their souls. How do I make you see for you will not listen to me? What can I do? I come. I appear. I beg. I plead. I give you these gifts from my Son, and you reject me. I do not deliver messages very often anymore for I have been ignored. The message is the same. You do not read the messages I have given to you. Please help me. Help the little children. I appear. I appear. I appear, and I am ignored. I stood beneath the cross, and I cried. I cried, and my Heart was in such anguish for my little children, for I am searching for them this day as I searched for the Child Jesus. Please, please help me. I cannot hold back the hand of my Son any longer. I am Mary, your Mother. I ask you to help my children. You are my children of light. end of Mary's Message


3. Many souls will be lost because they sin mortally and will not repent.

4. God wants us to walk humbly.
God wants us to be holy.

5. God wants us to live our vocation in obedience to the Father's will.

6. The family that prays together, stays together.

7. We are servants of God.

8. Matthew 22: 34-40

But when the Pharisees heard that he had silenced the Sadducees they got together and, to put him to the test, one of them put a further question, 'Master, which is the greatest commandment of the Law?' Jesus said to him, 'You must love the Lord your God with all your heart, with all your soul, and with all your mind. This is the greatest and the first commandment. The second resembles it: You must love your neighbour as yourself. On these two commandments hang the whole Law, and the Prophets too.'

9. Prayer for Union with Jesus

Come to me, Lord, and possess my soul. Come into my heart and permeate my soul. Help me to sit in silence with You and let You work in my heart.

I am Yours to possess. I am Yours to use. I want to be selfless and only exist in You. Help me to spoon out all that is me and be an empty vessel ready to be filled by You. Help me to die to myself and live only for You. Use me as You will. Let me never draw my attention back to myself. I only want to operate as You do, dwelling within me.

I am Yours, Lord. I want to have my life in You. I want to do the will of the Father. Give me the strength to put aside the world and let You operate my very being. Help me to act as You desire. Strengthen me against the distractions of the devil to take me from Your work.

When I worry, I have taken my focus off of You and placed it on myself. Help me not to give in to the promptings of others to change what in my heart You are making very clear to me. I worship You, I adore You and I love You. Come and dwell in me now.

-God's Blue Book, January 17, 1994


10. Song: I love You Jesus