Please pray for Special Intention, funds,
and the mailing, especially for Jeff.

August 24th
Prayer Service 12-3 and 6:20pm
Please join in & pray on internet.
Pray for Dan, Jeff, Fr. Joe, Larry & Annette.
Pray for Jeff 13
Pray for Dan N. & Fr. Joe.
Pray for Fr. Joe, Dan, Melanie, Mary, Sanja, Rita,
Jim, Rosie, Louie's family, Carol R. & Family –
Madonna, Christopher, a special couple,
all Shepherds of Christ intentions on lists.
Pray for China and the mailing.
Also pray for Urgent intention
Prayer for Grace for our Country

Dear Father united to Jesus in the Holy Sacrifice of the Mass, the Sacrifice of Calvary sacramentally made present, celebrated around the world, in the Holy Spirit. We offer up all we do united to the Mass. We unite in one mind and one heart as members of the mystical body of Christ, with Christ our head in the pure and holy Hearts of Jesus and Mary, through the powerful intercession of Mary with all the angels and saints and souls in purgatory, and we beg for the saving grace, for our country, the United States. Please help us. We further pray for unity to always do the will of God in love. We spread the Blood of Jesus on the leaders and people of the United States and cast the devil into hell. We consecrate our country to the Sacred Heart and Immaculate Heart and all our dioceses, and beg for an outpouring of the Holy Spirit. God help us. We pray for our families, the priests, the Church and the world. In the Name of Jesus please hear us, we pray. We pray for our president and leaders. We pray that we are united as one nation under God to work together in love as God wants.
August 24, 2020 - St. Bartholomew Apostle
R. St. Bartholomew patron neurological sicknesses, friend of St. Phillip, Apostle.
Today is a day to pray for Wellness of Health.

Please pray for Jeff today and all involved in his rapid recovery. Amen.


Today's Readings

Revelation 21: 9-14

One of the seven angels that had the seven bowls full of the seven final plagues came to speak to me and said, 'Come here and I will show you the bride that the Lamb has married.' In the spirit, he carried me to the top of a very high mountain, and showed me Jerusalem, the holy city, coming down out of heaven from God. It had all the glory of God and glittered like some precious jewel of crystal-clear diamond. Its wall was of a great height and had twelve gates; at each of the twelve gates there was an angel, and over the gates were written the names of the twelve tribes of Israel, on the east there were three gates, on the north three gates, on the south three gates, and on the west three gates. The city walls stood on twelve foundation stones, each one of which bore the name of one of the twelve apostles of the Lamb.

Psalm 145: 10-13, 17-18

Yod
All your creatures shall thank you, Yahweh,
and your faithful shall bless you.

Kaph
They shall speak of the glory of your kingship
and tell of your might,

Lamed
making known your mighty deeds to the children of Adam,
the glory and majesty of your kingship.

Mem
Your kingship is a kingship for ever,
your reign lasts from age to age.

Zade
Upright in all that he does,
Yahweh acts only in faithful love.

Qoph
He is close to all who call upon him,
all who call on him from the heart.

John 1: 45-51

Philip found Nathanael and said to him, 'We have found him of whom Moses in the Law and the prophets wrote, Jesus son of Joseph, from Nazareth.' Nathanael said to him, 'From Nazareth? Can anything good come from that place?' Philip replied, 'Come and see.' When Jesus saw Nathanael coming he said of him, 'There, truly, is an Israelite in whom there is no deception.' Nathanael asked, 'How do you know me?' Jesus replied, 'Before Philip came to call you, I saw you under the fig tree.' Nathanael answered, 'Rabbi, you are the Son of God, you are the king of Israel.' Jesus replied, 'You believe that just because I said: I saw you under the fig tree. You are going to see greater things than that.' And then he added, 'In all truth I tell you, you will see heaven open and the angels of God ascending and descending over the Son of man.'


R. Pray for mailing and all intentions - Dan , Fr. Joe, all of us.

Pray for spreading books, our country, funds.

January 17, 1992

R.

Dear Jesus,

I want to be close to You and feel Your
presence in my heart. I ask You to open
my heart to the fire of Your love and know
Your promptings at this moment in my
life. You are my God and I am Your child and
my way in life is useless without Your
direction. My life would be so full of fear
without having the relationship that You
have given me with You. The devil tempts me
to think I am unworthy. Most Sacred Heart of
Jesus I put my trust in Thee.
No matter what day and what minute it is, You


will always be there because You do not
slumber or sleep.

Jesus:

I am your rock, I am your strength,

I am your Savior. I am the only one who can
minister to you when your heart is broken.
I know your pain and your distrust and your
hurt and your numbness and fear not to trust
again. I have been offended so many times
by so many. The worst is pains of the heart.
Stay plugged into My source, know I am here
with you every minute, every second,
of your life, and I will be there ALWAYS –
I died on the cross for you.
Come to Me all who are weary and I will
comfort you. Place your yoke upon My
shoulder and do not be afraid for I will
gently show you the way of the Lord.
I will be your rock, I will be your fortress, I
will not leave you, I am there.
Pray for your friends – many are
suffering and will not open their hearts to Me
or you or anybody. Many say "yes"
to satan and "no" to Me. Pray hard for
them, go to daily Mass and Communion and
pray for them.

I have all the power.
All power comes from Me –
My heart is an undying source


of fire and warmth –
I have all the power.
I am your power –
I am your strength –
I am your God –
I am there with you now
I will always be ready to help you
if you turn to Me.

Jesus

January 17, 1992

Come to Me in Your Pain

Jesus:

Do not go only to man, most especially come to Me. I am the only One Who can completely minister to you when your heart is broken. The worst pains are the pains of the heart. Stay plugged into My source. Know I am here with you every minute, every second of your life, and I will be there always.

Come unto Me all who are weary and I will comfort you. Do not be afraid for I will gently show you the way of the Lord.

I will be your rock. I will be your fortress. I will not leave you ever. I am there. My Heart is an undying source of fire and warmth and power.

I am your power. I am your strength. I am your God. I am there every instant of your life.

R.

I can never live the moments of this day again. When I go to bed, today is gone forever. I must choose to treasure each moment because it is the only moment I have and it only lasts one moment.



Prayer for Healing the Family Tree
by Rev. John H. Hampsch, C.M.F.

Heavenly Father, I come before you as your child,
in great need of your help.
I have physical health needs, emotional needs,
spiritual needs, and interpersonal needs.
Many of my problems have been caused
by my own failures, neglect and sinfulness,
for which I humbly beg your forgiveness, Lord.
But I also ask you to forgive the sins of my ancestors
whose failures have left their effects on me
in the form of unwanted tendencies,
behavior patterns, and defects in body, mind and spirit.
Heal me, Lord, of all these disorders. – pause –

With your help I sincerely forgive everyone,
especially living or dead members of my family tree,
who have directly offended me or my loved ones in any way,
or those whose sins have resulted
in our present sufferings and disorders.
In the name of your divine Son Jesus,
and in the power of the Holy Spirit, I ask you, Father,
o deliver me and my entire family tree
from the influence of the evil one. – pause –

Free all living and deceased members of my family tree,
including those in adoptive relationships,
and those in extended family relationships,
from every contaminating form of bondage.
By your loving concern for us, heavenly Father,
and by the shed blood of your Precious Son Jesus,
I beg you to extend your blessing to me
and all my living and deceased relatives.
Heal every negative effect transmitted
through all past generations,
and prevent such negative effects
in future generations of my family tree. – pause –

I symbolically place the cross of Jesus
over the head of each person in my family tree,
and between each generation.
I ask you to let the cleansing blood of Jesus
purify the bloodlines in my family lineage.
Set your protective angels to encamp around us,
and permit Archangel Raphael, the patron of healing,
to administer your divine healing power to all of us,
even in areas of genetic disability.

Give special power to our family members' guardian angels
to heal protect, guide and encourage each of us in all our needs.
Let your healing power be released at this very moment,
and let it continue as long as your sovereignty permits.

In our family tree, Lord, replace all bondage
with a holy bonding in family love.
And let there be an ever deeper bonding with you, Lord,
by the Holy Spirit, to your Son Jesus.
Let the family of the Holy Trinity pervade our family
with its tender, warm, loving presence,
so that our family may recognize
and manifest that love in all our relationships.
All of our unknown needs we include with this petition
that we pray in Jesus' precious name.
Amen, Amen and Amen.

Prayer for Intergenerational Healing
based upon a prayer and the writings of Dr. Kenneth McAll

In the name of Jesus, and by his authority,
I come against any and every curse
that may have been directed to any member of our family.
I call down the Precious Blood of Jesus Christ
and I break any curse on my family or person
in the Holy name of Jesus.
I forgive and bless those who sent them.
Lord bless our enemies—do so by sending
your Holy Spirit to lead them to repentance,
to healing and to freedom.
I now break in the name of Jesus Christ
all psychic heredity and any demonic hold
upon my family line as a result of the
disobedience of any of my ancestors.
I declare all of this to be absolutely null and void.
In the Holy Name of Jesus.
In the Holy Name of Jesus.
In the Holy Name of Jesus.

In the Name of Jesus Christ,
I renounce all the work of evil,
together with any occult practices of my ancestors.
I subscribe myself to Jesus Christ,
my Lord and Savior, both now and forever.
Litany of the
Most Precious Blood of Jesus

(For public or private use.)
Lord, have mercy on us.
Christ, have mercy on us.
Lord, have mercy on us. Christ, hear us.
Christ, graciously hear us.
God the Father of Heaven,
Have mercy on us.
God the Son, Redeemer of the world,
Have mercy on us.
God the Holy Spirit,
Have mercy on us.
Holy Trinity, One God,
Have mercy on us.

Blood of Christ, only-begotten Son of the Eternal Father, save us.
Blood of Christ, Incarnate Word of God, save us.
Blood of Christ, of the New and Eternal Testament, save us.
Blood of Christ, falling upon the earth in the Agony, save us.
Blood of Christ, shed profusely in the Scourging, save us.
Blood of Christ, flowing forth in the Crowning with Thorns, save us.
Blood of Christ, poured out on the Cross, save us.
Blood of Christ, Price of our salvation, save us.
Blood of Christ, without which there is no forgiveness, save us.
Blood of Christ, Eucharistic drink and refreshment of souls, save us.
Blood of Christ, river of mercy, save us.
Blood of Christ, Victor over demons, save us.
Blood of Christ, Courage of martyrs, save us.
Blood of Christ, Strength of confessors, save us.
Blood of Christ, bringing forth virgins, save us.
Blood of Christ, Help of those in peril, save us.
Blood of Christ, Relief of the burdened, save us.
Blood of Christ, Solace in sorrow, save us.
Blood of Christ, Hope of the penitent, save us.
Blood of Christ, Consolation of the dying, save us.
Blood of Christ, Peace and Tenderness of hearts, save us.
Blood of Christ, Pledge of Eternal Life, save us.
Blood of Christ, freeing souls from Purgatory, save us.
Blood of Christ, most worthy of all glory and honor, save us.

Lamb of God, Who takest away the sins of the world,
Spare us, O Lord.
Lamb of God, Who takest away the sins of the world,
Graciously hear us, O Lord.
Lamb of God, Who takest away the sins of the world,
Have mercy on us, O Lord.

V. Thou hast redeemed us, O Lord, in Thy Blood,
R. And made of us a kingdom for our God.

Let Us Pray

Almighty and Eternal God, Thou hast appointed Thine only-begotten Son the Redeemer of the world, and willed to be appeased by His Blood. Grant, we beseech Thee, that we may worthily adore this Price of our salvation, and through its power be safeguarded from the evils of this present life, so that we may rejoice in its fruits forever in Heaven. Through the same Christ Our Lord. R. Amen.
R. I place the cross of Christ on my sufferings.

God help me in sickness both spiritual and physical.

God help in every nerve, muscle, bone, ligament, and blood in my body.

Help me heal God.

I pray for grace to live in Your presence.

I pray for Jeff and all treating him. Amen.

I pray for Dan, Fr. Joe and all of us. Now. Amen.

Through the powerful intercession of St Bartholomew, St Philomena,
St. Bridget, St. Augustine and St. Monica, St. Joseph, Padre Pio, Pope John Paul II, St. Rita, and all the angels and saints.

Also the powerful intercession of Our Lady of Clearwater, Pretty Mary in the Holy Spirit,
God the Father in the name of Jesus, united to the Mass I pray.

Through the intercession of Fr Carter, Monsignor, Alice, Catherine Amen.

I pray, Amen.

I love you, Jesus, Amen.

Heal all who have abandoned their vocation. Amen.

Jesus, I love you.

Song:
A Song from Jesus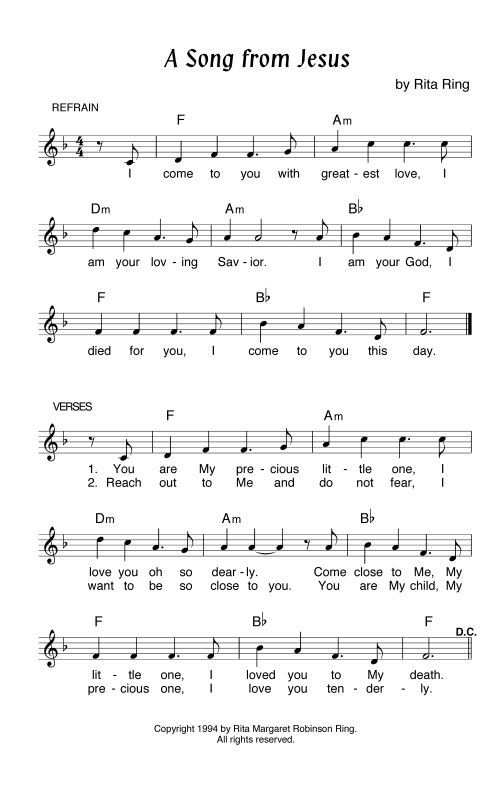 R. Clearwater - speak of healing for Jesus, Mary, Holy Water.
Healings
from
The Building of the Two Hearts
1. A gentleman from Florida called and said since he got the Fatima Statue with glass his life has been transformed.
2. After using the Jesus water, pain and non-movement (for 3 years) in my fingers was healed instantly. Now fingers are cracking and working and no pain. Has taken x-rays.
3. Ruptured ACL Ligament and PCL ligament left leg (knee) and damaged meniscus. 3-4 weeks excruciating pain. MRI showed damaged ligaments - went to do surgery and scopes revealed no damage other than meniscus injury. Day before surgery we came here to pray for healing. Wife anointed knee with Jesus water. Were told prior to surgery that would be out of work 3-6 months and surgery would be 4 hours. Surgery was only 40 minutes and recovery time is 1-2 weeks.
4. My best friend (a couple) was granted a son, which now is my godson. They've been married for a long time but never had a child until they both came to see the Virgin Mary's image.
5. I just wanted to tell you we have had so many prayers answered most especially since we have had the image statue in our home a few months ago. Prayers being miraculously answered for our children & grandchildren, our daughter's heart has literally almost healed ... she is also pregnant and that is also a miracle that she carried the baby this far, she is so thankful and also her cardiologist can't figure out how she is doing so well, and even agreed with her it must be prayers being said for her. He also told her in her 4th month to abort the baby, maybe he will have a conversion, we hope. Others in my family have changed since we got the statue. They are more understanding and patient and love being a Catholic more than ever before ...We thank Jesus, Mary, Rita and you all. Praise all of heaven. We are also so eager to have many more prayers answered. We are giving our married children a 10 inch statue each for their homes and red prayer manual if they would also like to say the prayers if they so choose to. The statue we know will help them with many graces as they pray before it as it has helped us in our home and lives. Love you all.
6. Pregnancy. (A long note about how a woman got pregnant after she came to the Virgin Mary Building.)
7. My mother was diagnosed with Acute Myeloid Leukemia in April 2005. She received the Jesus water of Clearwater that my brother brought to El Salvador. She was treated at Instituto Salvadoreno del Segino Social. She was expected to live 3-6 months. She lived well for 2 years. Now she rests in peace with Lord Jesus and Virgin Mary. She died of Pneumonia March 21, 2007.
8. The CAT scan showed a dark spot and they thought they would have to remove my right kidney. My family went to the Blessed Mother and asked for prayers and help. They also got the healing water. Well all our prayers were answered. There was no cancer or tumor. Thanks for all your prayers and help, and thanks to the Lord above.
9. Knees were injured from motorcycle accident July/August 2006. His mom got the water in Florida right after the accident and took it to him and he used it every day and now his knees are completely healed. He knows Jesus water did it.
10. Suspected blood clot. Pain in leg with swelling. Jesus water was used and pain went away and swelling.
11. Barretrs -- My husband brought Jesus water to hospital and put on my stomach. Biopsy came back fine.
12. A man from South Carolina came to thank Jesus and Mary for his healing. His brother sent him Jesus' water when he was diagnosed with terminal cancer. Three doctors told him there was nothing they could do for him. He started using Jesus' water and started feeling better (He could hardly walk, he was using a wheelchair a lot). He went back to the doctor and tests showed no more cancer — gone! The doctor told him he never saw this happen before. He is around 70 years old and walks and feels normal.
13. A lady from Egypt wrote asking St. Mary for a baby for 3 years. She helped me and now I have a little daughter. Her name is Mariam after St. Mary name by my language. Thank God and Thank St. Mary. She always remembers me. - Egypt
14. This woman filled out a healing form at the site. I am so blessed by the Blessed Mother that she has been there for me on more than several occasions. She performed a miracle on all occasions, one in particular was cancer of the right leg. The doctors wanted to cut my leg off the cancer was in the bone. When I returned to New York and went to a plastic surgeon he saw the cat scan and said my chances weren't good. When he did the surgery the cancer was not in the bone. It was superficial.
15. Stroke. Healed August 2006.
16. A year ago he went to Orlando for a test on his prostate. It was positive. He came here in May and got some Jesus water out of the trough. He went back to the doctor and he was healed. - Venezuela
17. Infertility. Conceived and gave birth exactly 9 months after our first visit to Clearwater in August 2000. Our son was born exactly 9 months after our visit (May 20, 2001). I've had surgeries on both ovaries in 1998 and had very little chance of conceiving. Mother Mary gave us our blessing and wish.
18. Peter was operated on for cancer he had for 10 years on his leg and because the wound was so big, they had to take some skin from another part of his leg to be able to fix it but it did split. So Monday the doctor said that another surgery was needed but thanks to Jesus water on Wednesday on that same week he was healed. - Argentina
19. Cancer of the lungs. A friend of ours who we visit from Canada. He told us of his illness and we came and prayed at the Virgin Mary's appearance on March 28, 2006. He had Jesus' water put on him the night before his surgery. His surgery was on March 31 and the cancer was gone. Thank you for your blessings.
20. Lower back muscle strain. After straining my back I used the Jesus water before using pain crčme. After putting on the water I no longer needed the crčme. The strain was gone.
21. Neuropathy. He had gotten Jesus water a few days ago and went to the doctor yesterday.
22. Pregnancy. I could not become pregnant. I came here to ask Mary to extend her hands on me, to be able to have a child. The miracle happened. I did not know that other women had become pregnant by asking Mary. My son is 3 years old. I am convinced that he is called to be special in his life, he has a mission. When she went to see the doctor, specialists, they said forget it, she couldn't have a baby, and she went to many different ones. Came here to pray and became pregnant. All the doctors never understood what had happened. They said he is a miracle child.
23. Pregnancy. Became pregnant of twin girls after we prayed in 2005 and even have a statue of the Virgin Mary in our yard. After 15 years of concubinage Virgin Mary finally blessed us. Thanks. Thanks. Thanks. Jesus water was used to help conceive.
24. A woman came in today from New York and said she was here last March (2005) and got the Jesus water. Her cousin who was very healthy and had just retired at age 60 suffered a massive stroke. He was taken to the best neurological hospital in New York and the doctors said he had no chance of recovery. He had a blood clot at the base of his brain stem. He was in intensive care and the woman with the other family members were visiting him and she put Jesus water on him and they prayed over him, while he was laying in bed in a fetal position unable to talk was paralyzed. After she had left (only 30 minutes of visitation in Intensive Care) the woman received a call from her cousin's wife saying the man had sat up in bed after they left and was miraculously healed. He is back at home now. The doctors came in and said this was a miracle. This was 2 months ago.
25. Dermatomyositis (a form of Muscular Dystrophy). I was given 6 months to live. I was really depressed ready to give up when, while being in town for my girlfriends niece's Christmas Party. I heard it on the news. (December 17, 1996) Decided why not let's go, when I got here I was not expecting to see what I saw. I couldn't believe what I saw. Within an hour I put the cane down, slowly but surely got better enough where I wasn't paralyzed or dead. Thank you Jesus and Mary.
26. Small Bowel Syndrome. Infant acquired surgical intervention at birth. 4 months care at home. Healed completely as of May 2005.
27. Newborn very sick - 2 lbs. My mother came to visit me. We used to live in the post apartments by Target. I brought my Mother to the Virgin Mary Building in Clearwater and she prayed for my niece, who was in Guatemala. When my Mother returned to Guatemala she took the picture of Virgin Mary and put it in my niece's room. When my niece was born, she needed a tube feeding. She couldn't eat on her own. She was very thin and very sick. Many people told my sister and my mother (including the doctors) that my niece was so sick that she probably would died. Thank to our Lady Virgin Mary, my niece is a healthy gifted 9 year old girl. - Guatemala - Healing was at 6 months old.
28. My daughter was told she had thyroid cancer, after having one side of the thyroid removed they found the cancer was gone. This had to be due to Mary and Jesus Water and her belief in the Mother and Son.
29. Virus. He was in Egypt. His relatives came to the site and asked for prayers for healing for him. That same day they were here he was completely healed of his Liver virus. He is a physician.
30. After waiting about 8 months for the baby to get bigger for the surgery, the doctor checked him and couldn't believe it, but she said, "It just fixed itself." He was 4 months premature and this surgery would have lowered his sperm count significantly and its already been lowered by a double inguinal hernia surgery.
31. Burst tube with unexpected pregnancy. Was internal bleeding. Doctor told was miracle, surviving from this kind of operation. She (the mother) had come to the site and prayed to God if this Image (Our Lady of Clearwater) was from God to grant her a miracle. Her daughter who was in Lithuania at the time was in the hospital and the above miracle happened during the 2 hours the mother was praying at the site.
32. Heart failure. He was not breathing. Jesus water was poured on him while praying. He started breathing again.
33. When I was pregnant, my baby was sick. My baby born was well. Thanks.
34. Flu. Both sitting in car, praying rosary both sick of flu. He very sick, not getting better. Both used the water, felt pain leave body, didn't say anything, but after few minutes he said "I feel pain is gone." They drove back to tell us that they were healed.
35. Asthma. Put Jesus water on neck. Breathing much better.
36. Severe back pain. Have a bad back from laying brick for years and sometimes I bend over and the pain is severe and it takes at least 3 or 4 or more weeks for it to go away. I put Jesus water on it and it went away in 2 days. Alleluia.
37. I must admit that some days I forget to wash in the water. But I have felt the same feeling once again a few days ago as I did on March 2nd, the first time I applied it to my knees. On the movie that you took, I am walking on the beach without a cane. I don't know if you noticed. I didn't use the cane yesterday, and I have no pain. I'm still slow at climbing the stairs, but I'm seeing a tremendous improvement. I'll keep a journal, and continue updating you I pray a lot, as I'm applying the medicine. Part of my prayer is "If it be your will." Thank you. I'll be in touch soon.
38. My husband had a good friend and he was diagnosed with cancer and given less than a few weeks to live. Jesus told me to take him the Jesus water. I never really met him, but I went to the hospital. He was so sick. He bounced up and said I knew it - I will be healed. And he lived over two years longer.
39. Leukemia went into remission February 7, 2003. Her doctor can't believe how well she is doing. She has the worse kind of Leukemia there is and she is doing extremely well. He said this does not happen, so soon, we told him its because of all the prayers, everyone is saying for her. The day after we visited the Blessed Mother Building, her blood count was excellent. Thank you so much. As of 11/3/2004 she is still in remission and doing very well, a happy 10 year old little girl. We are all so thankful for all the prayers from everyone, we truly believe, if we hadn't had our faith and by going to the Virgin Mary building so often, we wouldn't have been so fortunate to have her. Prayer is still the most powerful and healing process. Thank you so much.
40. Spinal Manangitas. December 16th, 2002 we almost lost our little grandson. He was taken flight for life to Madison where they worked on him for hours. They told us he would either be blind - deaf - brain damage, or he might not walk. Today he is a happy - healthy little boy full of life. Thanks to everyone's prayers to our Blessed Virgin and our heavenly Father, without them we would not have him. Thank you. As of this date November 3, 2004 our little grandson is doing very well, a healthy happy little boy, and so full of life, and without any complications. Our prayers and by going to the Virgin Mary building truly helped this little boy. Thanks to everyone for all their prayers.
41. After my family visited the Virgin Mary and returned to hospital, I showed no sign of having a stroke. Doctors at hospital said I would not recover.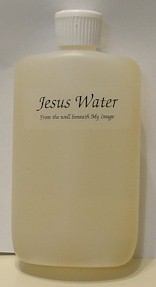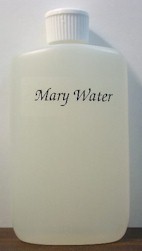 R. Sprinkle your state for healing and the upcoming election. Amen.

Sing:
Glory be to the Father, and to the Son, and to the Holy Spirit. As it was in the beginning, is now, and ever shall be, world without end. Amen.
Remember, O most gracious Virgin Mary, that never was it known that anyone who fled to your protection, implored your help, or sought your intercession was left unaided. Inspired by this confidence, I fly unto you, O Virgin of virgins, my Mother. To you I come, before you I stand, sinful and sorrowful. O Mother of the Word Incarnate, despise not my petitions, but, in your mercy, hear and answer me. Amen.