Pray for Dan, Jeff, Fr. Joe, Larry & Annette.
Pray for Fr. Joe, Dan, Melanie, Mary, Sanja, Rita,
Jim, Rosie, Louie's family, Carol R. & Family –
Madonna, Christopher, a special couple,
all Shepherds of Christ intentions on lists.
Pray for China and the mailing.
Also pray for Urgent intention
Prayer for Grace for our Country

Dear Father united to Jesus in the Holy Sacrifice of the Mass, the Sacrifice of Calvary sacramentally made present, celebrated around the world, in the Holy Spirit. We offer up all we do united to the Mass. We unite in one mind and one heart as members of the mystical body of Christ, with Christ our head in the pure and holy Hearts of Jesus and Mary, through the powerful intercession of Mary with all the angels and saints and souls in purgatory, and we beg for the saving grace, for our country, the United States. Please help us. We further pray for unity to always do the will of God in love. We spread the Blood of Jesus on the leaders and people of the United States and cast the devil into hell. We consecrate our country to the Sacred Heart and Immaculate Heart and all our dioceses, and beg for an outpouring of the Holy Spirit. God help us. We pray for our families, the priests, the Church and the world. In the Name of Jesus please hear us, we pray. We pray for our president and leaders. We pray that we are united as one nation under God to work together in love as God wants.
February 13, 2020
R. The story God is teaching us is love –
Loving Jesus will help us find our
way to eternal life –
Loving may take effort we think, but
when the Holy Spirit takes
over and gives us a special gift, we are
just absorbed in love – God's grace in us –
But this usually comes with surrendering
more and more to God -- letting go – giving Him
our will and our life, but being willing
to change and be taught.
Thinking we know it all is a trap –
We, in fact, know so little, even about
ourselves.
God did not put us here by ourselves,
we need to realize God is guiding us
all the time, by inspiration from the Holy Spirit,
by experiences past and present, by
others He sends in our lives to help
us grow and see what we need to see.
There must be change and learning.
We are here to grow in the image and likeness
of God.
We have roots that are wounded and need
healing.
These impure roots keep coming up if we keep
praying to the Holy Spirit to enlightens us.
These impure roots get in the way
of unity, love, and walking as God
is calling us to do.
Fighting to not change is falling in a big
pit.


From Tell My People by Fr. Edward J. Carter, S.J.
The Holy Spirit
Jesus: "My beloved friend, tell My people to pray daily to the Holy Spirit. They are to pray for an increase in His gifts. My people must realize that the Holy Spirit comes to transform them. The Spirit desires to transform you more and more according to My image. Those who are docile to His touch become increasingly shaped in My likeness. He performs this marvel within Mary's Immaculate Heart. The more one dwells in My Mother's Heart, the more active are the workings of the Spirit. The Spirit leads Mary to place you within My own Heart. In both Our Hearts, then, your transformation continues. The more you are formed after My own Heart, the more I lead you to the bosom of My Father. Tell My people all this. Tell them to pray daily for a greater appreciation of these wondrous gifts. I am Lord and Master. All who come to My Heart will be on fire to receive the gifts of the Spirit in ever greater measure! I love and bless My people!"

Reflection: The Holy Spirit is given to us to fashion us ever more according to the likeness of Jesus. And the more we are like Jesus, the more Jesus leads us to the Father. Do we, each day, pray to the Holy Spirit to be more open to His transforming influence? Do we strive each day to grow in union with Mary? The greater our union with our Mother, the spouse of the Holy Spirit, the greater is the transforming action of the Holy Spirit within us.

Prayer:

Come, Holy Spirit, fill us with your gifts of wisdom, understanding, knowledge, counsel, fortitude, piety, and fear of the Lord. As we dwell in the Heart of Mary, Your spouse, fashion us more and more according to the Heart of Jesus. end of excerpt
R. We are in process –
We are like a thirsty tree planted by the
waters of sanctifying grace – ready to
be filled by His life in us.
From the altar – the priest celebrates the
Mass, the sacrifice of Calvary
sacramentally made present and
these streams of grace abundantly flow.
Our roots are rooted in Him.
We dwell in the Trinity preparing ourselves
for eternal life.
We eat His Body and drink His Blood at
Mass – We are transformed in Him.
His Word fills our heart and soul
and the roots that need healing
are changed by this gift, but we
must be willing, open, surrendering.
Dwelling in the Hearts of Jesus and Mary
are our little heaven on earth, Fr. Carter
would say.
We are a gift to be given and others
are a gift of God's creation, even in
our imperfections, we are gifts that
God wants to be given to one another
as we grow in His image and likeness.
We are wounded, we need healing, we need
God. We need each other, we need to love
and we are to give love – It's the greatest
commandment.
We need to change and to learn –
every day, more and more, like Jesus –
a work in progress.
We need the gifts of the Holy Spirit. We need
His Counsel, we need knowledge of
our wicked ways, of our selfishness,
our frozenness. We are a work in
progress. We learn every day. We don't
say in denial and anger (why me) –
How can I get around what I need to face,
or holding onto the old brain because we
are comfortable in bad roots that need
changing – We beg for grace from the Holy Spirit.
We pray for His gifts – peaceful acceptance
of those things we must change and
growing more and more to be the best we
can be, as God wants us to be!!
Loyal, Loving, Honest –
God is running the show –
We give our will and our life to Him.
It's a lot to process –
We are a work in progress, but never
again will any one live as we will –
We are God's unique creation, so precious
to our beloved God. We are to be all
He intends us to be – This takes surrender
to Him. This takes getting off the top of
the ladder and putting God on the throne
and getting off ourselves!!
We are a work in progress.
A soldier in the army of God with our
hearts full of Him, full of love –
We are to be like the wise virgins preparing
ourselves for the coming of the
bridegroom.
Sing: Awaken My Heart
Sing: Deep Within
Ephesians 4: 25-32
So from now on, there must be no more lies. Speak the truth to one another, since we are all parts of one another. Even if you are angry, do not sin: never let the sun set on your anger or else you will give the devil a foothold. Anyone who was a thief must stop stealing; instead he should exert himself at some honest job with his own hands so that he may have something to share with those in need. No foul word should ever cross your lips; let your words be for the improvement of others, as occasion offers, and do good to your listeners; do not grieve the Holy Spirit of God who has marked you with his seal, ready for the day when we shall be set free. Any bitterness or bad temper or anger or shouting or abuse must be far removed from you-as must every kind of malice. Be generous to one another, sympathetic, forgiving each other as readily as God forgave you in Christ.
Ephesians 5: 1-2
As God's dear children, then, take him as your pattern, and follow Christ by loving as he loved you, giving himself up for us as an offering and a sweet-smelling sacrifice to God.
Ephesians 5: 8-21
You were darkness once, but now you are light in the Lord; behave as children of light, for the effects of the light are seen in complete goodness and uprightness and truth. Try to discover what the Lord wants of you, take no part in the futile works of darkness but, on the contrary, show them up for what they are. The things which are done in secret are shameful even to speak of; but anything shown up by the light will be illuminated and anything illuminated is itself a light. That is why it is said:

Wake up, sleeper,
rise from the dead,
and Christ will shine on you.
So be very careful about the sort of lives you lead, like intelligent and not like senseless people. Make the best of the present time, for it is a wicked age. This is why you must not be thoughtless but must recognise what is the will of the Lord. Do not get drunk with wine; this is simply dissipation; be filled with the Spirit. Sing psalms and hymns and inspired songs among yourselves, singing and chanting to the Lord in your hearts, always and everywhere giving thanks to God who is our Father in the name of our Lord Jesus Christ.
Be subject to one another out of reverence for Christ.
Song: From St. Louis Jesuits - Awake Oh Sleeper
Colossians 1: 15-26
He is the image of the unseen God,
the first–born of all creation,
for in him were created all things
in heaven and on earth:
everything visible
and everything invisible,
thrones, ruling forces,
sovereignties, powers—
all things were created through him
and for him.
He exists before all things
and in him all things hold together,
and he is the Head of the Body,
that is, the Church.

He is the Beginning,
the first–born from the dead,
so that he should be supreme in every way;
because God wanted all fullness
to be found in him
and through him
to reconcile all things to him,
everything in heaven
and everything on earth,
by making peace through his death
on the cross.

You were once estranged and of hostile intent through your evil behaviour; now he has reconciled you, by his death and in that mortal body, to bring you before himself holy, faultless and irreproachable—as long as you persevere and stand firm on the solid base of the faith, never letting yourselves drift away from the hope promised by the gospel, which you have heard, which has been preached to every creature under heaven, and of which I, Paul, have become the servant.
It makes me happy to be suffering for you now, and in my own body to make up all the hardships that still have to be undergone by Christ for the sake of his body, the Church, of which I was made a servant with the responsibility towards you that God gave to me, that of completing God's message, the message which was a mystery hidden for generations and centuries and has now been revealed to his holy people.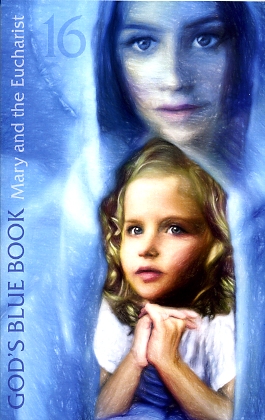 June 6, 2015 - Eve of Precious Body and Blood of Jesus

Month of the Sacred Heart

R.

See high, see low –

See as you desire –

Our eyes are a wonderful gift given
to us from God –

We can open our eyes or close our
eyes –

We can look straight ahead –
look high or
look low –

We can see with our eyes –

We can scan the scene from
right to left –

We can focus on trying to see the
big picture with our eyes –

We can drive a car and see with
other cars moving how to
go in union with them.

We can watch a play at the theater
but if it is boring we can close our
eyes and go to sleep.

We can watch the Mass and see
the priest –

What we see can make us cry –
What we see can help lead us to action –

What we see can help take us from danger
What we see can lead us to a new endeavor –

We can see a new born baby –

We can see a person laid out in a coffin –

We can read and learn with our eyes –

Were not our eyes a gift given to us
by God –

Last night Mary appeared to me in the
Virgin Mary building on the 5th –

She appeared in the deepest –
brightest light I cannot describe or
compare to any light I know –
it was beyond and

It's depth and intensity of light –
I cannot describe

She was beautiful and seeing her
face before me, in the mystical
was –

alive and different – it did not
remain the same –

She had given me messages –
prior to this intense apparition
of celestial beauty – I cannot
begin to describe

The messages will be transcribed and
published –

But then she appeared and she did
not speak at all –

It was the vision –

The vision of intensity – I was so
wrapped in it and could not
say to lead the Hail Marys –

My physical abilities were
numbed as I was enveloped
in her vision before me –
the light beyond description –
the depth so deep and so very
real –

the lady as she was encased in
this celestial aura was
deep in that heavenly vision
a Mother alive in celestial
light –

in the front of the depth while
the light was never exhausted –
behind and around her

A light it seemed deeper than the
ocean and farther than any
sea –

solid and bright with a light
unknown to me

And her beauty in celestial surroundings,
her beauty mystical – beyond anything
I have ever seen –

No breath or depth – no high or low,
no light can be a measure for
the opening to this window of
celestial beauty –

Forever – Forever – God tells us of
heaven –

A foreverness was this vision like
the scripture

1 Corinthians 2:9

"What no eye has seen and no ear has heard, what the mind of man cannot visualise; all that God has prepared for those who love him;"

R. Did you ever see the sun dance on
the ocean, or a sun dressed
body of water –

There is movement – like nothing
else you know –

When she appeared this vision is
not static or like what we
see with regard its movement –

I see no movement
It is –
Ever changing, beauteous and without
a beginning or an end to what
I am seeing –

It is, I see no change, but it
is alive in beauty and
different entirely that I am
drawn into it and almost unable
to talk, to use my physical
things –

I am in the intensity of this apparition –
in it and it is and it has
depth and light and beauty and is
alive –

I can't describe it at all –

If I can see the sun dancing on a
body of endless water, can I
tell you of it so you can enjoy
the experience and try to describe
the movement, the light, the
depth – the sky that meets
way out in beautiful blue
against the silver waters dancing
in radiant light –

You may identify with what you
have seen of this and enjoy it
with me, but

The vision of Mary –
the living appearance of her –
the light –

the Virgin Mother as she showed
herself in a celestial way
to me –

I cannot even find anything to
identify this with and
Yet it was so real –
so beautiful –
so that it captivated me deeply
to be enthralled in it –
I cannot describe

But I know more of eternity –
that with depth and breath
we do not know or
comprehend –

We are blind to the celestial reward,
relationship with God in intense
purity and unity – eternally –

We are on earth and we measure with
our spoons and ounces, we see
with eyes veiled

And God is beyond and other and
yet He has given us Jesus Christ in
the Eucharist to come to us
and feed the sharing in His life
we have from baptism –

If He spoke now – He would say
reach – reach and reach –
go out and spread the Good News –

Man is so stilted in his ways
and he can be so bolted to the
earth, but we were created
in the image and likeness of God –

created to reach to the heights –
to dig deeply into the Mystery –
to know that the unseen is real –
to not be stifled because we
stand in a cement sidewalk
wrapped in the beauty of our
own footprint –

The footprints we follow are
those of the Son of God for we
were created in His
image and likeness

The seen and the unseen –

Do we see at all beyond
our eyes –

the Mystery of God –

the Mystery of Jesus –

the Mystery of the Incarnation

the Mystery of the sacramental
life of the Church –

the Mystery of Jesus truly present
Body, Blood, Soul and Divinity
in the Eucharist

Reach – Reach – Reach –

See the unseen –

Dig deep into the Heart of Jesus

Beg for the Holy Spirit to fill us with
His gifts to see, to
understand, to know,
to love, to be holy,
to fear God and to be
full of wisdom and council –

This is relationship of us –
human creatures with
the Divine God –

This is about the gift of baptism –

The sharing in Divine Life –

This is about being nurtured
with the Bread of Life
the Eucharist and His Word –

This is about the unseen and
the seen –

This is about preparing ourselves
for the goal of eternal
happiness –

Seeing God face to face –

Being wrapped in the beatific vision –

My people this is about Mary
appearing in the Virgin Mary building
and showing me last night –
her beauty that I cannot
even describe and
when she appeared that
way – she said nothing –
she just took me into
this beauty and I behold her
and what she showed
me and
in the end

R. How can I
draw
this?

We are earthly and

He is heavenly and
yet He wants to reveal
secrets of Himself to
us and have an intimate
relationship with us –

Mary wants a personal relationship
with us –
She is our spiritual Mother –

Open your eyes and your hearts to
God and to our Mother at Our Side

August 22, 2000
Today is the Queenship of Mary
R. The Queen mounts her throne among shouts of joy The angels surround this heavenly throne Her children love her and worship their God.
The Sacred Heart of Jesus reigns in the hearts of her children.
He is the King of their hearts.
She is the Queen of their hearts.
A New Adam, a New Eve are recognized by the once enslaved children of Adam and Eve.
A trumpet blare for one so fair, a blare of music for our starved ears.
From the Magnificat, Mary speaks with the lilt of the voice of one so pure and holy. (NOTE: Read this with the lightness of the voice of the Virgin filled with the Holy Spirit and in the humility of one so fair.
Among shouts of joy our Lady speaks liltingly in a heavenly voice and we gape at the sound of her sweet voice and behold the beauty of this maiden so sweet and fair.
God the Father speaks:
Amen, amen I say to you My beloved Apostles of the Sacred Heart. You may worry and struggle now, but a King looks on you with the greatest love as you surrender more and more everyday to do My will that this day will come to your earth, the day of the Reign of the Sacred Heart.
Do not get caught up in the mysteries of the way men act and perceive things, but put your gaze ever more on the mystery of My Divine Son and how much He truly loves you.
You are caught in the wonder of the earth and the firmament. My beloved, so much more glorious is the insight into My Divine Mysteries.
My plan is given here to bring about the Reign of My Son's Sacred Heart and the triumph of your Mother's Immaculate Heart.
I am a God of justice and of right.
I am your heavenly Father.
I am the Carpenter, the One with the plan.
You are but children of Mine, creatures of the earth, and yet My love for you is so great. I gave you My only begotten Son as One offered for your sins and, men, you smite Me, your Father.
You ignore your Mother when I give you such gifts in your churches of her presence forever with you and the Holy Spirit working with her bringing forth your holiness.
I painted with My hand your Mother pleading to her young ones, and she appears everyday, and you ignore this sign and gift I give you.
What more could convince you? You want another sign and another while you sheepishly continue your sinful ways.
My children, My children, help Me to reach your brothers, oh please, they have plugged up their ears and covered their eyes.
How is it your Creator cries to the creatures and they ignore Him?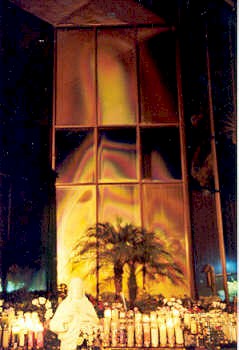 Now the beauty of one so fair July 5, 2000, I painted as a golden wonder before you and allowed such photography that all might know Our heavenly presence when Mary speaks in the

Rosaries from the Hearts of Jesus and Mary. And My Son delivers, in these rosaries, the message I give to you as your heavenly Father.

Oh children of the earth, be attentive and listen to Me, I plead as your heavenly Father that your wills be aligned to My will and you serve Me.

Oh children of Eve, your Mother Mary cries to Me, for she pleads your case, and I have given in to her requests that the children be spared if they turn from their ways and love their God.

She wanted to come to you as the Woman adorned in sunlight by day and fashioned in a special way by nightfall in golden mystical light in the dark night, as her favored children sing so fervently songs of praise and love to God, and they sing to her, a Mother who has never forgot them.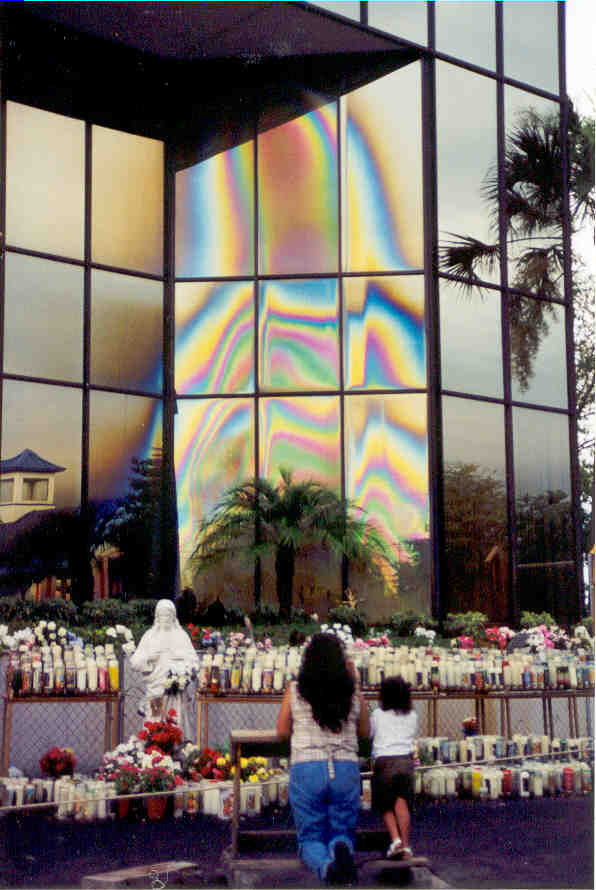 Oh children, listen to Me and help Me reach your willful brothers through your fervent prayers. My Son gave Himself as a Sacrifice for your sins, meriting the graces available to you the sinful children of Eve, and you will not even pray after I have granted this special gift of Mary on the building.
Your eyes do not see her, or you would have changed your ways by now.
What sign would you respond to, My silly earth?
I give you My Son with you in the Eucharist, and you do not treasure this gift as you should.
God remains with you today. Jesus, My Son, feeds you with His Body and Blood. He is truly present in His Divinity and Humanity. You need to pray as He has instructed, especially before the tabernacle.
Amen.
I am the Father, I have spoken, I am the Alpha and the Omega, the Beginning and the End.
Jesus speaks:
I am the Son of God, on this glorious feast sing songs of great praise to your God and love Him.
Unite to the Father, Son and Holy Spirit and pray to be possessed by God.
Mary is your Mother, she is the one, pure, spotless, human person. She was conceived without sin, you must listen to her, it is the Father's will. You must be brought forth from her Immaculate Heart, her spiritual womb, as a child of God, a child of the light.
Let the scales drop from your eyes as you sing praise and see, as never before, the glory and wonder of your God.
end of excerpt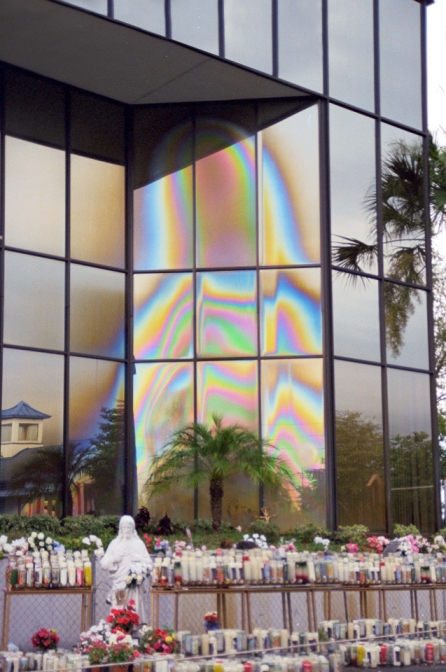 R. Mary appeared in Clearwater – The Lady Clothed as the Sun
Revelation 12:1-2
Now a great sign appeared in heaven: a woman, robed with the sun, standing on the moon, and on her head a crown of twelve stars. She was pregnant, and in labour, crying aloud in the pangs of childbirth.
R. Read entire Chapter 12


August 9, 2000
R.
Oh, there is not one so fair as thee, my beloved Mother Mary.

Of all the maidens that God could have chosen it was you, oh shining Star of Heaven.

Oh Mary, Mother of us all. She doth appear as a wonder so fair indeed,

A permanent sign of God's love.

A Woman clothed in gold.

One that glistens with the radiance of a golden tone,

Her beauty dancing in the sunlit hours of every day.

In morning splendor, in dancing light at noon day as the sun glistens on her rainbow glow and at night she has appeared on special dates in golden splendor and light.

Would you quote the Scripture for Mary so fair.

"Now a great sign appeared in heaven: a woman, robed with the sun, standing on the moon, and on her head a crown of twelve stars. She was pregnant, and in labour, crying aloud in the pangs of childbirth." (Revelation 12: 1-2)

Would you see her as she appeared in little villages in the 20th century, tucked in hills and out of the way places.

If you missed these enormous signs from heaven, of one so fair, she appears there clothed in the golden sun of the day, reflecting her radiant beauty painted by the hand of the Father. She is His chosen maiden so fair.

She appears daily, she is there by day and beneath the black shadows of night, she does not slumber, but calls to her children of light to come through her golden doorway and let the light of Christ shine in their souls.

She appears one so fair, by day and sometimes by night clothed in radiance and golden, her garment hemmed with glistening sunlight. She once appeared to a few and her visits fleeting in remotest places, she remains a Woman Clothed with the Sun, the sun dancing on her garments of rainbow color on a busy, busy corner for all to see, in the state of the sun, sunny Florida. She is a Woman painted by the brush of God.

And do you know the wonder of one who calls the children far and wide, to hear the voice of her Son, Jesus, Chief Shepherd of the Flock.

Mary, the heavenly maiden, to call them home to His Heart.

Oh, of one so fair, do we not boast and praise our God and thank Him for such a wonder.

Oh, to Mary, Queen of Heaven and Earth, we cry, help us to do what you asked for at Fatima and help us in our mission of telling the world of your Son's desire to spread His Movement so men will be Shepherds of Christ.
Mary's Message


from the Rosary of August 27, 1996
Mary: I stood beneath the cross of my Son, and my Heart was in such pain for I saw Him before my eyes. I saw Him covered with blood. I saw Him die. My Heart, my children, my Heart to watch my Son, but my Heart, my Heart, how I suffered for my little children of the world that give in to this world and give up the love of my Son. O my little children of light, I give you this message. Carry this light into the darkness for your Mother Mary, for I stood beneath the cross and I cried. I cried for the little ones. I cried for the young ones, the ones that do not care and will lose their souls. How do I make you see for you will not listen to me? What can I do? I come. I appear. I beg. I plead. I give you these gifts from my Son, and you reject me. I do not deliver messages very often anymore for I have been ignored. The message is the same. You do not read the messages I have given to you. Please help me. Help the little children. I appear. I appear. I appear, and I am ignored. I stood beneath the cross, and I cried. I cried, and my Heart was in such anguish for my little children, for I am searching for them this day as I searched for the Child Jesus. Please, please help me. I cannot hold back the hand of my Son any longer. I am Mary, your Mother. I ask you to help my children. You are my children of light.
end of Mary's Message
From the Priestly Newsletter Book 3 by Fr. Edward J. Carter, S.J.

"Love, we have said, is the foundation of devotion to the Holy Spirit, as it is also the foundation of Christian perfection. But love as a reflection of God, as His own image, is something that encloses within its simplicity a boundless wealth and a variety of forms. Who can fathom the depths of love?

"Human love in all its manifestations is admirably in harmony with the love of charity; it is confident in filial love, trusting in friendship, sweet and fruitful in the love of husband and wife, disinterested and tender in the love of a mother. Our love of God must include all these forms of human love; every fiber of our heart must vibrate when the harmonious and full canticle of love bursts forth from it. But since God is one in essence and triune in Persons, our love for Him takes on a particular aspect accordingly as it is directed to each one of the divine Persons.

"Our love for the Father is tender and confident like that of children; eager to glorify Him as His only-begotten Son taught us to do by word and example. Love for the Father is the intense desire to have His will fulfilled on earth as it is in heaven. Our love for the Son, who willed to become flesh for us, is characterized by the tendency to union with Him and transformation into Him; by imitation of His example, participation in His life, and the sharing of His sufferings and His Cross. The Eucharist, mystery of love, of sorrow, and of union, reveals the characteristics of this love.

"Love for the Holy Spirit also has its special character, which we should study in order completely to understand devotion to Him. We have explained how the Holy Spirit loves us, how He moves us like a divine breath that draws us to the bosom of God, like a sacred fire that transforms us into fire, like a divine artist who forms Jesus in us. Surely, then, our love for the Holy Spirit should be marked by loving docility, by full surrender, and by a constant fidelity that permits us to be moved, directed, and transformed by His sanctifying action.

"Our love for the Father tends to glorify Him; our love for the Son, to transform ourselves into Him; our love for the Holy Spirit, to let ourselves be possessed and moved by Him."4

---

The spiritual life centers in Christ. Here are words from the Jerusalem Catecheses: "When we were baptized into Christ and clothed ourselves in him, we were transformed into the likeness of the Son of God. Having destined us to be his adopted sons, God gave us a likeness to Christ in his glory, and living as we do in communion with Christ, God's anointed, we ourselves are rightly called 'the anointed ones.' " 5
4. Archbishop Martinez, op. cit., pp. 67-68,
5. Jerusalem Catecheses, as in The Liturgy of the Hours, Catholic Book Publishing Co., Vol. II, p. 608.
Sing: He Has Anointed Me
Romans 6: 3-4
You cannot have forgotten that all of us, when we were baptised into Christ Jesus, were baptised into his death. So by our baptism into his death we were buried with him, so that as Christ was raised from the dead by the Father's glorious power, we too should begin living a new life.
If you want to die to something
there are stages –
(1) Denial
(2) Anger
(3) Some other way
(4) I don't want to change
(5) Peaceful acceptance
Live the Life of Resurrection in Him
From the Priestly Newsletter Book 3 by Fr. Edward J. Carter, S.J.
Henri Nouwen tells this story: "I would like to tell you the story of a middle-aged man whose career was suddenly interrupted by the discovery of leukemia, a fatal blood cancer. All his life plans crumbled and all his ways had to change. But slowly he was able to ask himself no longer: 'Why did this happen to me?' but instead: 'What is the promise hidden in this event?' When his rebellion became a new quest, he felt that he could give strength and hope to other cancer patients and, that by facing his condition directly, he could make his pain a source of healing for others. To this day, this man not only does more for patients than many ministers are able to, but he also refound his life on a level that he had never known before." 6

6. Henri Nouwen, Out of Solitude, Ave Maria Press, p. 57.


From the Priestly Newsletter

Cardinal Newman said
"... everyone who breathes, high and low,
educated and ignorant, young and old, man and woman,
has a mission, has a work. We are not sent
into this world for nothing; we are not born at
random. . . God sees every one of us;
He creates every soul, He lodges it in
a body, one by one, for a purpose. He needs,
He deigns to need, every one of us.
He has an end for each of us... we are
placed in our different ranks and stations, not to
get what we can out of them for ourselves, but to
labor in them for Him, as He rejoiced to do His work,
we must rejoice in ours also."
(Discourses addressed to mixed congregations)

December 5, 1993 5:10a.m.
Where Will You Go On the Day of Reckoning?

Jesus: I come, you wait, you are filled.

R. It seems so long since I talked to You, My Lord.

Jesus: Time is so short-here today, gone tomorrow-and your reward awaits you. What glory awaits him who serves the Lord and his life is over? Where will you go on that day of reckoning? How is the state of your soul? Did you spend your life in search of a kingdom, never to find one but an idle pursuit, looking here and there for a kingdom, but never finding what you sought? The kingdom you seek is not of this world. Your life is not its own reward. Your life is being spent for the reward to follow. This life is not the reward in itself. This life is only the batting of an eye, the dropping of a pin, and the life hereafter is at hand. Where are you going, My little one? Did you spend your life in such idle pursuits, only to find that your search was in vain? Your life was empty and now what do you have to show for how you lived? Is all that mattered up like smoke in your face and you say, "Is that all there is?"

And what did you do with your little life here? When I paraded in front of you, you knew there was more to your life but you closed your eyes and told yourself, "Nay, I live for the likes of this world. Crazy are those who speak of a life hereafter." You heard, you were made aware, you had opportunities, you laughed, you sneered, you ran amok and told yourself you were all that mattered. This life was your end. You were going to have it all right here-one, glorious, true life. You were in pursuit of the treasure found in your house, at your job, in your children, in your pocket. You blinded yourself to any other possibility and continued on your willful little way. You were sought after by Him. You were probed, you were pursued, you were shown the light. I loved you your whole life. I followed you and opened My heart to you and you closed yours and spit in My face and you walked away. You walked over your brothers and you hardened your little hearts.

You pursued idle pursuits and you ran around with a worldly-focused gaze. Tunnel vision. You knew you were not in a tunnel. You knew from My pursuit of you that there was much more but you closed yourself off and went full steam ahead down the wrong road. You did not see the birds of the air or the children at play. You saw a world to be gained and a goal to be achieved. You sought an empty treasure in a barren field and when I stopped at each crossing and said, "Oh, that you would come and follow Me," you ignored My prompting and proceeded like a blind dog down the same path toward the barren field. And your heart lacked joy and it became harder and harder as you trod, but at each crossing you say, "Nay, Lord, I will find My reward here and be off."

Oh, you silly fool! To live your life for such emptiness. The only life that is is in Me. You never die. This is but a test. This is a test for you to receive a real reward. I have prodded you and tried to lead you toward Me but you spit in My face and went your willful way. Oh, little ones, eternity is so long. It doesn't end today or tomorrow. It goes on and on and on and never ends. This is a test to see how you will fare in the end. To put all your treasures in this life is to store up nothing. You take not one dime with you. All that remains is the things of the heart, your love of God and your love for your fellow man.

To follow God is to find the real reward, a field brimming with milk and honey. And you will behold the face of God! This and this alone feeds your hungry soul. All else leads the soul to barren lands. Store up a treasure of gold for the life hereafter. When you come to that crossing remove the blinders from your eyes and look at your beloved Jesus, staring right into your heart. Take the hard crust from your chest and let your heart become alive in His love. Do not pursue idle pursuits. Go down the road that leads to Jesus and at the end you will see His face! His road is well marked all through your life. Your sisters and brothers who loved Him looked into your eyes, but you wore blinders and laughed at them.

Oh, silly! A few years? For what? You don't get anything here but heartache, momentary pleasure that leaves you empty, so you numb your hearts with TV or alcohol or food or sex. It lasts only a moment, but you numb the craving in the soul. Oh, poor starved little ones, your soul can only be fed by Me. You are starving yourself to death. Your soul is withering and dying. Your victory is already won by Me Who died a brutal death for love of you! Come to Me. I knock at the door. Will you open or will you run amok down roads that lead to emptiness. On that day of reckoning when I, in all My pursuits of your soul and My saddened heart, finally have to turn you away and say, "I do not know you. I pursued you your whole life. I stood by your side. I walked by you the whole way and you never turned your head. You looked for your glory here and I waited and waited. I sent others to show you the way to the golden reward but you laughed and continued in your willfulness to the barren desert."

Oh, child, I love you. Many have prayed and sacrificed for you but you would not turn your hearts to Me. I am the way, the truth and the life. All other roads lead to destruction of the soul. My ways are not easy, but they are filled with peace, love and joy. My ways are everlasting. Your soul craves this union with Me. You are fighting off that which your soul thirsts after. It doesn't feel good, but you close your eyes and numb your craving. Oh, turn to Me and find rest, My little ones, now before it is too late! I am as close as your breath.

China is the Eucharistic Center of the world.
26 years ago this was blocked May 4, 1994.