R. What is in a life? We see diplomas
of people now gone and how honoring
they were when they received them –
How much every day may have
meant to each of us and yet we
can make our lives like a
rat race where we fight to
the finish to prove to ourselves
and others – we are good –
we are okay – people love us –
Whatever the motive for why
we do things and we may not
realize how little we really
know of life –
God has give us the day today – where
are we? What do we have planned?
Do we have the chance to communicate
about God and the wonderful plan
He has for us and how we need
to live to see ourselves clearly,
without the facade we like to
put on – the mask we wear –
Are we afraid inside – do
we live with a plan to implement
and it is a goal we expect others
to walk into that is a figment
of our imagination.
Reality is – God has a Plan
for us and life is worth living –
only His way He wants for us –
quit planning and live to please
others we want to impress –
Jesus: Take your moments now –
live in the moment –
seek God's will –
live to love –
live to work with others
I want you to work with
for the building of My
Kingdom –
I call you to My table - to feast
at My table –
to live in love –
Relationship is the name
of the game –
R. Living – Loving – Working
through the difficulties
in life to help us get to
heaven –
That is the goal –
dying to our blind-side
where we see what we
need to change to be more what
God wants us to be –
not hiding our blind-side from
ourselves!
A little boy was told every day what
to do, but most of the time
he did it, but stored up
resentment for his parents –
Another little boy did what he
was told because he
accepted authority and
just wanted to please
his dad and mom, anyway
The first little boy looked mad and
sometimes did other things –
holding out what they
wanted him to do – to try
to make them mad and get
control of the situation –
because he didn't like
anybody telling him what
to do –
When his parents hollered
at him – he then became
more angry and more
determined to hold out,
procrastinate, and watch them
lose control as his life
became a battle of wills
with dad and mom –
he felt guilty and when he
was older – he came back
after a failed relationship
and as an adult tried
to act like he was a well
mannered son who had
it all together –
Well Jesus says, he needed to
tell his parents he was
sorry for how he took the
light out of most days
thinking about himself
and his obstinacies and
move on with his life –
not trying to prove the past
never happened as it did –
Jesus: Life is for living –
Life is for gratitude, genuine
in your hearts, not wearing
a mask to cover-up your
sins –
Did you ever see a person that
hordes things –
A man horded things in
a barn – so much nobody
could use the barn or even
open the door –
Empty out your sins –
Don't store them in a
bulging barn which
cannot be opened for
fear all the stuff horded
will go all over the place –
Anger is like a can of
rubber bands – stuffed
so tight – if you ever
lifted the lid –
the rubber bands would
explode all over
so you have to manage
the stuffed barn, the can
of rubber bands –
Live your life with a
corroded artery –
That person never lives –
they have to manage their
stuffed anger –
Addiction is like that too –
a person addicted to controlling,
excitement, drink, food,
anger –
Never lives –
They live in a secret
world lying to themselves
about their enslavement –
Enslavement to an interior
affection – St. Ignatius calls it
inordinate attachment –
in the Purpose of the Spiritual
Exercises –
From The Spiritual Exercises of St. Ignatius,
by Louis J. Puhl, S.J. p. 11

21. SPIRITUAL EXERCISES

Which have as their purpose the conquest of self
and the regulation of one's life in such a way that
no decision is made under the influence of any
inordinate attachment
R. The question becomes –
Do we live and operate for
the glory of God – to give
honor and glory to God –
Do we have inordinate attachments –
People who keep themselves shut
off in a little plan of their
own that involves a sin
become trapped, sometimes,
in their own enslavement,
their sick reality – that
makes sense of their keeping
on sinning to them –
Thinking becomes twisted as they
work their own reality –
which is not truth at all –
only in their mind –

John 14:6
Jesus said:

I am the Way; I am Truth and Life.
R. Thinking that is misdirected
can paralyze us from living
in the truth –
To live in the truth –
we must seek our plan
in God's plan – not the
other way around where
we have a plan –
we think up –
We start forcing things to
happen to implement
our plan –
And we disregard that others
live in a world of
free will also –
The person living God's will
will bump heads and be
at war with the person
having a plan of their own –
It is WAR –
The devil doesn't want people
all living in harmony
according to God's will –
In one mind and one heart
in the Hearts of Jesus and Mary –
Such a place where people all
live under God's plan
in one mind and one
heart would bring
peace to the world –
Mary said this at Fatima –
unless a sufficient number
of people give their hearts
to Jesus and Mary we won't
have peace in the
world –
God is first –

The Ten Commandments
1. I, the Lord, am your God. You shall not have other gods besides me.
2. You shall not take the name of the Lord, your God, in vain.
3. Remember to keep holy the Sabbath day.
4. Honor your father and your mother.
5. You shall not kill.
6. You shall not commit adultery.
7. You shall not steal.
8. You shall not bear false witness against your neighbor.
9. You shall not covet your neighbor's wife.
10. You shall not covet anything that belongs to your neighbor.
R. Did you ever see a cart
before the horse –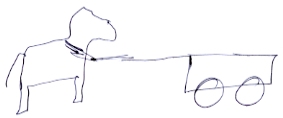 R. This picture is wrong
the cart doesn't
go no where –
God has the plan –
We follow God's plan –
We are the servants of God –
This brings peace!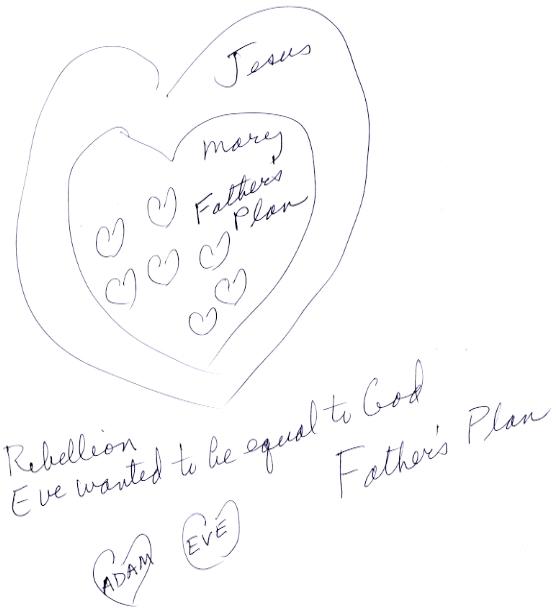 R. Judas had his own plan
behind Jesus' back –
Judas didn't listen –
Judas saw himself
as the lead –
Judas betrayed Jesus!
Even after Peter sinned
and denied Christ –
Jesus made Peter the
first pope!
Mary's message of Fatima

Reparation for offending
the Hearts of Jesus and Mary –
Conversion –
If we want peace in the
world – we have to give
our hearts to
Jesus and Mary –