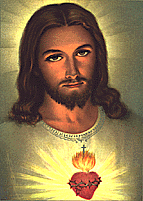 Be Not Afraid

May 26, 1994 5:00a.m.
My dear child, do not fear. Come to Me and receive My peace. Do you think I would write to you all this time and not protect you? This will make you stronger in your love of Me. You are My love. I am using you to do this work and I will protect you as My beloved. You do this totally out of love of Me.
I am Jesus Christ, Son of the Living God. Listen sweet one, totally trust in My love. I truly love you. My relationship with you depends on faith and trust. We love each other. Do not be afraid. I am God and I walk with you wherever you go.
I am the Lord, thy God. Harken to Me and receive My peace.
---
---
Copyright © 1994 Shepherds of Christ.
Rights for non-commercial reproduction granted:
May be copied in its entirety, but neither re-typed nor edited.
Revised: August 1998
URL: http://www.Shepherds-of-Christ.org
---