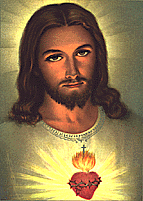 Be Loving to Your Children

May 27, 1994
R. I hurt you, my little child, when I lashed back at you. I didn't see you suffering. I only knew you hurt me and I wanted you to know why you should never hurt me. I saw you, my little child, walk away with your head bowed down. I was not feeling good inside to see you suffering from my words. Oh, sweet one, I love you. I did not want to hurt you. I didn't know how angry my tongue can be and play out my hurt when you are hurting and need my love. The worst was to watch you, little one, walk away in the school yard with your head so bowed down. I am so sorry for hurting you, my beloved little child!
It is so hard to spread Christ's love when you are wronged. I knew that I could have cast out the devil, but I thought I would tell you what you needed to know. I should never respond to you, my little child, with anger. God wants to teach you His love through me. How can He love if I react with anger to you? The worst was to see I made you suffer. You, with your little head bowed down in the school yard, and you had to go to school and sit there all day.
What I did to you I did to Jesus. I see Jesus walking along at Calvary, His head bowed down. I see Him being led away after His scourging, His head bowed down. I see Him after He is crowned, His head bowed down.
How often have I led You away, Jesus, when I hurt my brothers? Do You put Your head down and suffer silently for my sins?
To see the hurt that I caused you and others is surely an awakening. It hurts me worse to realize how I have hurt any person and how my hurting you has hurt Christ Himself, my beloved child, my beloved Jesus!
Teach me Your ways, oh, precious Lord, to see the hurt I cause my children and my brothers with neglect or anger, or just ignorance. Teach me to know Your ways, to see the eyes of God, the whole picture, to see the others as You do, to know their suffering in their hearts, to not give in to myself and offend You more. I see the bowed down face of Jesus as He walked away, persecuted and scorned, hurt and bleeding, led away in silence.
Let me love, Lord. Of myself, I cannot do this. Oh, my God, help me to know Your ways and follow in Your footsteps, to be silent when I am attacked, not to give in to the self to justify and condemn, to be as You desire me to be.
Let me love, Lord. The way to You is love, love when I am being persecuted, love when I want to give in and fight back, love, love, love. Only love keeps my heart open or You close to me!
Let me never see a person walk from me bowed down from my words. Forgive me for my anger. Of myself, Lord, I cannot do this. You are my strength. Holy Spirit, open my eyes to see my brother as you desire me to see him, not from my side, but from Your side.
Alleluia. And He imparted to them His gifts and they learned in their errors how more fully to surrender to the Lord and let Him operate their hearts. Alleluia. He opened their eyes and their hearts, and they saw how they could love their brothers.
---
---
Copyright © 1994 Shepherds of Christ.
Rights for non-commercial reproduction granted:
May be copied in its entirety, but neither re-typed nor edited.
Revised: August 1998
URL: http://www.Shepherds-of-Christ.org
---