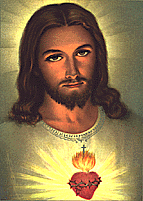 Where We Were Blind We Now See

June 8, 1994 6:15a.m.
You search, you look, you wander, you ache, you find nothing. Oh, little one, when do you learn? You go to man to ask the things of God. Pray to the Spirit, beg Him for His gifts. No man knows what God alone knows. You will wander. You will seek. You will find nothing of what you need to know.
I will teach you My ways. I will support and comfort you. Creatures are as they are. They are imperfect, My little one. You must come to Me. I am truly here. It is your doubt that has caused you such anxiety. No one will confirm to you what I alone am telling you.
Where you were blind, My child, you now see. You learn your lessons. You are given trials. You suffer. But what lessons you learn that draw you close to Me!
I am talking to you, child. God! I know all things. I am talking in your heart. You go to man, you get answers from man. Go to God. Pray to the Spirit. He gifts you with wisdom, understanding, knowledge. You are strengthened in His love, love that He alone can give. Will you come to God with your heart open? Will you wait for His time? Will you accept your trials I so sweetly use to teach you? Will you be blind or will you see, not with eyes, child, but in your hearts, what you need to see?
Go to man, get things of man. Go to God to learn the things of God. No man knows what God wants to tell you in your heart.
R. Spirit of God, gift us with Your gifts. Give us all we need to know You, God, and to know Your Will for us. Strengthen us to follow You and not be led astray with a quick answer. Give us the fire of Your love!
You, God, are three in one, Father, Son and Holy Spirit. Three Persons, one God. Give us all we need to know, love and serve You in this world and draw others to You. Open our eyes. Where we were blind, we now see.
Jesus: I will sustain you, I will reach down, I will lift you up, to such heights that only I can reach. You are reaching for the answers of God in the world. Go to God for your answers. I'm communicating to you in your heart this very day. I am God and you will know Me in your heart. Look inward, be in silence, pray to the Spirit to know.
---
---
Copyright © 1994 Shepherds of Christ.
Rights for non-commercial reproduction granted:
May be copied in its entirety, but neither re-typed nor edited.
Revised: August 1998
URL: http://www.Shepherds-of-Christ.org
---