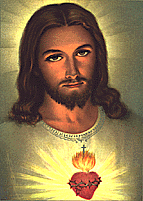 I Am by Your Side Always

June 16, 1994 3:15a.m.
My little one, be of a clean heart. When you are weary, come to My Heart. I am Jesus, Son of the Living God. I talk in your head. You see Me, you know I am here. Fear not for I will sustain you.
Life here is so short. You must focus only on My love. I truly talk to you. You have nothing to fear. In the days that follow, no matter how difficult, I will be by your side. You must have faith in Me and My work for you.
Your job is to promote My ardent love. Never lose sight of the fact that souls will be saved by your efforts to do this. This is no little matter. The devil constantly will try, in these days, to trip you up. You will be tested to stay steadfast in My love.
I do not want to upset you, only to warn you and tell you that souls are at stake. My letters will turn men's hearts to Me. You must constantly focus on My love for you. Circulate your letters. They are so vital to turning men to the love of God.
Soon your burden will be lifted and you will feel some relief. You must be in constant prayer. Being with your children is a prayer for you. Come to the Center. You feel Real Presence there. I will give you miracles there. Pray in the chapel with your children. They will become closer to Me through prayers as you spend time playing with them. You need simplicity in your life. Live only for love of Me.
R. (I see little white lights on my notebook).
---
---
Copyright © 1994 Shepherds of Christ.
Rights for non-commercial reproduction granted:
May be copied in its entirety, but neither re-typed nor edited.
Revised: August 1998
URL: http://www.Shepherds-of-Christ.org
---