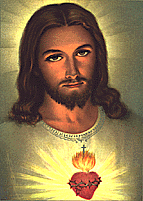 In Your Suffering, Become Intimate with Me

June 16, 1994 3:15a.m.
Ed. Note: The following occurred during the praying of a rosary at home.
R. (Agony). You, Jesus, did not lose Your focus on the Father, and You still had peace in Your Heart, but You sweat blood, so I think about my mental anguish. Such anguish, to sweat blood! Do You know mental anguish? You were a human and You knew You were going to die this brutal death. How I anguish over doing what You tell me to do. How ashamed I feel when You ask so little!
Jesus: (Scourging). They beat Me. I held nothing back. They tore My beloved flesh. I bled. They took My body, tied Me to a pole and beat Me. I could not move. I was bound. I give you freedom to choose to do little things and you say no. I could have broken the cords, I was God. I stayed bound, and subject to this awful violation of Me, for love of you. I love you. Don't ever say no to little acts I ask you to do to prove your love for Me. This offends Me so! I gave so much for you, little one. The acts I ask you to do are for your own good.
Accept suffering, accept it as your life with Me. I ask you to suffer. You miss My lessons I so sweetly teach. Quit complaining, suffer in silence, suffer with joy. Love your children, do not be glum around them. I call you to hard tasks. Do the hard things. Watch the results! Strive to be a saint. Saints never complain. Suffer My scourging by joyful acceptance of suffering. It is My way. It will save souls!
R. His Passion has meaning in how He suffered. How little He asks of us, yet we cannot even do it!
(Carrying of the Cross). Their eyes met, both in acceptance, both suffering, both silent, both knowing they had to accept it and He could stop it at any moment. He did it totally. They wept inside. How do we weep when we are offended? Did they holler from the housetops or weep softly? With such pain inside, her Heart pierced with such sorrow, as she beheld her beloved Son! Both weeping in silent surrender in such brutality.
Is this a lesson in silence? Silent acceptance! This is my lesson. I am complaining. Where am I? Certainly not a light that shines in the darkness! Doing His Will is silent acceptance. "She did it, He did it? It is so hard." How blind we are to so much!
(Crucifixion). She stood under the cross and cried to herself. Silent acceptance. She didn't protest.
How the body wants all to know how we suffer. Take away the pain. Did she take pain medicine or did He? They accepted in silence this horror. And We complain and complain!
Jesus: Suffer, My child, with joy. This is a key to sainthood. Pull your phones from the walls and take your complaints to My Heart. You are missing such rewards and I have to give you more suffering to learn the lesson.
R. Sweet surrender! It is as if I have a secret with Jesus and it binds me to Him. It is hard, but then I feel such unity with Him. He and I know, as Mary and Jesus felt when they looked into each other's eyes, such oneness to share the suffering. Such oneness, to share My intimate suffering with Jesus alone! What a treasure I lose, to miss such an intimate connection with Jesus! We have a secret. This creates such intimacy! He knows my heart. I mature in My relationship with Him.
Intimacy is sharing with the exclusion of others. To be intimate with Him, I share things with Him and not others. Suffering is such intimacy!
Jesus: To suffer and carry it and be glum casts a shadow on your fellows. To suffer and share only with Me creates a love, a bond and a trust that cements our hearts together.
R. The deepest suffering was shared between Jesus and Mary, looking at each other in total silence. Silence is the key to receiving benefits from suffering. "Suffer for Me with joy! Receive such a reward!"
Jesus: Do you wear your problems on your chest? "Oh," you say, "I have so much to learn and I fail so miserably," and I say you are blind and you must come to Me to be taught! Suffer with joy and in silence!
R. He is showing us constantly how we can have a deeper union with Him. It is I who keep myself away from Him.
Suffering is a bearing down. When you suffer, there is a weight you carry on your back. He asks us to suffer, to carry this cross with joy. As He carried His cross, He asks us to carry ours with greatest joy.
---
---
Copyright © 1994 Shepherds of Christ.
Rights for non-commercial reproduction granted:
May be copied in its entirety, but neither re-typed nor edited.
Revised: August 1998
URL: http://www.Shepherds-of-Christ.org
---