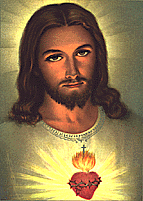 Suffer with Jesus and Mary

June 16, 1994
Look, child, at Us as We suffer all through this Passion. Quiet acceptance, a sharing in our eyes meeting! I ask you to suffer in silence. Carry your cross. Do not give your burdens to others. You are this light that shines in the darkened world. If I give you sufferings and you complain, your light does not shine.
You can accept your cross or reject it. If you accept your cross, you should carry it, not give the burden to others. This is sainthood. This develops intimacy with Me and our eyes meet and we know the suffering, as the suffering between My mother and Me!
The way to Me is to pick up your cross and follow Me as I trod in silent surrender.
R. Their eyes meeting is the key. This is how our eyes meet with theirs. This is intimacy. This is union in their Hearts. His Heart was lanced, her Heart was pierced.
Jesus: Bring your suffering to Our Hearts and be united to Us. In suffering there is pain, sometimes physical pain, sometimes pain in the heart. There is a bearing down with pain, the carrying of a load.
R. If He went out in such suffering, why do we think we should not have to suffer?
Jesus: Life is a bittersweet symphony, My child. You have a mixture of suffering and pleasure. The way to Me is the cross, to relinquish your life here and live it totally for Me.
Suffering suffered for Me lasts forever. It is the crown I wore that won your salvation. It is in your suffering you will help to save souls.
You are not here for momentary pleasures. I ask you to carry crosses, to carry the burdens that I place on you. It is through these burdens you are drawn closer to Me.
Accept your suffering with joy. It is in this joy that you will find the true joy of everlasting happiness.
I love you so. I am your Jesus and I will make more teachings clear to you in your life. Live My Passion with Me and come closer to the Hearts of Me and My mother.
---
---
Copyright © 1994 Shepherds of Christ.
Rights for non-commercial reproduction granted:
May be copied in its entirety, but neither re-typed nor edited.
Revised: August 1998
URL: http://www.Shepherds-of-Christ.org
---