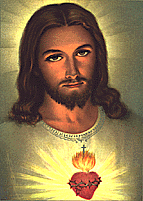 He Asks Us to Fast

June 16, 1994
R. Pleasure and pain. Animals seek pleasure. They want to eat and be satisfied. We are created in the image of God to understand so much more than momentary pleasure.
See their eyes meet. His Heart was lanced, her Heart was pierced. Sorrow between them was so intense, more so than joy between two people. There is unity in that gaze between them, a joining. There is a unity with us when we join our hearts to their Hearts in quiet acceptance of all that they send us, whether it be pain or joy. They ponder the ways of our hearts. They know the true hearts that beat within us.
Jesus: Such sorrow, such joy, joy to be united, sorrow to suffer the pain. It is in sweet surrender you are joined to Our Hearts. You accept all I have given you, you consecrate yourselves to our hearts, a total surrender of yourself to the Hearts of Mary and Jesus.
R. The gaze between them is enough to write volumes. The suffering that exists between them! How tenderly she had looked upon her infant baby and then beheld His lifeless body on her lap after He was taken down from the cross!
Union between the Two Hearts of mother and Son, union between our hearts and Theirs. It is in being detached regarding the things of this world that we are joined with them. Total consecration to Their Hearts, our hearts merging with Theirs in total fusion! It is in this oneness that I can put on Christ and preach the gospel in my very being, to be joined as one with Mary and Jesus!
---
---
Copyright © 1994 Shepherds of Christ.
Rights for non-commercial reproduction granted:
May be copied in its entirety, but neither re-typed nor edited.
Revised: August 1998
URL: http://www.Shepherds-of-Christ.org
---