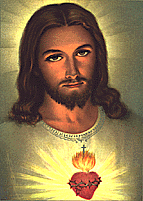 Pray to Know the Truth

June 22, 1994
R. Dear Jesus, just as I look at a beautiful tree so ardently sculptured by the hand of God, I submit myself to You and ask You to mold me into Your creative art. I want to operate as You do within me. Come, Lord, please possess my soul and work from my being. I want to live to draw souls close to You. I want to live for Your love.
I am not perfect, Lord. When I think I am perfect or I think I should be perfect, I have a problem. It is in the truth that I am set free. I make mistakes and I am sorry, because I offend You and offend others. Help me, Lord, to see the truth. Holy Spirit, open my eyes and heart to the blindness I have and help me to see more and more what I need to see to please You.
I am Yours, Jesus. I consecrate myself to the hearts of Jesus and Mary and ask for help to answer Your call.
Jesus: Little one, little one, you indeed are not perfect, but in your faults I still love you. Pray to know the truth. Pray to please Me. Pray for My strength. I am always with you. Focus on Me, intimately united to you at every moment in your heart. Satan constantly wants you to focus on your faults or promote your ego. Live only to love and serve Me. Live to draw others to heaven.
I am your God. I am your Jesus. I am with you. Let go.
Try to live only to serve Me. Pray that you live to spread My love. Live by truth. Satan wants to deceive you. Be not swallowed up by him.
---
---
Copyright © 1994 Shepherds of Christ.
Rights for non-commercial reproduction granted:
May be copied in its entirety, but neither re-typed nor edited.
Revised: August 1998
URL: http://www.Shepherds-of-Christ.org
---