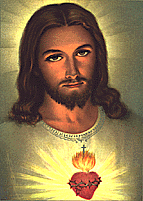 Mary, Teach Us to Love

June 26, 1994
R. So many sins we commit are with the tongue, yet Jesus chooses to enter our bodies through our mouth. Who am I that He comes to me and I receive the one, true, God-made man? How much I must do that displeases Him! I do not know how I offend Him with my selfish ways. I do not know that I hurt my brothers. I am blind. I pray to You, Holy Spirit, open my eyes so I can see with Your eyes and love my brothers more and more each day. Jesus, teach me to love. Mary, place me in your Immaculate Heart and help me to love more like Jesus and like you. Father, my beloved Father, You are my God, I love You so! Thank You for creating me in Your own image. Help me to know Your fatherly love. Help me to love You more and more.
Oh, I am a creature! You are God! I want to love You, God, more and more. Help me to know, Mary, how to love my precious God more. Place me in the Heart of Jesus and surround me with your own Immaculate Heart. I do not deserve such love, but I am forever grateful to You, three Persons in one God. Praise You. Worship You. I fill You with such honor and praise from my humble heart. Make my heart humble. Wash away my pride. Cleanse me in my heart with a bath of love, flushing out all impurities. Oh, Jesus, Mary, Joseph, teach me the ways of the heart.
Mary touched so tenderly her infant son. She held Him so close to her body and loved Him. Joseph loved Mary and Jesus so very much.
She held Jesus and mothered Him with such tender love. She also loves us.
Oh, Joseph, you loved Jesus and Mary so. Help me to love them more. I love you, oh, Holy Family. Open my heart to experience the love of such a holy family. Help me to join my heart to the union of mother and Son and Son and mother. Help me to know you, St. Joseph, and your patient love, more.
---
---
Copyright © 1994 Shepherds of Christ.
Rights for non-commercial reproduction granted:
May be copied in its entirety, but neither re-typed nor edited.
Revised: August 1998
URL: http://www.Shepherds-of-Christ.org
---