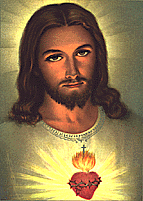 Our Father Is Love

June 27, 1994 After Communion
R. My Father is Love. He is a Father, like no earthly Father. He chose to create me in His own image. He loves me. I am His. I am His divine creation. He is my Father. Mary, help me to love the Father as you did.
The Father's love, to give His only Son in such a brutal sacrifice so that I would have life eternal! He gave His Son so that I may live.
The word "father" has such meaning in this love poured out by our Father on each of us! He fathers us and is ever within us when we are in the state of grace.
My Father. I have a loving Father to care and watch out for me. I am Your little child. You are my Father!
All love that comes from Jesus comes from the Father Who loves us. Jesus is one with the Father, the Father is one with Him and I am one with them and with Mary. We are united in our hearts, one with the Father, Son and Holy Spirit and one with Mary. Through this tender uniting, Jesus is the very center of this union.
I love You so, Jesus. You come to me in the Eucharist, God-made-man, with Your love! Who am I that God enters me and unites with me, a mere mortal? He comes and unites with me in such love for me.
Be ever present and ever one in my heart. Let me live in You and You in me that I may be as You want me to be, totally free and dependent on You for my actions, so that I will be the reflection of God, Father, Son and Holy Spirit, Who live within me.
Mary, help me to love God, Father, Son and Holy Spirit.
---
---
Copyright © 1994 Shepherds of Christ.
Rights for non-commercial reproduction granted:
May be copied in its entirety, but neither re-typed nor edited.
Revised: August 1998
URL: http://www.Shepherds-of-Christ.org
---