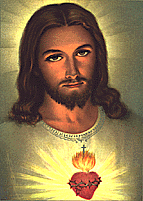 Unite

May 2, 1994 5:10a.m.
Oh, My child, trust. I am indeed present to all at the Center. I am working in your hearts. You are all parts of the big picture. You must unite. All there must learn to love, not as they see love, but as I am teaching you to love. You do such unloving things and do not even know.
They need these letters on love at the Center. Love and union are what will make you light up the world. You must all learn to love. Put your hate, anger and sizing each other up aside. Unite. I am using each person there.
Prayer is the answer. Prayer is silence before Me in the tabernacle. I speak in your heart. Preach to others how to become open to My promptings in their hearts. Every person is needed. Every person has a part to play. Read these letters on love. Love is the key. Satan will divide you if you do not keep yourselves rooted in My love and strive for unity. I am communicating to all there. It takes time with Me after Communion and in front of the tabernacle. Pass out the little book and message on the tabernacle. Pass out the letters of love.
There cannot be strife and competition in your hearts. You are all called. How can you show the world about love when you do not know about love yourself? Love is the key that will light the city. Love is what you need to unite!
Satan wants to divide your workers. He wants them to compete and look with anger at each other. Know, My little ones, that he is constantly talking to you and trying to divide you. Love as I have loved you. Love your brothers. That is action, that is not "tolerance." That is not seeking self, that is giving self, that is being humble, that is mending fences, that is saying you are sorry, that is being in touch with Me. You cannot love without My graces. You need to be alone with Me. I speak to your heart in the silence. Stay after Communion. I, the Son of God, Jesus, Who died on the cross, long to be with you and give you all you need. Stay with Me, My beloved ones. I love you so much.
Do not look at your brothers and size them up. Pray for them to be drawn closer to My Sacred Heart. You are not doing this alone. Do you see in the confirmations, how you are all receiving My promptings? You cannot get My messages for you if you do not sit in silence with Me. I speak in the silence to you. I speak in the inner promptings of your heart.
You do not need to promote yourselves, you need to do My work. I am using you as a unit. Unite in love. Whenever any ill thoughts of your brothers come to your head, dismiss them and pray the Prayer for Union with Me. I know everything that is happening and I want My work accomplished. Let Me take care of your brother who is irritating you. I can do it far better than you could ever do it.
Love, this is your call. Love, union, forgiveness, saying you are sorry. This takes Me. You cannot do it alone. "But," you say, "I don't want to say I'm sorry." I say that is what mends the fence. It is like the nails that hold the boards. A humble, loving heart will hold it together. Do not be prideful. Pride is the downfall. This comes from focusing on yourself. Pray my Prayer for Union with Jesus. This will help you to become more selfless and united to Me. A soul that is striving for union with Me will be a loving soul. The best gift you can give this world is to be about your relationship with Me. I mold your heart. I dismiss your fear. I wash away anger and doubt and you come away with My love.
Love will light this city. You must tend to the pruning in your own hearts. Do not criticize your brother. Be loving and pray for him. Dismiss all hate and anger. It is not from Me. I operate in love. You can accomplish so much with love. Argumentation, belaboring the point, is from Satan.
Pray for each other. Pray for union with Me. Pray for the union of your brothers to My Sacred Heart. Lead all to silent prayer with Me. Read the Scriptures. Read these letters, letters of love from Me to My beloved ones! Oh, how I love! You do not know how to love. How can you love and teach others when you do not know yourself. Circulate the letters-on the tabernacle, hate and anger, and loving your brothers-at the Center. Give them to all who are the backbone of the operation. They need to love, love God, love one another. That will light your city. You will be on fire with the burning love of Jesus in your hearts. You cannot do it alone. You must come to Me.
I am the Alpha. I am the Omega. I am your God and I am doing My work through you. I am working. Make yourself selfless. I can do all things if you surrender yourself to Me. I love you. I want you to write music and songs. Jesus.
---
---
Copyright © 1994 Shepherds of Christ.
Rights for non-commercial reproduction granted:
May be copied in its entirety, but neither re-typed nor edited.
Revised: August 1998
URL: http://www.Shepherds-of-Christ.org
---