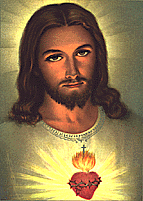 There Is Power in Prayer

May 18, 1994 3:00a.m.
My dear one, come and be counted by the hand of God. You must work swiftly, for time, child, is short. Every moment must be spent in drawing your fellowman to God. Pray constantly. No one realizes the real power of prayer. Pray the rosary, pray with your children, pray the Holy Spirit prayers, pray, pray, pray!
And I say unto you, "Heaven and earth may pass away, but not one letter of My law will ever pass away." Do not doubt. You do not have time for such nonsense! You know exactly your mission. Do it. Satan will constantly work on you. Forget him and pray. Your job is quite evident.
You need to lead souls to My most Sacred Heart. I am the Alpha and Omega. I am your all. I do all the work and you, child, are working for Me. No one can stop it but you. Ask for grace to believe, faith to know. Ask and you shall receive. Seek and you shall find. Knock and it will be opened unto you.
R. Alleluia. Alleluia. And He made them fishers of men!
Jesus: You are a fisher among men. Believe. Pray for faith, child. Yours is as shaky as some who need to see everything. After all I write to you! How you spend your mind in deliberation. Stop it! Stop it! Trust in Me, My beloved ones. This is for real. Read the Blue Book. Get your answers. Think of My presence with you all day and night. Quit analyzing your data for a conclusion. Believe, pray one solid hour, uninterrupted, in front of Me in the tabernacle! I love you. Amen. Amen. Do you not believe I will care for you? You doubters, let go and see Me before you, clothed in white. See My mother by My side. We walk the barren earth with you and you are raised up to such heights.
I come to you, My sweet one, in the night. Do not cast Me off. Be attentive to My pleading. Tell all of My Real Presence in the Eucharist. Jesus is in your midst this day. He loves you so.
---
---
Copyright © 1994 Shepherds of Christ.
Rights for non-commercial reproduction granted:
May be copied in its entirety, but neither re-typed nor edited.
Revised: August 1998
URL: http://www.Shepherds-of-Christ.org
---