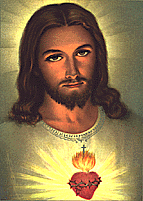 We Are United in Communion

May 19, 1994 After Communion at Father Smith's Chapel
I am one in you and you are one in Me. As the Father has sent Me, you are one in Us. I am in your body, child, at this moment. I am inside of you. I love you with such intensity. No union is greater than the union you experience after Communion. I am united to you after Communion. Pray for openness to grow in your relationship with Me. Now is the time to throw yourself into My arms and be totally open.
I am your precious Jesus, your Savior. I am God. I am present inside of your breast. Focus on Me and Me alone. Focus on Me before you receive Me. You must let go of your attachments to worldly concerns and thoughts. Drive them from your mind. They keep you from union with Me.
I am your all. I am present and by your side always. Do not belabor points in your head. I care for you as a mother cares for her baby. Babies do not plan and worry. Let go and surrender to Me. I am hyper-vigilant and by your side.
Oh, child, I love you so. I tend to your every need. Be with Me now. Let go. Surrender and be totally alone with Me. Free yourself in your mind of any attachments. Focus only on Me. I am one in you and you are one in Me. At this moment, be totally in My arms. Oh, how I love you, My beautiful one.
---
---
Copyright © 1994 Shepherds of Christ.
Rights for non-commercial reproduction granted:
May be copied in its entirety, but neither re-typed nor edited.
Revised: August 1998
URL: http://www.Shepherds-of-Christ.org
---